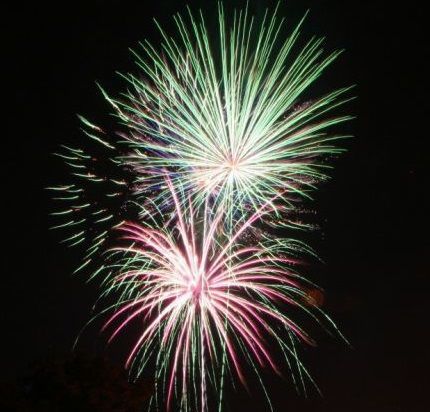 INDIANAPOLIS — Northwest Indiana residents still shooting off fireworks likely are doing so in violation of a municipal ordinance.
Nearly every city and town throughout the Region since 2007 has banned the use of fireworks in their community year-round, except for the 12 days of the year that state law dictates all legal consumer fireworks must be permitted during certain hours.
Those are Independence Day, between 10 a.m. and midnight; the five days before (June 29-July 3) and the five days after (July 5-9) Independence Day, between 5 p.m. and two hours past sunset; and between 10 a.m. on New Year's Eve and 1 a.m. on Jan. 1.
Individuals in Northwest Indiana using fireworks outside of those days and hours — and caught by local police — may face a hefty fine ranging from $100 to $500 for a first violation, and up to $2,500 for subsequent violations, depending on where they live.
In addition, illegal fireworks use that causes property damage is a Class A misdemeanor, punishable by up to one year in county jail and a maximum $5,000 fine.
Illegal fireworks use that causes serious bodily injury or death is a felony with a potential punishment of up to six years in state prison and a $10,000 fine, according to the Indiana Code.
The day and hour restrictions do not apply to organized fireworks displays authorized by local governments.
Fireworks legalized 12 years ago
Consumer fireworks officially were illegal to use in Indiana prior to 2006. 
However, fireworks still could be sold in the state so long as Hoosiers, typically with a wink and a nod, told the retailer that the fireworks would be taken to another state within five days and only ignited outside of Indiana's borders, or used at designated in-state sites.
Those restrictions rarely were enforced and often were mocked alongside the recently ended ban on Sunday retail alcohol sales, and the continuing limitations on cold beer sales, as examples of illogical Indiana statutes.
Republican Gov. Mitch Daniels decided to end the charade by backing a measure to legalize fireworks in the state in exchange for tacking a 5 percent "public safety fee" on top of the 7 percent sales tax on fireworks, with the safety fee revenue earmarked for firefighter training and disaster relief.
House Enrolled Act 1099 was approved by the Republican-controlled Indiana Senate, 34-16, and the Republican-controlled House, 59-35. Daniels signed it into law March 27, 2006.
State Rep. Charlie Brown, D-Gary, fought to stop the measure, and hoped to ban fireworks from Indiana entirely, due to the hundreds of injuries they cause each year and the annoyance of having to hear fireworks going off all the time.
"They go on and on and on," Brown said. "It's unfair to people that have to work, and out here on the lakefront that sound just travels for miles."
But Brown said Monday that back in 2006, many fireworks opponents came to support legalization because they wanted, like the governor, to fund a statewide firefighter training academy, and the public safety fee was an easy tax to impose on a product that already is equivalent to lighting one's money on fire.
The public safety fee brought in $2.7 million during the 2018 state budget year that ended June 30, according to the Indiana Department of Revenue.
Under state law, the first $2 million collected went to the Department of Homeland Security for public safety training, and the remainder was deposited in the state's disaster relief fund.
State lawmakers in recent years have proposed reducing the number of days that municipalities are required to allow fireworks to four: July 3 to July 5, and New Year's Eve.
However, that legislation never has received even a committee hearing in either the House or Senate.
Hoosiers living in communities that have not adopted an ordinance restricting fireworks use to certain days or hours are permitted to blow off fireworks from 9 a.m. to 11 p.m., or midnight on holidays, every day of the year.
Get Government & Politics updates in your inbox!
Stay up-to-date on the latest in local and national government and political topics with our newsletter.