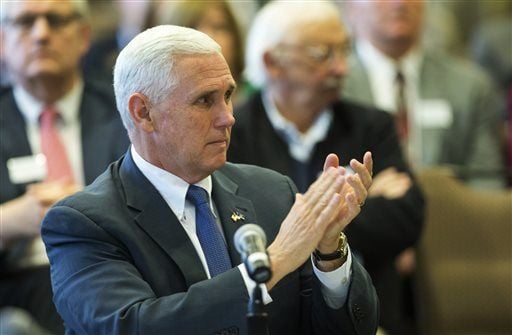 INDIANAPOLIS — Hoosier women are calling and emailing the governor's office in droves to share details about their menstrual periods, in response to a controversial abortion law enacted last month by Republican Gov. Mike Pence.
House Enrolled Act 1337 requires abortion clinics and other health care facilities that have possession of an aborted or miscarried fetus to ensure it is buried or cremated and not disposed of as medical waste.
However, because the new law defines a fetus as an unborn child from the moment of conception, and since women regularly expel fertilized eggs that fail to attach to their uteruses, any monthly period by a sexually active woman technically could be a miscarriage.
That has prompted hundreds of women to contact Pence's office, albeit sarcastically, seeking advice on whether they need to bury their sanitary products and making sure the governor knows women aren't trying to cover up their potential pregnancies.
A "Periods for Pence" campaign on Facebook has attracted more than 16,000 "likes" in less than one week.
The posts there include transcripts of telephone calls where women excitedly describe their menstrual flow, or lack thereof, and an exasperated governor's office staffer politely records their names and contact information.
Even Sydney Leathers, the Evansville-area porn star whose sexually explicit text messages prompted the 2011 resignation of U.S. Rep. Anthony Weiner, D-N.Y., who had served in Congress alongside Pence for a decade, deemed the campaign "the best thing I've ever seen."
"Hey Gov. Pence, I'm about 20 days away from my next cycle. Thanks for your concern!" Leathers said Saturday on Twitter.
Telephone calls Monday to Pence's constituent services staff went directly to voicemail. Pence's press spokeswoman, Stephanie Hodgin, said: "We are always willing to take calls from constituents who have questions, concerns or are looking for assistance."
The Periods for Pence phenomenon also is attracting national media attention just as the hotly contested, and lately abortion-dominated, Republican presidential race heads toward Indiana's May 3 primary election.