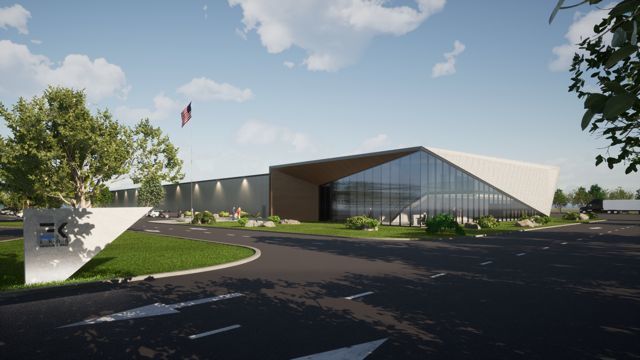 VALPARAISO — A $9.3 million window manufacturing facility is moving to the Eastport Centre business park.
EKOS Window + Wall is a new division of Chicago-based Reflection Window + Wall, an architectural firm that designs and installs windows for skyscrapers and other significant buildings across the country.
The company is planning to build a 120,000-square-foot plant where it will hire up to 112 workers to make a glass curtain wall product. EKOS aims to consolidate some domestic production and ultimately bring production here from overseas.
The Valparaiso Redevelopment Commission approved the sale of nearly 15 acres for the new factory at its Thursday meeting. The company paid $305,625 for the land, slightly less than the RDC's cost, city attorney Patrick Lyp said.
The RDC is also providing a $50,000 reimbursable infrastructure grant as an economic incentive. No tax abatement is being sought for the property.
Some communities have to provide significant incentives, but Valparaiso just needed a slight reduction in the purchase price of the land, Lyp said.
"It's just a great win all around for everybody," RDC Director Brandon Dickinson said.
"The biggest selling point was access to Ivy Tech Community College," Lyp said. The college campus is within walking distance of the new facility. The factory's site is east of Ivy Tech, adjacent to Porter Regonal Airport.
"A lot of times, people don't understand how significant that facility is to our community," Lyp said.
Ed Kruschka, senior vice president of Reflection Window + Wall, told the RDC the potential of a partnership with Ivy Tech is one of the reasons his company chose Valparaiso. He toured Ivy Tech and discussed a feeder program with an internship available at the new plant.
"Our needs start with design," Kruschka said. "We need good skilled people."
The Porter County Career & Technical Center is another asset in providing skilled workers for manufacturing facilities like this one, Lyp said.
"We hire engineers, we hire architects, we hire people from other trades," Kruschka said.
"We knew that we needed to diversify all our products and manufacturing and bring them all into the United States," Kruschka said, and Indiana is a good fit. "You guys are the manufacturing center of the U.S."
In November, the company said it would locate in Porter County but didn't say where.
"It was clear to us right away that Indiana has been working very hard for years to create the environment we witnessed, and that's where manufacturers want to be," Reflection Window + Wall President and Founder Rodrigo d'Escoto said then. "We think Indiana is going to be the factory floor of the U.S. The entire experience was world class, just like our products, and we're thrilled that our next generation of technology will be made in Indiana."
The company said it plans to start construction this spring and could begin hiring as early as late this year.