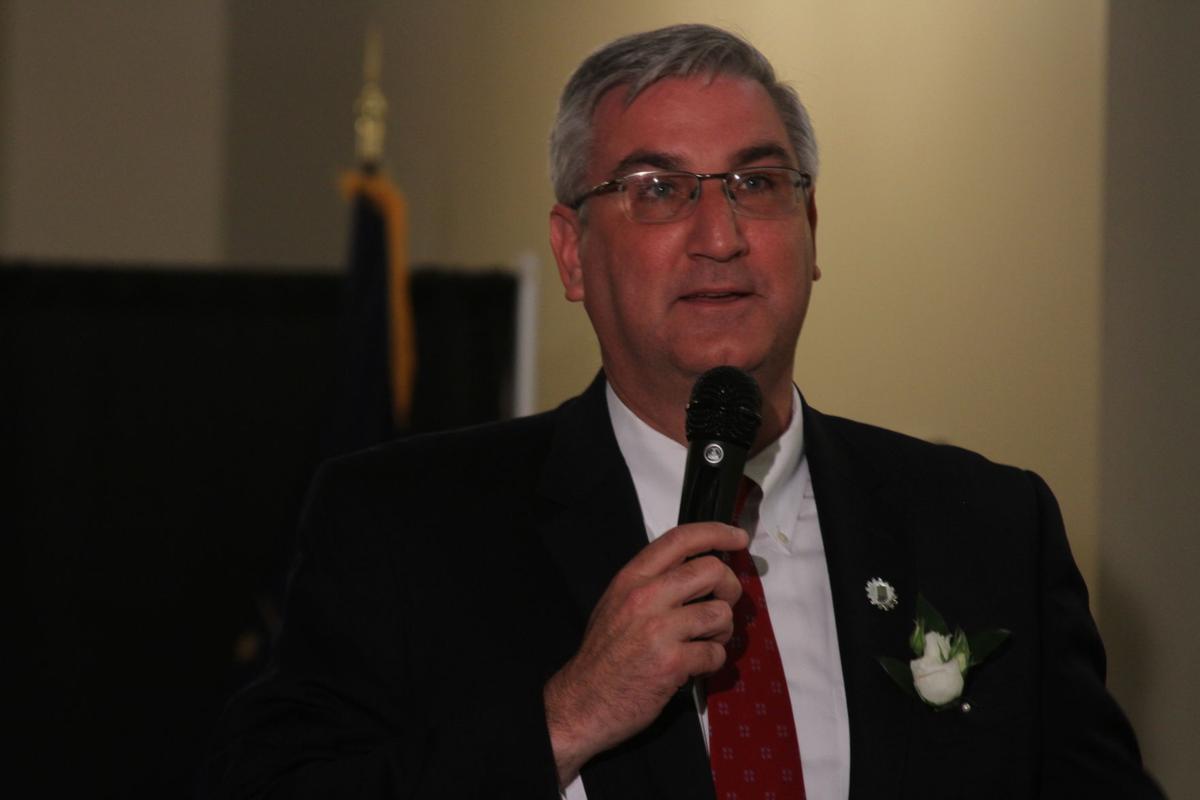 GARY — There was a lot of love in the room Friday night for Gov. Eric Holcomb — in the Democratic stronghold of Gary, no less.
"The governor has done more for Northwest Indiana, from East Chicago to Gary, than any of his predecessors did," Greater First Church Bishop Tavis Grant said. "He has made his presence known and made us feel like a part of the state again."
In the days leading up to Gov. Eric Holcomb's visit to the city's downtown Friday, the GOP governor opted to throw a lifeline to the city's cash-strapped public school system and dedicated state funding to aid plans for the South Shore Line expansion. So it was no surprise to see the Gary community give Holcomb the warmest of welcomes Friday night at a private reception event at the Centennial at 504 on Broadway Street.
"He's only been the governor four months and he has probably been here more times than I would say a few of predecessors put together," Mayor Karen Freeman-Wilson said.  
Holcomb told the crowd all he hears these days is how he's "different" — different for pardoning Keith Cooper, previously convicted for a violent robbery he didn't committ, and for declaring a state of emergency in East Chicago over the lead contamination crisis. 
Holcomb said he keeps hearing "how different he is" for recently approving a tax hike to fund the state's massive road construction program.
But he has no plans of stopping there, Holcomb said, noting his encouragement about the years to come.  
"If you could all see my view, I would think you'd be as encouraged as I am. This is serious synergy in this room," Holcomb said.
"Let me know if I'm becoming a pest but I'll be here often," he added. 
Friday night's meet-and-greet event was held at the Centennial at 504 building, historically known as the Gary State Bank Building. Those in attendance included Gary-area state lawmakers, and members of the business community and clergy, nonprofits, and other organizations, including a newly formed Ministers' Task Force, Women In Power.
 "In a time when state and local governments seem to be pitted against each other, with local and national government seem to be pitted against each other, we have a governor who does not count it robbery to just show up in Gary, Indiana, but to show up and say 'I am your governor, how can I help?'" Freeman-Wilson said. 
Josephine "Mother" Wade, president of Women in Power and a key event organizer, jokingly remarked that the governor is now one of her many "adopted sons."
"This was greatly needed for Gary. He just got started and look at all he's done for us," Wade said.
Earlier in the week, Holcomb assented to a bill a giving state-appointed emergency manager in charge of the Gary Community School Corp. full authority. The bill delegates all the authority of the school board and superintendent to an emergency manager who is expected to aggressively cut costs in an effort to balance the district's budget and pay off more than $100 million in debt.
State Sen. Eddie Melton, D-Merrillville, who led the request to the state for help with the Gary school takeover bill, applauded the governor for his efforts to reach across the aisle and to Northwest Indiana.  
"This is a good turning point for Northwest Indiana," Melton said. 
Get local news delivered to your inbox!
Subscribe to our Daily Headlines newsletter.