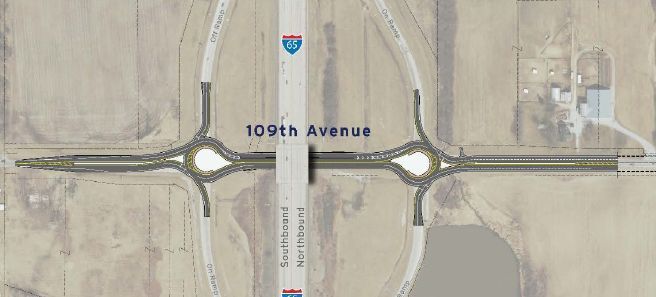 CROWN POINT — Another summer of closures is planned for 109th Avenue in south Lake County. 
Beginning Tuesday, the Interstate 65 ramps at 109th Avenue in Crown Point will close until the fall, the Indiana Department of Transportation announced in a news release. 
INDOT said 109th Avenue will be closed from Delaware Parkway to Mississippi Street until mid-November. 
The closure is to replace the two signalized intersections with roundabouts, which is known as a "dogbone" interchange; 109th also will be widened to four lanes through the project, INDOT said. 
Motorists are asked to use U.S. 231 to enter and exit I-65 while the work is underway. 
Also set to begin in the near future is the construction of a $2.23 million roundabout at 109th and Iowa Street.
The roundabout is a part of the city of Crown Point's 109th Avenue Transportation & Safety Improvement plan, and is set to wrap work on the thoroughfare for "decades," Crown Point Mayor David Uran said.
At the earliest, the work would begin June 14, with closures to last until the fall, Uran told The Times.
While 109th will be closed from Delaware Parkway to Iowa Street, 113th and 101st avenues will be open, and Delaware Parkway will be open to 105th Avenue, Uran said.
Motorists also will be able to use 113th Avenue to access Mississippi Street. The connection is set to open this weekend, Uran told The Times.
"Everything is coming into the timing as we thought it would be," he said.
In 2020, 109th underwent an extensive improvement project, with a roundabout added at Mississippi Street, improved landscaping installed along the corridor and the road widened and concrete medians installed at 109th and Broadway.
Further south, the town of Winfield also is gearing up for a $1.4 million improvement to 109th Avenue at Grand Boulevard. 
The project includes lowering 109th Avenue at the intersection to create a line of sight for motorists; widening the road to include shoulders and a turn lane; adding drainage swales on both sides of 109th; and installing a new culvert, project documents show.
Town Administrator Nick Bellar told The Times work for the project was set to begin Friday, as crews are working to relocate area utilities. The work will reduce 109th at Grand to one lane "for a lot of the time," Bellar said. 
A roughly two-month road closure for the project is set to begin "very shortly after," July 4.  
Following the closure, Bellar said additional restoration work will be performed in the area, but it will not cause a full closure of the intersection.