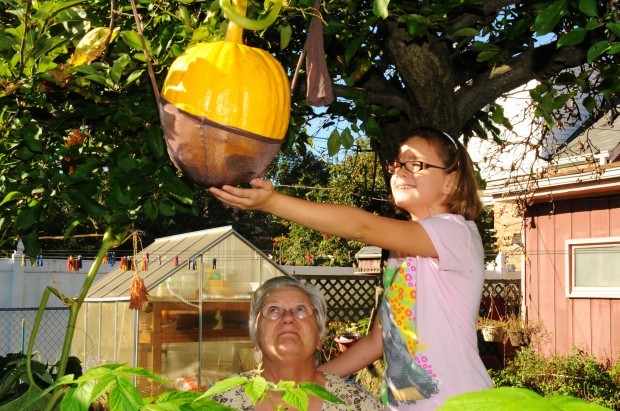 LANSING | It sounds like a Mother Goose tale of Peter Pumpkin Eater meets Jack and the Beanstalk, but this pumpkin tree is for real.
No, it's not actually a tree that produces pumpkins.
But somehow the pumpkin seeds Sandra Strohmeyer's granddaughter planted in her Lansing backyard grew vines that climbed up a fence. The vines that should be growing on the ground then wrapped around a raspberry bush and a tree trunk, and are now growing pumpkins alongside apples in her neighbor's tree.
"We've got a good 10- to 12-pounder up there. We have it braced up with pantyhose," said Strohmeyer. "We noticed it a month ago when my neighbor happened to be out there doing yardwork and looked up and saw it."
A couple smaller ones also have grown on the vine.
Strohmeyer said her granddaughter, Marissa, 9, has been helping her out in the garden since she was about 4.
Her backyard garden also includes cucumbers, zucchini, tomatoes, onions, carrots, corn, muskmelon, watermelon and green peppers.
"It's not a huge yard, but we plant where ever we can."
She had no explanation for what made the pumpkin vine take off upwards, but said that the Miracle Grow vegetable soil she used this year may have contributed to its size.
Actually, she said it's not the first time she's had pumpkin vines climbing up her fence.
"One time we had one grow up on top of a fence. It was huge. My husband put a four-by-four piece of lumber under it to hold it here."
The Illinois summer climate is ideal for pumpkin growing and according to the Illinois Department of Agriculture, Illinois is the top pumpkin-producing state. An estimated 95 percent of U.S.-processed pumpkins processed are grown in Illinois.