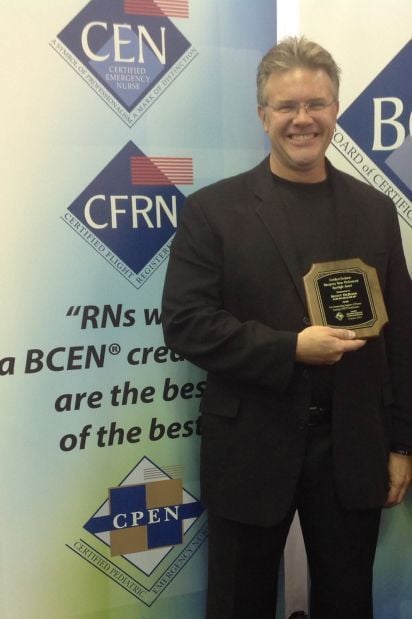 Scott DeBoer, of Dyer, was recognized by the National Emergency Nurses Association in October with the organization's first award for Outstanding Support of Nurses Seeking Certified Pediatric Emergency Nurse Certification.
DeBoer was applauded for his nursing achievements and the publishing of his review study book on the subject of Pediatric Emergency Care.
"A Certified Pediatric Emergency Nurse is a registered nurse with more than two years of experience working in the emergency department and has over a 1,000 hours of pediatric emergency practice," DeBoer said.
"It is a prestigious certification for nurses to obtain at their own expense that shows a huge level of commitment to pediatric emergency care."
DeBoer and his wife, Lisa, a former medic, own Peds-R-Us Medical Education in Dyer. Since 1998, the two have traveled to all 50 states and many countries giving seminars on pediatric care.
In addition, the couple has helped to certify more than 100 hospitals and thousands of nurses. "We provide innovative continuing education seminars and hands-on skills labs that are both unique and truly memorable for emergency professionals from ER physicians to EMTs," he said.
"Many medical professionals are scared to death when asked to care for critically ill or injured children. My goal is to help minimize their stress and maximize the chance for these children to receive the care that I would want my own children to receive."
DeBoer received his master's in nursing from Purdue University Calumet, and is now certified as a registered nurse, critical care nurse, flight RN, emergency nurse, pediatric emergency nurse and paramedic.
For the past 22 years, he has worked as a flight nurse for the University of Chicago Hospital, picking up extremely sick or injured patients and transferring them to other medical centers.
A father of two, DeBoer enjoys classic horror movies and is on track to visit every drive-in theater in America. He is a member of St. John the Evangelist Church in St. John, where he helped to start a medical ministry.