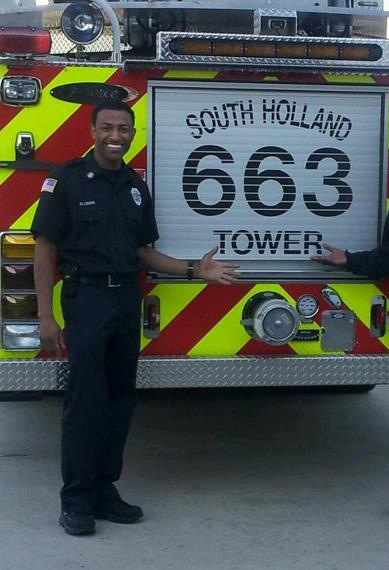 HARVEY | As one of five recruits in the fire academy, Dwight Ligon Jr. pushed everyone to do their personal best but kept a positive attitude.
Ligon, 24, of South Holland, died Wednesday when the motorcycle he was driving slammed into a vehicle near the intersection of 152nd and Halsted streets in Harvey about 8 p.m., city spokeswoman Sandra Alvarado said.
He had just been sworn in as a part-time South Holland firefighter last week, a goal toward which he had worked for more than a year. His death is a huge loss to the department, South Holland Deputy Fire Chief Brian Kolosh said.
"Before he was in the academy he was helping out at the station," Kolosh said. "He was doing station duties and coming to fire scenes and helping us clean up and learned what we do."
He graduated from Thornwood High School in 2005 and worked as a magician who put on shows in the community, his family said.
Tiffany King, a friend of the family, had scheduled Ligon to perform at her son's birthday party this Saturday, she said.
King, 36, of Chicago, watched Ligon grow up learning magic tricks and turn his interest into a business.
"He had a kind heart and a great spirit," she said.
Ligon had performed Wednesday morning at a local elementary school as well as at a nursing home later in the day before the accident, King said.
An initial police investigation indicates Ligon may have run a red light, Alvarado said.
Harvey police and the Cook County sheriff's reconstruction unit were at the scene Wednesday night investigating.
The driver of the SUV was taken to Ingalls Memorial Hospital in Harvey.
Ligon's family is working with the South Holland Fire Department and A R Leak & Sons Funeral Home to make funeral arrangements, King said.
"We were blessed to have him for 24 years, and it was a wonderful 24 years," she said. "Everyone adores him and he will be missed."