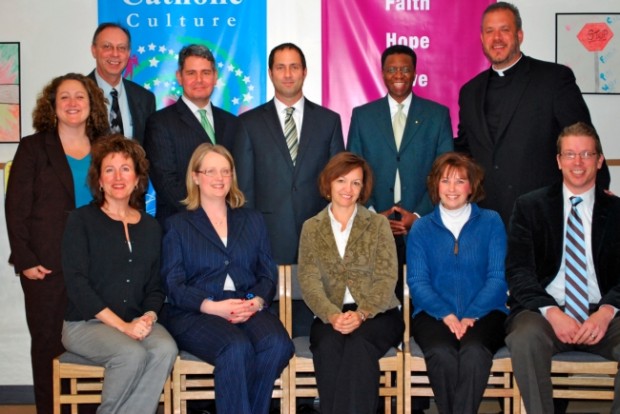 FLOSSMOOR | The School Board of Infant Jesus of Prague School is one of only five Catholic schools nationwide - and the only one from Illinois - to receive the 2010 Outstanding School Board Award from the National Catholic Educational Association, or NCEA.
The school was notified of the award on Feb. 23, according to a news release. The School Board at this south suburban Catholic school includes Patrick Keating, Flossmoor, president; Jon Elfner, Homewood, vice president; Rob Grossi, Steger; Dawn Gasbarro, Olympia Fields; Maria Pasquinelli, Flossmoor; Ann Mitchell, Flossmoor; Randall Blakey, Lynwood; Heidi Echols, Flossmoor and Terri Long Babinec, Flossmoor.   
The school draws students from the south suburbs and Northwest Indiana.
"This is great news and the entire board is elated to have been recognized on a national platform. The NCEA award also serves as additional board motivation to maintain the excellence to which our parents and students are accustomed, and inspires us to set and achieve even more ambitious goals in collaboration with our new principal, Dan Smith," Keating said.
Each year the NCEA Department of Boards and Councils of Catholic Education recognizes school boards, councils and commissions of Catholic education whose work is exceptional, according to a news release from the school. This award acknowledges outstanding work, encourages excellence, and provides models for other governance groups. Awardees go through a selection process after completing an application/questionnaire and are all invited to the award ceremony, which takes place April 7 at the NCEA annual convention in Minneapolis.
The other four boards were selected from Catholic schools in Ellicott, Md.; Encino, Calif.; Greenville, S.C.; and Minneapolis.
Infant Jesus of Prague School is a pre-kindergarten through eighth-grade school and is a part of the educational ministry of Infant Jesus of Prague Parish where the Rev. Michael Nacius is pastoral administrator. 
The National Catholic Education Association is the largest private professional education organization in the world, representing 200,000 Catholic educators serving 7.6 million students in Catholic elementary and secondary schools, in religious education programs, in seminaries and in colleges and universities.