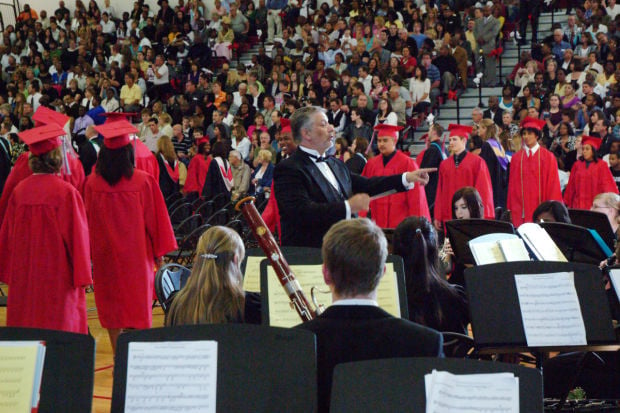 LANSING | The former band director for Thornton Fractional South High School will face a charge related to an incident at the high school last month that already has cost him his job.
District 215 Superintendent Creg Williams said Wednesday school officials ultimately decided to notify police about Michael Madonia, who resigned his position as T.F. South band director as of May 26.
Williams said district officials filed a complaint last week, and that Madonia surrendered to police without incident.
Following a police investigation, Madonia, 56, was charged with a misdemeanor offense of reckless conduct, village spokesman Fabian Newman said. Madonia is scheduled to appear July 22 at the 6th District Cook County Circuit Courthouse in Markham for a hearing.
Madonia has an unlisted phone number and The Times was unable to reach him for comment.
Williams said the offense occurred May 14 at the high school when Madonia allegedly poured oil used for musical instruments all over two sets of stairs, thereby making them slick.
Williams said that while the act was explained to him as being a prank, he said it created a hazard for anyone who might have had to use those stairs. Williams also said that district officials have video from a security camera depicting Madonia pouring the oil on the stairs.
When confronted by school officials, Williams said Madonia immediately offered his resignation, which the School Board will vote to accept when they are scheduled to meet again June 24.
But district officials did not make the decision to turn the issue into a police matter until a few days after the resignation was received.
"We think this is a serious matter, one that warranted police involvement," Williams said.
At the time of the incident, Madonia already was suspended from his band director's post because of incidents that occurred earlier this year.
In April, the District 215 School Board imposed a suspension that would have run through the end of May. At the time, school officials said Madonia had violated various board policies and procedures, although they would not specify what those policies were.
That suspension was offered as an alternative to the board's original intended action, which was to transfer Madonia from the Lansing-based campus to the Calumet City-based campus of the Center for Academics and Technology, which offers no band programs.
The board held off on that punishment after several dozen students and parents appeared before the School Board to defend Madonia's character.