Diesel fuel leaked all over the Borman Expressway in Hammond as Jerry Miller approached an overturned semi-truck to untangle an unconscious driver from his seat belt and drag him to safety.
Moments later, the driver's side diesel fuel tank exploded, shooting flames into the air.
"You don't think. You just get up and rock 'n' roll," Miller, 57, of Northglenn, Colorado, told The Times as he recalled the events of March 21 that tied up Borman traffic for hours.
Miller, a truck driver with the Joplin, Missouri-based company CFI, was honored Friday as a "Highway Angel" by the Truckload Carriers Association for his lifesaving efforts in Hammond that day.
Anyone driving on the Borman Expressway that day likely remembers encountering the massive hourslong gridlock in the westbound lanes after the diesel truck lost control and burst into flames.
But few likely understand the heroic efforts carried out that day at the scene by Miller. The army veteran, who served in the Colorado National Guard from 1977 to 1984, said he was taught by his family to always help people.
"My granddad raised me to understand that everybody needs help at one time or another. And the military trained me to always be in service for people in our country. If we don't take care of each other, who will? When I see someone in distress, I stop and help," Miller said.
Miller said he and his wife, Linda Miller, who are team drivers, were approaching Hammond when traffic was building up ahead of him. When he switched to the center lane to avoid a car attempting to pass him, he saw a semi trailer swerving in front of him, according to TCA.
The driver, Amrik Bal, 56, of Indianapolis, lost full control of the trailer and hit the guard rail, causing his tandems to burst off the trailer. The truck then spun and flipped over, slamming the driver side down onto the freeway," according to a news release from TCA.
Miller first tried to flag drivers on the expressway to slow down to avoid driving through the diesel leaking onto the roadway. When he approached the overturned semi driver side door, it was jammed, so he walked over to the passenger side to reach the driver.
"He was unconscious so I tried to wake him up and explain what kind of situation he was in. I made sure there were no critical injuries before I moved in, so I untangled his seatbelt and pulled him out of the driver's seat," Miller said.
Moments later, he heard the pop of the diesel fuel tank and watched the tank explode. By that time, he had pulled Bal to safety just as fire and police authorities arrived on scene.
"It was a traumatic day," Miller said.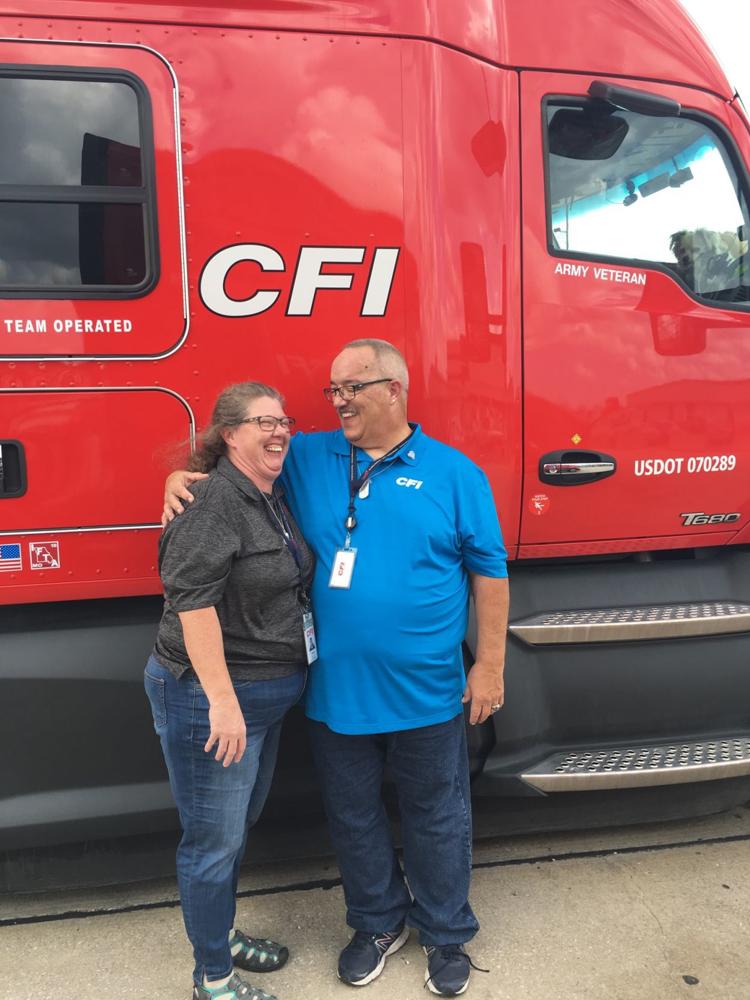 Miller was honored Friday at an awards ceremony in Joplin, Missouri, where videos of the crash aftermath were played, and newspaper accounts and letters from witnesses and a highway patrol officer were read aloud.
"I got choked up. I didn't see the pictures of the accident at the time that it happened. I mean, I knew the truck was on fire when I went in to get the guy, but I didn't realize how much it had been on fire on the driver side," Miller said.
Since 1997, the Highway Angel program has recognized professional truck drivers for "the exemplary courtesy and courage they have shown others while on North America's roadways," according to the Truckload Carriers Association. "Their good deeds range from simple acts of kindness, such as fixing a flat tire, to heroic lifesaving efforts, such as pulling someone from a burning vehicle and administering CPR."
"Had Jerry not been able to pull the driver to safety, he would have been severely injured by the blast," according to the news release.