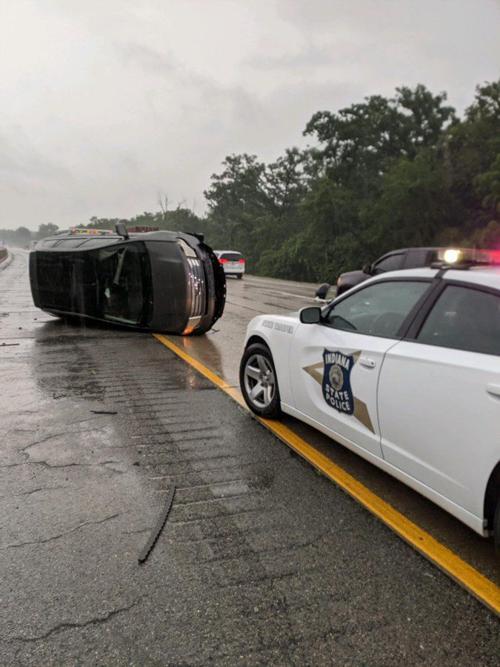 Residents should be on the lookout for more potential severe weather warnings and flood watches as a scattering of strong storms are predicted to last through the end of next week, according to the National Weather Service. 
A flash flood watch for Northwest Indiana expired Saturday morning, however, expected rainfall Sunday could result in an extension of the flash flood watch, NWS said.
Waves of torrential rain are expected to be focused on Lake, Porter, Newton and Jasper counties through Saturday morning, according to the National Weather Service in Romeoville.
As of Friday evening, Meteorlogist Jake Petr, of the NWS, said rainfall totals in Northwest Indiana range from one-quarter of an inch to upwards of 3 inches as recorded since Thursday. Those numbers are expected to climb as more storms are forecasted to drench the Region through this weekend and beyond. 
"It appears we are locked into a pattern of multiple waves of thunderstorms through next Friday," Petr said. 
Saturday may see another round of severe storms in the afternoon and early evening and Sunday may also see daytime storms and another round sometime after 7 p.m., according to NWS. From there, everyday through July 2 has a chance of showers and thunderstorms. 
Petr said residents should watch for upcoming alerts, warnings and watches from the National Weather Service as meteorologists track the incoming weather patterns. He said it is important especially for those in areas prone to flooding.   
On Early Friday, water pooling on Interstate 80/94, particularly in the westbound lanes between Cline and Kennedy avenues, caused issues for drivers, Indiana State Police said. 
When there is water on the road, drivers who see debris or water covering the road should turn around and seek an alternate route, according to the Indiana Department of Transportation's Northwest District.
"Treat traffic signals that are out as four-way stops, and never drive over downed power lines," INDOT said. "Take it slow out there, as there is a serious risk of hydroplaning and reduced visibility during the heaviest rainfall."
Flooding of low-lying areas, including farm fields, ditches and roads, is possible as heavy rain continues to hit the Region. Water levels in rivers and streams also could rise.
Drivers who encounter downed trees or power lines, traffic signals on state routes that aren't working should report them as quickly as possible to INDOT's 24/7 customer service center by calling 855-463-6848 or by visiting www.indot4u.com.
To keep updated on weather-related alerts and announcements, go to the National Weather Service site at forecast.weather.gov  and check out safety tips on flooding, storms, tornadoes and more, go to www.weather.gov/safety.