Two siblings tied to a historic photo of a woman and her children — behind a sign advertising "4 Children for Sale Inquire Within" — continue to search for answers nearly 70 years later.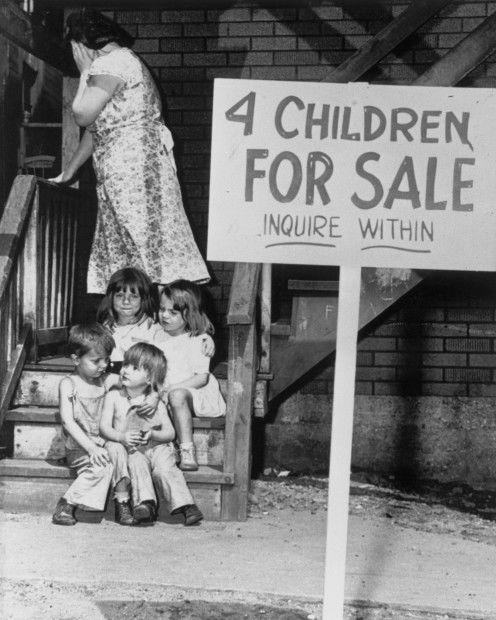 RaeAnn Mills, of Washington, Indiana, was one of the four children on the stoop of the Chicago home of Ray and Lucille Chalifoux where the family lived in August 1948. The children in front of Lucille Chalifoux, 24, on that stoop included Lana, 6, RaeAnn, 5, Milton 4, and Sue Ellen, 2. One other child, born Bedford Chalifoux, was born in September 1949.
The picture was published in The Vidette-Messenger, of Valparaiso, on Aug. 5, 1948, as well as various other newspapers around the country. A story several days later in the Chicago Heights Star stated a Chicago Heights woman offered to open her home to the children and that offers of jobs, homes and financial assistance poured in.
Within two years of the photo being taken — which some family members believe was staged — the siblings went in different directions. Bedford Chalifoux was only 9 months old when he was adopted by Harry and Luella McDaniel and renamed David McDaniel.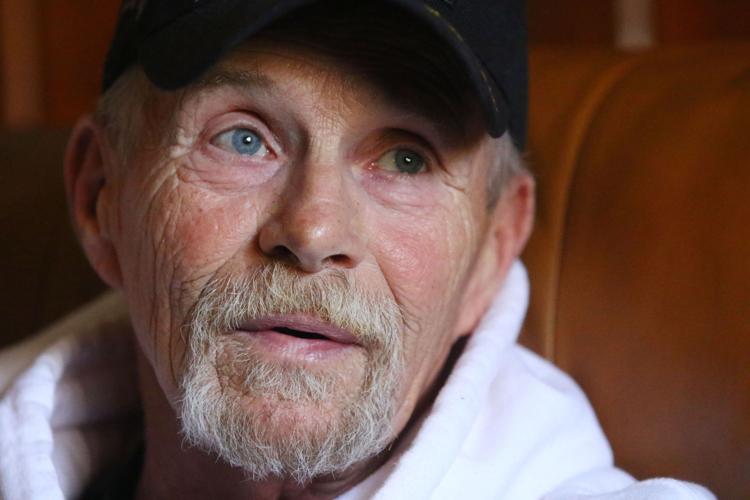 In June 2013, The Times wrote about what happened to some of the children. Several weeks ago, The Times spoke again to the two surviving Chalifoux siblings — Mills and David McDaniel.
While Mills, 74, and McDaniel, 68, ended up with families only a couple of miles apart in Jasper County, Indiana, they had much different experiences growing up in the 1950s.  
Mills and Milton Chalifoux told The Times in the 2013 article that their life with the late John and Ruth Zoeteman on a DeMotte farm was one of abuse and being treated as forced laborers. The two siblings were renamed Beverly and Kenneth Zoeteman after being taken in by the couple. They would use those names with each other for the rest of their lives.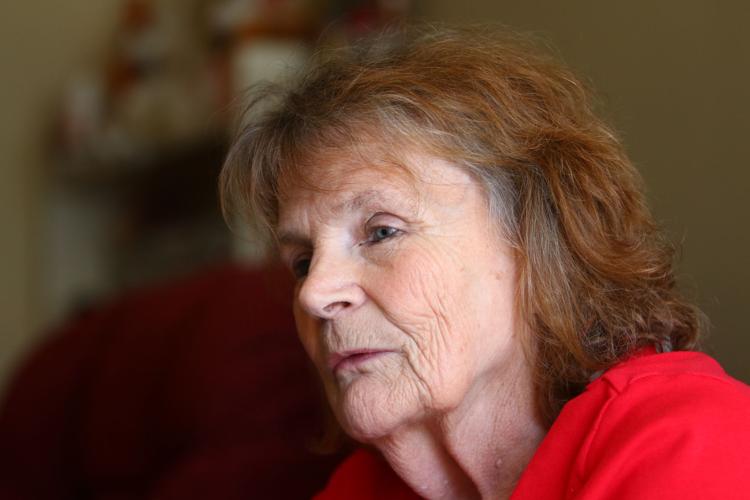 Unlike McDaniel, who has adoption papers showing he was adopted, Milton Chalifoux told The Times that the Zoetemans were considered foster parents to him and his sister.
McDaniel doesn't recall exactly when his adoptive parents told him he was related to Milton and RaeAnn, other than it was before he was a teen. Mills said McDaniel was the one who then told her and Milton that he was their brother. 
McDaniel remembers later going over to the Zoeteman home and finding his brother and sister tied up in the barn. After releasing them, McDaniel recalls how he was followed to his home by John Zoeteman. McDaniel's adopted father ended up stopping a possible confrontation between the young boy and the older man, he said.
McDaniel said that unlike his two siblings, he had a good childhood growing up in the small community of Kersey. McDaniel said he was a bit rebellious, though, and thought his adoptive father was overly religious. He left home when he was about 16½ and drifted a bit before eventually joining the military. 
Despite leaving as a teen, McDaniel retained fond memories of the area and in August 2016, he moved to Wheatfield — about 5 miles from where he grew up — after reconnecting with a childhood sweetheart. He said he enjoys spending much of his leisure time these days fishing.
"It was a good place to be raised," he said of the small community.
FORGIVENESS AND BITTERNESS
While McDaniel is forgiving of his birth mother who gave him up for adoption, he continues to harbor hard feelings toward his birth father.
Reflecting on his birth mother's decision to give up the children, McDaniel asked, "What are you supposed to do? Your husband leaves you, you don't have a job and you're getting ready to be thrown out of your apartment; what are you supposed to do? And my opinion was, she was thinking about us kids."
McDaniel used an unflattering epithet to describe his birth father. "I mean, what father is going to father five children and then turn around and abandon them?"
He said he didn't know much about his father until later in life. Records that McDaniel gave to The Times earlier showed his birth mother was on public aid for several years and her husband abandoned her and the family. His birth father, according to the records, did "not return home because of a criminal record against him in Cook County, Illinois."
Still, McDaniel would like to know more about his father's life after he left the family. He wants to know whether his birth father fathered other children when he moved to New Jersey.
You have free articles remaining.
Keep reading for FREE!
Enjoy more articles by signing up or logging in. No credit card required.
"I may have siblings out there, stepbrother or stepsister," he said. "It would be nice to know."
Mills feels differently than McDaniel when it comes to their birth father. She recalls that her birth mother told her their father had died when she was young, but Mills said their father actually was still alive when they were given away.
Mills, who believed she was named for her father, Ray, said she wanted to take her original name back for his sake.
McDaniel has been busy reconnecting with family the past few years. He traveled to Tucson, Arizona, to visit Milton Chalifoux on his brother's 70th birthday, and talked to him daily until Milton Chalifoux died in December 2016. He also paid for Mills to come visit him in August 2013, when he lived in Roy, Washington.
"It was really good," Mills said of that visit. She stayed a week and visited various attractions in the area.
McDaniel's girlfriend, Bonnie Darner Dunlap, currently has a granddaughter who goes to Vincennes University, in Vincennes, Indiana, not far from where Mills lives with her family. When the pair go to visit her, McDaniel said he takes his sister, her husband and her son, Lance Gray, out to dinner.
Gray said it has been nice to get to know McDaniel, and it has led to an increased sense of belonging for him. Growing up, Gray noted, he was envious of others who had large families.
Mills and her son also briefly reunited with her sister, Sue Ellen Chalifoux, of Hammond, a couple of months before she died in July 2013. She was the fourth of the five siblings born to Ray and Lucille Chalifoux, and three years younger than Mills. McDaniel said he did not get to see Sue Ellen in person, but was able to speak with her before she died.
During her trip to see McDaniel in 2013, Mills also said she met with a daughter of their older sister, Lana, who died in 1997. Mills said the niece, Nancy, who lives in Vancouver, Washington, told her that "all my mom talked about was finding you before she died."
Mills said she still keeps in touch with that niece along with another daughter of her oldest sister. She also still has the last message that her brother, Milton Chalifoux, left her before he died, which ends with loving words. 
"That's the last words I heard from him: 'Love you, Beverly,'" she said of her brother.
THE SEARCH FOR A DAUGHTER
Mills is hoping that she can fill another void by locating the daughter she was forced to give up years ago.
Mills recounted to The Times in 2013 how she was kidnapped, raped and got pregnant in her late teens. She was sent to Michigan to a home for unwed mothers, Mills said, and then brought the baby girl back to DeMotte.
Although the Zoetemans initially said she could keep the baby, Mills said, they eventually arranged for someone to take the child when the baby was 6 months old.
"That was my little girl and I wanted to keep her. Because, you know, my mother gave us away, and that is something I had on my own that I could love, but they took that away, too," she said. Mills was 17 years old at the time.
Her daughter would be 57 now. With the help of her son, McDaniel and his girlfriend, Mills continues to look for her. They have reached a dead end, but have not given up hope. 
"It hurts me everyday that I don't have my baby," Mills said.
Mills left the Zoetemans home after her baby was taken away, and she never went back. She remembers reconnecting briefly with her birth mother years later, who remarried and had a second family, but that reunion did not end well. She has not stayed in touch with her four stepsisters.McDaniel, however, said he has developed a close relationship with one of the stepsisters.
McDaniel said he has mixed emotions about the earlier Times story detailing what happened to him and his siblings, because some of his stepsisters were hurt by it, he said. Perhaps, he speculated, he could have had a relationship with more of them if not for that story, and he does not want to cause any more pain.
"I don't want to hurt nobody's feelings, that's the thing," he said. "I'm too old to lose family."