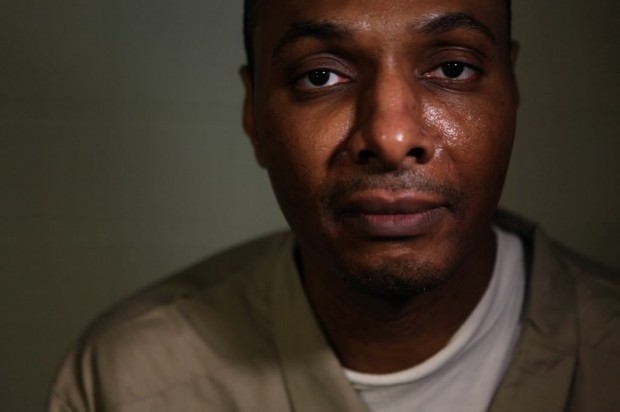 At 8:45 p.m. on Feb. 27, 1992, Rhonda Fleming awoke to a knock at the door that would change her life. She had been sleeping, not knowing a man was outside her Gary home, peering through her windows.
Not fully awake, she moved toward the door after turning on the lights. "Who's there?" she asked.
A man's voice said it was a neighbor.
With no peephole in her door, Fleming opened it to face a handgun.
Fleming pushed the gun away but struggled as the man pushed her back into the house and forced her to lie on the floor.
Standing at least a foot taller, he overpowered her, covering her face with a pillow and threatening to shoot her in the back of the head if she did not give him money.
A few blocks away about a half-hour later, Kimerly Garza and her family pulled into their driveway. As Garza and her children approached the house, a man with a gun demanded money from Garza's fiance, Bernard Jimenez. Jimenez threw money on the sidewalk as directed.
"It's not enough money, you don't value your family!" the robber screamed, pointing his gun at Garza's 2-year-old child.
Jimenez threw a bench at the man. He was shot in the struggle, and died about an hour later of fatal wounds to his head and chest.
At least three other similar armed robberies took place that night in Gary, all originally attributed to the same assailant. Two of six eyewitnesses picked a man from a lineup. No other arrests were made, and the investigation focused on one man.
On Oct. 1, 1992, following a five-day trial in June, a judge sentenced Willie T. Donald to 60 years in prison for the armed robberies and murder. Now, new developments and a recanting witness may prove Donald innocent.
And after 17 years behind bars, he hopes to get his life and reputation back.
Donald, serving his sentence at the Miami Correctional facility near Peru in north-central Indiana, said he started writing every innocence project in the country after arriving in prison.
Two years ago, Northwestern University's Medill Innocence Project -- which reviews potential wrongful-conviction cases -- became involved with Donald, and teams of journalism students have investigated the case. The work of the project helped gain the recantation of testimony from Fleming, and additional evidence Northwest Indiana attorney Thomas Vanes has presented to the court has given Donald newfound hope.
"During the early stages of my incarceration, I wanted to give up, but something kept encouraging me to fight," Donald, 41, wrote in a letter last week to The Times. "I guess it was my family, my conscience or the fact that I knew I was totally innocent of the crimes in which I was convicted of. Maybe that was the motivating factor. Luckily, I continue to believe that one day I would be vindicated."
Because so much has changed since his conviction, Donald may receive another day in court.
After the crime that night in 1992, Rhonda Fleming, now 48, closed herself off in her bathroom until police arrived, she said.
Recorded in her police statement and court documents, Fleming described the attacker as wearing a black leather jacket, a black Kangol cap with a red bandana, dark jeans and dark shoes and having a slender build and bumpy scars on his face and cheeks. She said his eyes were half-closed.
Three days later, Fleming saw a man near her home at about noon. She recognized him as her attacker, and called police.
In 1994, Fleming testified at a motion-to-correct-errors (MCE) hearing -- part of a failed appeals effort -- that she believed the man she saw was her attacker, but she wasn't 100 percent certain.
Now, she says she is positive.
What Fleming did not know that afternoon days after the crime was this: As she was calling police to report seeing her attacker, Donald was at his job at Gary's Goldblatt's Department Store eating lunch with his supervisor, according to court documents.
John Jelks, current head of Gary's Narcotics-Vice unit and a former detective who worked on the case, testified in the same MCE that Donald was at work at the time of the sighting.
"That's a policeman's worst fear, having someone go to prison for something they didn't do," he said. "You take their life away from them."
According to police records, Fleming picked Donald out of a photo lineup and a physical lineup. Later at the trial, she testified that Donald was the man who robbed her.
In an exclusive interview with The Times, Fleming now says she told police the mug shot she selected "resembled" the man who had robbed her. She picked Donald out of a physical lineup because he matched the photo she had picked.
The mug shot that witnesses viewed came from a 1989 incident in which police arrested Donald for auto theft after he was found sitting in a stolen vehicle. A mug shot was taken in the process of the arrest. But the charges were dropped.
"I just looked at them (in the lineup) through the window and told them, you know, I wasn't 100 percent sure that that was him," she said.
In a second interview last week, Fleming described differences from her original description of the attacker, Donald and the "attacker" she subsequently saw on the street. The man on the street better matched the original description she described to police the night of the attack.
"It was his shape -- he was slender," she said. "It was the bumps on his face."
In the lineup, she remembers Donald did not have acne.
"(Donald) was bigger than the (attacker), his body was bigger," Fleming said. "Donald's face was fuller."
Last month, Fleming officially recanted her testimony against Donald, signing an affidavit for Sergio Serritella, a private detective and teaching assistant hired by the Northwestern Innocence Project. Fleming said she was rushed and pressured by prosecutor Philip Benson and the Gary police and that she was certain the man she saw outside her home a few days after the crime -- not Donald -- was the person who attacked her.
"I did, you know, what (the prosecutor and police) wanted me to do, and they just convinced me that he was it," she said in a soft voice. "I picked the right guy, that's what they told me.
"But deep down inside, I felt like, no."
Lt. Bruce Outlaw Sr., the investigating detective on the case, said working with witnesses is a double-edged sword.
"For one thing, you want people to cooperate," he said.
"And on the other hand, you want them to be credible. Because it's just as important to get the right person as it is not to get the innocent person."
Fleming said she had been carrying the secret with her for too long, and she did not know how to fix her mistake. That all changed when Serritella tracked down Fleming, who since had moved to Indianapolis, and approached her about the case.
"Certainly any reasonable person has to take a fresh look at this case and the evidence in light of what she says in her affidavit," Serritella said.
Because it is a pending investigation, Lake County prosecutors are not commenting on the potential for the case to be overturned and Donald released. Benson, the original prosecutor and current assistant U.S. attorney for the Northern District of Indiana, declined comment Friday.
"We don't comment on any pending case, whether it be state or federal," Benson said.
Garza, the second witness, has not recanted her testimony identifying Donald in the 1992 robbery and murder.
The Times tried to reach Garza for comment, but family members said she was unavailable while vacationing in Europe and would not be back until after the publication of this story.
Garza's nephew, Jimmy Belinsky, 26 said Garza had been frustrated when students from the Innocence Project tried contacting her this spring.
"She never forgets a face and is 100 percent sure it's (Donald)," Belinsky said. "It kills her that they're trying to release a murderer."
According to court documents, Garza described her attacker as wearing dark clothes, a black hat with hair or a bandana sticking out and having bad facial acne on his cheeks. She also said he had lazy, yellow-tinted eyes.
In her new affidavit, Fleming said she was shown the mug shot books at the same time as Garza. She said she pointed to Donald's picture, telling Garza that Donald might be the man who did the crime. Fleming said Garza agreed there was some resemblance, but that neither victim was certain of the photo identification.
"I felt she was picking him because I was picking him," Fleming said.
According to police records, Garza picked out the same photo but said she was "not sure about this person but (Garza) believes that this is him. (Garza) also states that if she saw him in a line up that she could point him out." Police records of Fleming's viewing show a positive identification of Donald.
Fleming said in the new affidavit, that she and Garza were told that one man had committed the murder and robbery.
"They talked to us together," Fleming said.
Outlaw said it is against protocol to show witnesses photos at the same time, and that it would not have happened.
"We'd never have people in here together," said Outlaw, who has 25 years of law enforcement experience. "Never. Ever. Because that could make it undue influence. You don't do that."
But Fleming said she knows Donald is innocent, and she has to finish her role as a witness in sharing that he is not guilty.
Over the years, Fleming said she felt like a prisoner by keeping things quiet, and she is grateful that now the burden is gone.
"It just got really heavy; I got tired of carrying it," she said with a sigh.
"I believe it will be a new life for the both of us. (Donald) will be free, and I will, too."
Donald said he is grateful Fleming came forward, and that he is not angry.
"I forgive her," he said. "I know it was probably hard and probably something she had to deal with for a long time, eating at her, and she finally got it out."
On that February night in 1992, there were more than two crimes that took place in Gary's Glen Park neighborhood. Within about an hour and a 10-block area, there were three additional victims of armed robbery. Each victim eyewitness described a similar attacker who was wearing dark clothes and had acne scars on his face.
The cases were first investigated as one string of crimes.
A police affidavit for a search warrant listed each victim as a reason to search Donald's home for any clothing similar to that of the attacker, or for a gun, purses or personal information like credit cards of the victims.
"You want to try to establish supporting evidence," Outlaw said. "You just, you know, want something to support the strength of the identification."
Police searched the home where Donald lived with his sister and her future brother-in-law.
"He slept on the sofa; I knew there was no gun," said Dan Hopkins, 48, Donald's brother-in-law.
When brought in to view a lineup, four of the six victims did not pick out Donald as their attacker. One of the victims included Mary Banks, a veteran of the Gary Police Department. That night, Banks was robbed shortly after Jimenez was shot. According to court records, when the robber approached Banks with a gun, he told her he had just shot somebody.
Further -- according to court records and a sworn statement from the Innocence Project file following an interview with Banks -- Banks got a good look at her attacker and knew Donald did not rob her.
The Times attempted unsuccessfully to contact Banks by phone. Subsequently, The Times presented her copies of recent documents in the case at her Kentucky home. But she declined to comment.
Back in Lake County, then-prosecutor Benson's notes from a pre-trial interview with Fleming surfaced in the spring. They show that Fleming told Benson she was uncertain about her identification.
The two handwritten pages include the following notes: "can't swear in court that the defendant is the person"; and, his "face looks fuller in the lineup than robber."
This information was not given to the original defense attorney, former Gary Mayor Scott King, before the time of the trial. King contends -- both at the trial and now -- that police found no physical evidence linking Donald to the crime.
King alleges that prosecutor Benson committed a federal Brady violation, whether intentional or unintentional, by withholding evidence from the opposing side. If the court determines the documents are Brady material, a new trial could be granted, King said. In addition, the case could be thrown out and Donald freed or his sentence reduced.
"There's no question in my mind that this should have been disclosed," King said. "Why it wasn't turned over is known only to the prosecutor."
Fleming also alleges that no fingerprints were taken at her home after the robbery.
The court documents and Benson's handwritten notes indicate the robber was not wearing gloves, contradicting an initial police report that states the robber wore leather gloves.
"He had his hands all over the (kitchen) canisters and stuff," Fleming said. "And I know nobody checked that."
Outlaw said that in the 1990s, the Gary Police Department did not have a crime lab and used the Lake County lab for investigations. Murder scenes were guaranteed to be covered, he said, but fingerprints were not taken at every robbery.
"I'm not going to blame it on manpower, because, if anything, from an investigative standpoint, if there's evidentiary value, we'll get it collected one way or another," Outlaw said.
Outlaw said he did his job in investigating the case and that once charges are filed, the police do as the prosecutors direct.
Donald calls the investigation unfair.
"It wasn't a search for the truth, they just wanted to close the case," he said.
Earlier this month, Donald's defense attorney, Vanes, filed a court petition in Lake County to test Jimenez's jacket for DNA evidence. The jacket has not been evaluated for evidence in about 17 years.
Outlaw said at the time of the crime, the technology to test for DNA evidence was not nearly what it is today.
"Things were a bit antiquated, as you can imagine, then," he said.
If anything is found on Jimenez's Cubs jacket, it could be tested and possibly identify someone else in the crimes.
Listed in Vanes' recent motion is Lavelle Thompson, a possible alternate suspect.
Thompson was an 18-year-old at the time of the crime who had bad skin and a drug reputation. He was shot and killed shortly after the crimes.
Mark Watson, the prosecutor handling the case for Lake County, last week declined comment on the case, citing the pending investigation.
Battle of the giants and ignored alibi
During the trial, Donald's oldest sister, Sheila Hopkins, and her future husband, Dan Hopkins, testified that during the night of the crimes, Donald was car shopping with them in Merrillville and Crown Point. In court, car salesmen testified the trio was at their dealerships at the same time of night the crime occurred, but they could not remember the day they were shopping.
Four days after the crime, squad cars pulled up to the Donald home, and a group of officers arrested Donald on a bench warrant for a failure to appear on a traffic violation from 1990. Documents show the warrant was reissued March 3, 1992. Outlaw said last week it was a legal arrest, but he did not remember the specifics of the Donald case regarding the alibi.
"I can't even start to remember, I've been involved in so many cases over the years," he said.
In an exclusive interview from prison, Donald said from the time he was taken in and told police his alibi to the time Hopkins told police hers, the siblings had no contact.
"What are the odds of me and Sheila having the same story when we didn't have no contact with each other for two weeks?" Donald said.
Hopkins told The Times giving testimony during the trial was horrible, because prosecutors accused her of lying for her brother.
"No one listened to what we had to say or what he had to say," she said. "It was like he was just convicted from the moment he was picked up."
Scott King, Donald's lawyer at the time, said the case relied heavily on eyewitness testimony, and, scientifically, eyewitness testimony is the least reliable form of evidence.
In Donald's case, he said, two crimes were part of one hearing, which is never good.
King says he almost called Banks, the Gary police officer and robbery victim, to testify in the trial, but Banks became less sure of herself as the court date neared.
"(Banks) changed her recollection from pretrial to the time of trial," King said. "It became more potentially damaging than beneficial."
Between the lack of evidence against Donald in the case and Donald's soft-spoken, timid personality, King said he did not think Donald committed the crimes.
"He was not an individual capable of the charges he was convicted for," King said. "This was a case by someone very cold, very calculating. That person was not Willie Donald."
The five-day trial ended with a guilty verdict. Donald said he was shocked and felt like someone had died.
The investigation continues
In 1997, Vanes took on the case as Donald's defense attorney. Vanes declined comment for this report since the investigation continues.
But Donald is grateful to Vanes and Innocence Project team members.
"(The Medill students and faculty) have been like family," Donald said. "I ain't never in my 41 years met so many nice people in my life."
Based on a petition filed by Vanes, a hearing regarding "ineffective assistance of counsel" by King is scheduled for Oct. 20. The failure to present Banks' testimony is one prong of the claim for post-conviction relief.
King acknowledged the petition, saying it was a strategic way to ensure Donald's case did not die.
"They had to have a basis to file a petition," he said. "I don't mind that being used as a vehicle which turns out to be, well, so far, somewhat fruitful, you know, to get those notes."
He said he thought it was a well-tried case, and with the new evidence, he expects the petition to be updated.
The DNA evidence requested earlier this month could take up to a few months to bear results.
Meanwhile, Donald remains at the Miami Correctional facility, hoping the latest legal efforts, 17 years later, will set him free.
---------------------------------
About the author: Times staff writer Sarah Tompkins is a native of Jackson, Mich., and a 2009 graduate of Northwestern University. As a student at Northwestern's Medill School of Journalism, Tompkins participated in the Medill Innocence Project, taking it as a class earlier this year. She did not, however, participate in the project's investigation of Willie T. Donald.