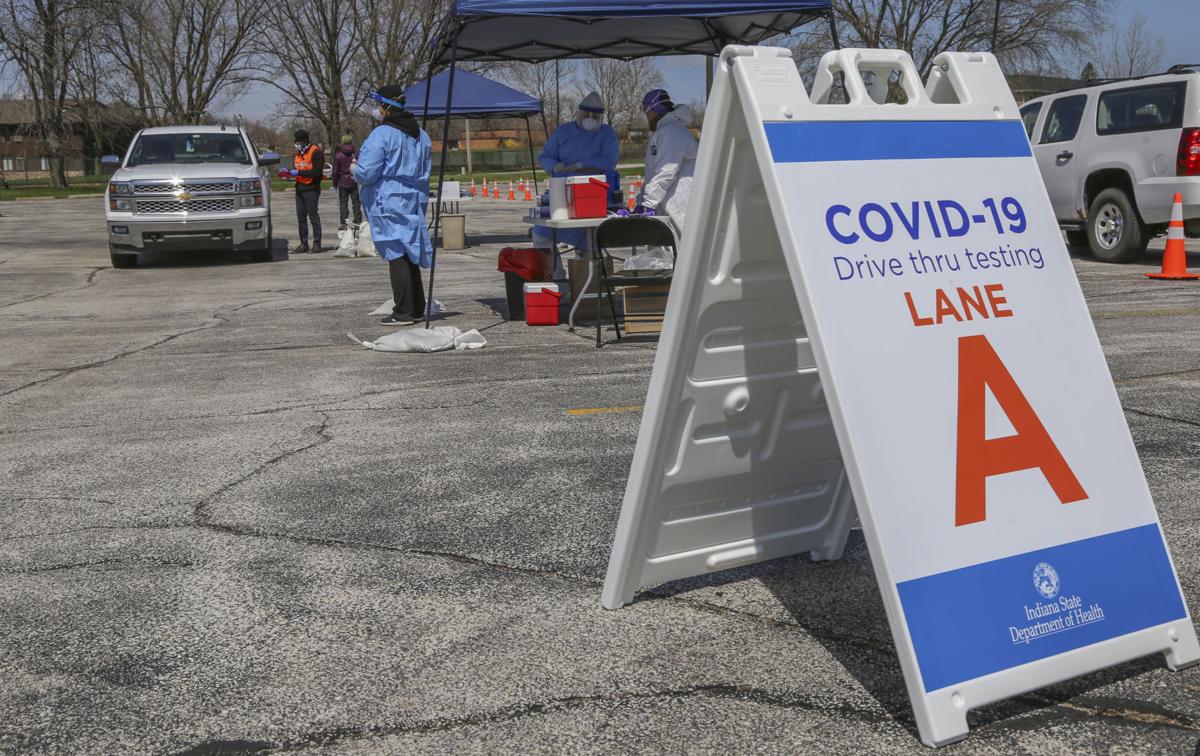 One new COVID-19 death was recorded in Lake County, according to updated health statistics provided Sunday by the Indiana State Department of Health and local health departments.
The additional death from the respiratory disease brings the county's death total to 249.
In neighboring Region counties, death totals stood at 39 in Porter County, 28 in LaPorte County, 10 in Newton County and two in Jasper County.
There were four new deaths recorded across Indiana, bringing the state's total to 2,567. New deaths were reported between Friday and Saturday. All data were provisional and subject to change as more information is reported to the state.
ISDH listed another 193 deaths as probable, meaning there was no positive test on record but a physician listed COVID-19 as a contributing cause, based on X-rays, scans and other clinical symptoms. One of the deaths in Porter County's total was probable, county officials said.
Locally there were 62 new positive cases in Lake County for a total of 5,650, 13 in Porter County for a total of 866 and seven in LaPorte County for a total of 623.
Jasper and Newton counties' totals rose by one each to 136 and 101, respectively.
ISDH reported 560 new cases overall in Indiana, bringing the state's total to 51,612. New cases were reported Saturday.
The Porter County Health Department lists two patients currently hospitalized and 706 people recovered.
Lake County community totals were not available Sunday.
The East Chicago Health Department reported Friday 562 cases. Its death total was 14.
The City of Gary reported Wednesday 823 positive COVID-19 cases and 57 deaths.
The Porter County Health Department reported the following community totals Sunday: Portage Township, 333; Center Township, 243; Westchester Township, 67; Washington Township, 57; Liberty Township, 40; Union Township, 39; Porter Township, 28; Boone Township, 18; Morgan Township, 17; Pleasant Township, 13; Pine Township, seven; and Jackson Township, four.
Total deaths included: Portage Township, 18; Center Township, 13; Westchester Township, six; Liberty Township, one; and Union Township, one.
The Westville Correctional Facility has 201 inmates and 109 staff who have tested positive for COVID-19. Totals of 185 inmates and 97 staff have recovered, according to the Indiana Department of Correction.
A total of 564,647 people in Indiana have been tested for coronavirus, with a 9.1% positive rate.
ISDH reports 46,083 tested in Lake County, 11,319 in Porter County, 8,771 in LaPorte County, 2,676 in Jasper County and 762 in Newton County.
New tests were reported between June 24 and Saturday.
The Gary Health Department continues to offer COVID-19 testing at the health center, 1145 W. Fifth Ave., by appointment on Tuesdays and Thursdays. No upfront payment is necessary, but guests are encouraged to bring any proof of insurance to the testing site. Doctors' orders are not required.
ISDH will host additional drive-thru testing July 17-19 at Ivy Tech Community College, 410 E Columbus Dr. in East Chicago, from 9 a.m. to 6 p.m.
To find testing locations around the state, visit www.coronavirus.in.gov and click on the COVID-19 testing information link. More than 200 locations are available around the state, including sites in Valparaiso and Michigan City.