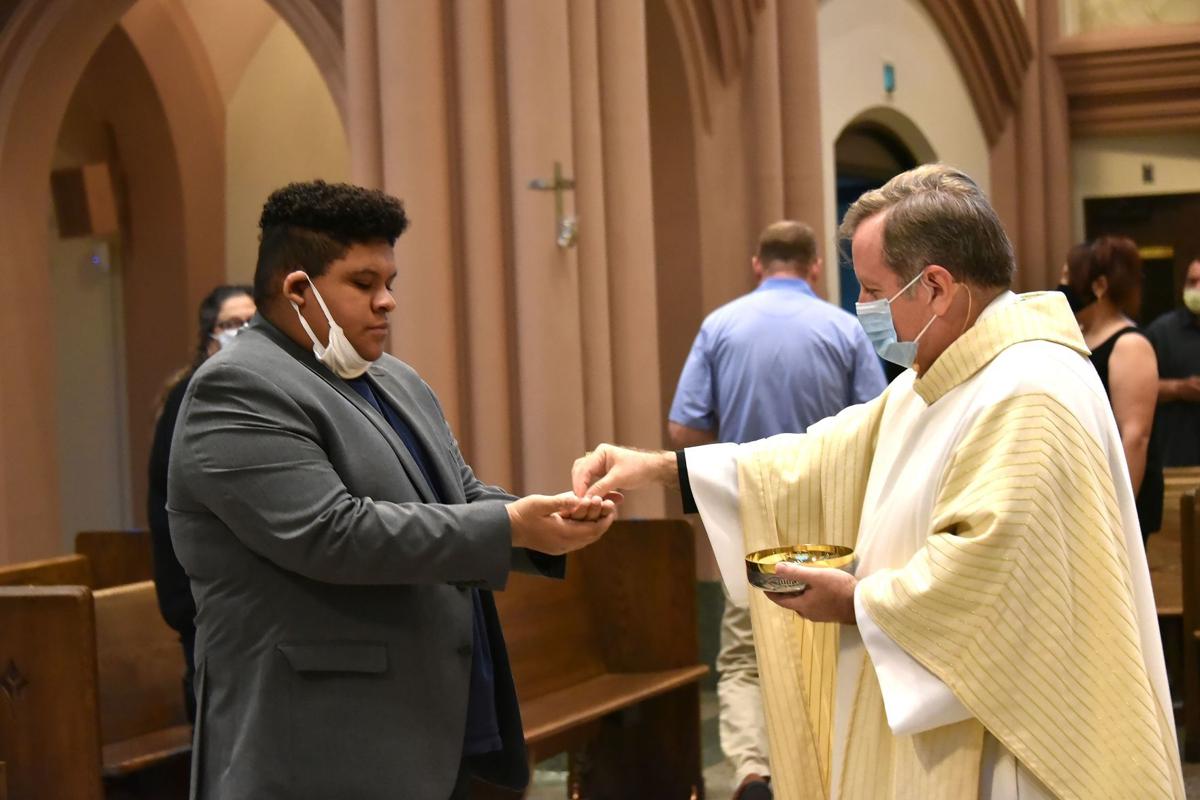 MERRILLVILLE — After a year of being allowed to remain out of the pews because of the COVID-19 pandemic, Catholics across the Region will be welcomed back beginning June 11, the Diocese of Gary announced Friday.
"With the decrease of COVID-19 cases in our state, a widespread availability of vaccines, and guidance of public health officials, Bishop Robert J. McClory of the Diocese of Gary, along with the other bishops of Indiana, agreed that Catholic churches can safely accommodate more parishioners for Masses and lift the dispensation which has been in effect for more than a year," the diocese said.
"Effective June 11, the Solemnity of the Most Sacred Heart of Jesus, the general dispensation from the obligation to attend Mass is lifted throughout the state of Indiana," it was announced.
McClory encouraged the laity to reach out to their parish with any questions about specific needs, concerns or safety protocols.
"The celebration of the Eucharist at Mass is the source and summit of our life and mission as Catholics," McClory said.
"The transition to a normal rhythm of our faith life is a cause for joy," he said. "We still need to be prudent and patient with each other as we enter this new phase. I am grateful for our pastors and parish leaders who continue to serve so faithfully during these days to meet the needs of our parishioners."
Some may continue to be dispensed from the obligation to attend Sunday Mass, the diocese said.
That includes those who are seriously ill, exhibit flu-like symptoms and/or may have a contagious disease; those unable to attend Mass through no fault of their own; those who are homebound or incapacitated due to age, infirmity, or other medical restrictions; those with compromised health conditions or at high risk of contracting the coronavirus; and caretakers of people sick or at high risk of serious illness if they contract the coronavirus.
The Diocese of Gary is home to an estimated 168,500 Catholics and 66 parishes in Lake, Porter, LaPorte and Starke counties. The diocese is home to three high schools and 17 elementary schools.
Nurses: The Heart of Health Care
Nurses comfort, care, educate, console, relate, endear and provide direction and assistance. They are at the forefront when we are sick; their work responsibilities immense, their efforts tireless and their commitment endless. They are the heart and soul of medical facilities including residential care, hospitals, clinics, doctors' offices, schools, in-home care and much more. And this dedication is only enhanced by the coronavirus pandemic.
To celebrate National Nurses Week, May 6-12, 2021, The Times Media Co.; Title Sponsors: Community Healthcare System and Methodist Hospitals; Supporting Sponsors: University of St. Francis, NorthShore Health Centers, Center for Otolaryngology & Facial Plastic Surgery LLC; Sponsors: Indiana University Northwest School of Nursing, Strack & Van Til, Hospice of the Calumet Area and Visiting Nurses Association, are showing our true appreciation for area nurses with nominations and evaluation, profiles and planned virtual events.
As a way of saying thanks, we asked the public to nominate nursing professionals who have had an effect on their life, the lives of loved ones and the community. The result was 98 nominations and more than 3,320 votes. From there, our panel of five independent judges — Kerry Erickson, Marie D. Forszt, Julie Kerns, Marsha King and Jennifer Philbin — reviewed the nominations and chose nine winners. The tenth was chosen by our readers. Read about each winner here and online at nwitimes.com/nurses.
---
Nurses: The Heart of Health Care is produced by the Special Sections and Marketing Teams of The Times of Northwest Indiana.