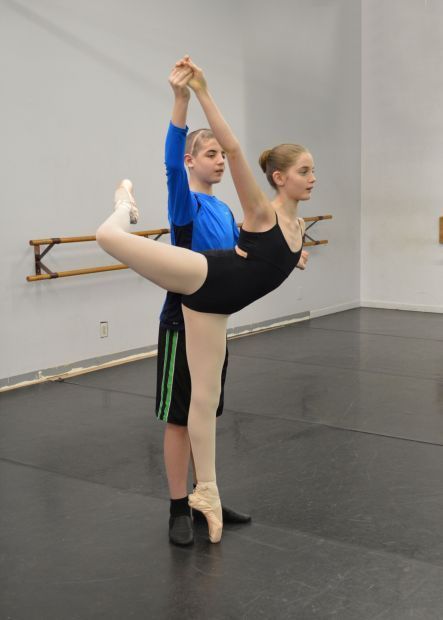 DEMOTTE | As children grow into adulthood and the pressures of the real world, they often daydream about a simpler time when life was about play and discovery.
But for DeMotte twins Gabe and Lindsay Hartman, childhood has been more challenging, and dance has been an escape from sometimes frightening realities.
At very young ages, both were diagnosed with rare medical conditions.
In 2003, Gabe was diagnosed with craniosynostosis, a birth defect which doesn't allow a child's skull to grow properly. In 2007, he was diagnosed with both chiari (brain tissue extends into the spinal canal) and intracranial hypertension (pressure of cerebrospinal fluid within the skull is too high). At 12, he has undergone 11 surgeries.
In 2008, Lindsay was also diagnosed with intracranial hypertension, which led to eight surgeries due to allergic reactions to her shunts.
Both youngsters are mature beyond expectation, well-spoken and witty.
When asked what has been most difficult, the two exchanged glances before Lindsay offered: "Being away from our family," added with a grin, "and, of course, missing our dance classes."
The twins have a Caring Bridge webpage, www.caringbridge.org/visit/gabehartman, where their mother, Michelle Hartman, posts journal entries for family and friends to stay updated. "I used to be upset that the page was named after Gabe; I have problems, too," teased Lindsay with a smile.
Lindsay's scariest moments have to do with her allergy to anesthesia. "I had an anaphylactic reaction," she said of surgical complications.
"She has a whole list of things she's allergic to," added Gabe playfully. He said his most frightening moment came a couple years ago when doctors had to "go in and fix the titanium plates (in his skull) after they fell out of where they were supposed to be."
Both youngsters agreed that dance is their saving grace. "It's almost like a therapy," Lindsay said. "I will come to class with a terrible headache, but then I just stop thinking about it.
"Leave your problems at the door and out of the dance studio" is her motto.
"I feel that IBT is a safe haven; we're like one big family here. The teachers are always there for you if you need to talk."
And family is never far away, since Michelle Hartman is IBT's DeMotte studio and promotions manager.
Both Lindsay and Gabe hope to pursue professional dance careers and feel that IBT has presented them with the necessary building blocks to chase their dreams. "They've always treated us like normal people," Lindsay said. "It irks me when people treat me as a sick kid." 
The young dancers had some advice to other children facing serious illness. "Try not to let it beat you, never let it defeat you, and always try to overpower it," said Lindsay.
IBT, with studios in Merrillville and DeMotte, is a nonprofit organization dedicated to offering the community the opportunity to experience the world of dance through performance, outreach and the finest education. Visit www.ibtnw.org or call (219) 755-4444.