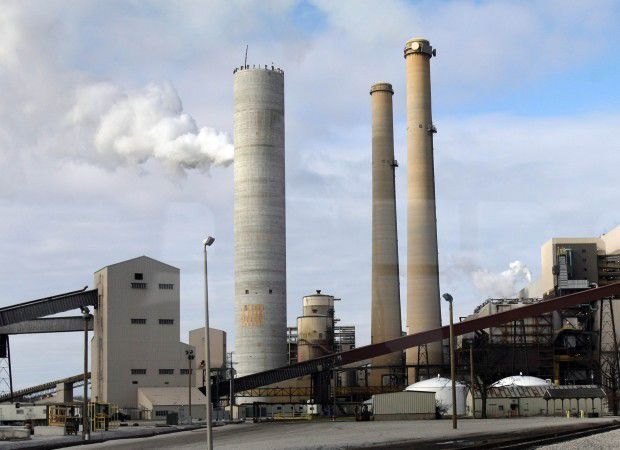 If Indiana makes changes to its coal ash rules similar to revisions recently finalized by the EPA, the result will be more groundwater contamination near coal-fired energy plants, fewer cleanups at a slower pace and a greater risk of spills, the Hoosier Environmental Council says.
The Environmental Protection Agency on July 17 finalized its first set of revisions to its President Barack Obama-era coal combustion residuals rule, which was finalized in 2015 after extensive study of coal ash and its effects on public health and the environment. The rule created comprehensive requirements for the safe disposal of coal ash, EPA said.
The changes allow for alternate performance standards, one of which would permit a state environmental director or EPA to suspend groundwater monitoring requirements in some cases. Another change provides facilities — which would have been required to close coal ash disposal sites under the 2015 rule — with more time to stop receiving waste and begin closure.
Indra Frank, environmental health and water policy director for the Hoosier Environmental Council, has been analyzing data for 15 coal-fired plants and said EPA's changes put Indiana groundwater at risk.
"It allows more coal ash to stay in risky sites," Frank said.
The revisions were not specific enough to determine what might happen at individual facilities, she said.
"It gives the states flexibility to decide that some facilities don't have to monitor anymore," Frank said. "It would allow some of the utilities to petition the state to be off the hook, and then the state would make that decision."
IDEM drafting state rules
The Indiana Department of Environmental Management is currently drafting its own rule language and proposing revisions to existing state rules to address coal ash landfills and ponds. The department hopes to submit a draft to EPA this fall for comment, a spokesman said.
"The recently approved portions of the proposed (EPA) revisions include some changes Indiana likely would have sought through the development of our state permitting process for CCR units," IDEM said. "There will be additional revisions forthcoming from EPA. IDEM's rules must be at least as stringent as the federal regulation."
NIPSCO facilities affected by coal ash rules include the Bailly Generating Station in Burns Harbor, the Michigan City Generating Station and the R.M. Schahfer Generating Station in Wheatfield.
Despite the rule changes, NIPSCO plans to continue with groundwater monitoring at each of its sites and close its remaining coal ash ponds as currently scheduled, spokesman Nick Meyer said.
"Even if an extension is provided, we still intend to maintain our current timeline in our (coal combustion residuals) compliance plan," he said.
The Hoosier Environmental Council has said a preliminary review of data shows several contaminants found at NIPSCO's sites exceed drinking water or other health-based standards. The contaminants include arsenic at the Michigan City station, thallium at the Bailly facility and radium, molybdenum, lithium, arsenic and boron at the R.M. Schahfer property.
The council recommended residents who use private wells for drinking or cooking and live within 1 mile of the facilities have their water tested for metals, radium and sodium.
NIPSCO said data collected to date does not show any potential impacts pose a risk or threat to public health. There is no indication at this time that contaminated groundwater has migrated off-site at the Schahfer plant, Meyer said.
"Additionally, drinking water supplied by neighboring communities has not been previously impacted, nor is it showing impacts today as a result of this recent report," Meyer said.
Public utilities are required to test for heavy metals and other contaminants. Similar testing for private wells is not required.
Benefits of flexibility for states questioned
EPA said the rule changes will allow states to "tailor coal ash disposal requirements based on site specific considerations" and save between $28 million and $31 million in regulatory costs.
"These amendments provide states and utilities much-needed flexibility in the management of coal ash, while ensuring human health and the environment are protected," acting EPA Administrator Andrew Wheeler said in a news release. "Our actions mark a significant departure from the one-size fits all policies of the past and save tens of millions of dollars in regulatory costs."
The Hoosier Environmental Council said flexibility for the states didn't work in Indiana.
"The problem with that is prior to the coal ash rule in 2015, the states had 100 percent flexibility," Frank said. "In all the decades prior, Indiana chose not to regulate where and how coal ash was disposed."
The result was groundwater contamination at all 15 sites required to report data, many of which were constructed near waterways and lie in 100-year floodplains, the council says.
NIPSCO's Michigan City and Schahfer plants are in floodplains, council documents show.
In addition, an 80-acre waste disposal area at the Schahfer plant was ranked in 2016 as "high hazard," according to a report posted at NIPSCO's website.
The ranking means the failure or misoperation of a diked coal ash impoundment "will probably result in loss of human life." It is not based on the condition or structural integrity of the dam, only on what could happen in the event of a failure.
More groundwater testing planned
IDEM said state law previously prohibited the adoption of rules regulating the disposal of coal combustion products, so disposal units were designed, constructed and operated without state oversight. A law enacted in 2017 allows the state to adopt rules consistent with federal rules. 
"As those units are closed, they will be evaluated for releases to groundwater and surface water. Where releases are discovered, they will be remediated," IDEM said. "The closure plan review process includes identification of any nearby private drinking water wells or public drinking water supply wells or surface intakes."
NIPSCO is in compliance with regulations pertaining to the management, storage and disposal of ash material at the Schahfer site, Meyer said.
"Our next step, in conjunction with IDEM, is to analyze that data to determine next steps, which will include more expansive groundwater sampling to determine the magnitude and extent of groundwater impact and corrective measures if necessary."
The company does not have any data at this time to indicate the state's waterways are affected by its operations, he said.
Be the first to know
Get local news delivered to your inbox!