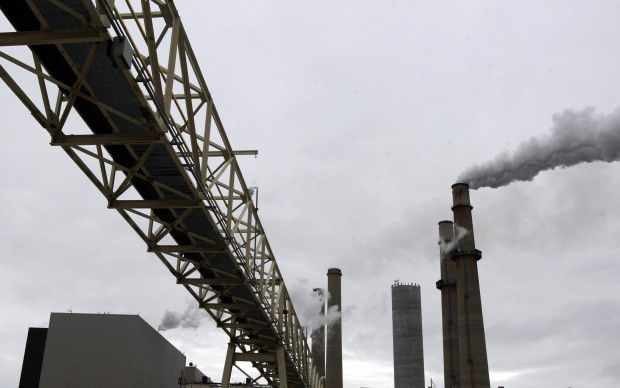 New data released for the first time under a 2015 federal rule show dangerous levels of pollution in groundwater at three Northwest Indiana coal-fired plants, the Hoosier Environmental Council said.
The council recommends residents who use private wells for drinking or cooking and live within one mile of NIPSCO's Bailly Generating Station in Chesterton, Michigan City Generating Station and R.M. Schahfer Generating Station in Wheatfield have their water tested for metals, radium and sodium.
"Some of the coal ash sites, including Schahfer, have had high levels of radium, which is radioactive," said Indra Frank, environmental health director for the Hoosier Environmental Council. "Some of the coal ash is releasing large amounts of sodium, and if you're on a low-sodium diet, that would be getting into your diet."
Coal ash, the material left behind after coal is burned to produce energy, was not a regulated waste until 2015. In the past, NIPSCO followed an industrywide practice of dumping coal ash that could not be reused into unlined retention ponds. Over time, contaminants in coal ash can seep into groundwater.
A preliminary review of data released last month show several contaminants found at the three Northwest Indiana sites exceed drinking water or other health-based standards, the Hoosier Environmental Council said. The contaminants include arsenic at the Michigan City station, thallium at the Bailly facility and radium, molybdenum, lithium, arsenic and boron at the R.M. Schahfer property.
NIPSCO said it "does not have any indication that any potential impacts pose a risk or threat to public health" based on data collected to date. There is no indication at this time that contaminated groundwater has migrated off-site at the Schahfer plant, NIPSCO spokesman Nick Meyer said.
NIPSCO's coal ash ponds and a landfill at the Schahfer plant comply with existing environmental regulations, he said.
"Additionally, drinking water supplied by neighboring communities has not been previously impacted, nor is it showing impacts today as a result of this recent report," Meyer said.
Public utilities are required to test for heavy metals and other contaminants. However, no testing is required for private wells.
Records on file with the Department of Natural Resources show there are 61 private wells within one mile of the Bailly plant and 67 in the area of the Schahfer facility.
DNR's records may be incomplete, because the wells are registered by drillers, or out of date, Frank said.
"Some of the records go back to the '50s and '60s, and it's possible those wells are no longer in use," she said.
EPA rule to be rolled back?
NIPSCO released groundwater data for the three coal-fired plants March 2, one day after EPA announced it planned to roll back the Coal Combustion Residual Rule it established in 2015. The rule was intended to ensure the safe disposal of coal ash at electric generating stations across the nation.
The rule includes a number of requirements, including that utilities check groundwater under coal ash sites and issue public reports, and that states prohibit the establishment of new dumps, provide for the closing or upgrading of existing dumps, and establish compliance schedules under the Resource Recovery and Conservation Act.
NIPSCO was not required to study groundwater at its former Mitchell Generating Station in Gary, because it shuttered the facility before EPA's coal ash rule took effect. However, groundwater monitoring at the site is ongoing as part of a RCRA order, according to the Indiana Department of Environmental Management.
The federal rule is "self-enforcing," which means EPA will not initiate enforcement actions based on the data found. Instead, enforcement is left to the IDEM or citizen lawsuits, said Frank, of the Hoosier Environmental Council.
IDEM initially adopted EPA's 2015 rule and in December began the process of updating its coal ash rules. Updated state regulations will be at least as stringent as EPA's, IDEM said.
A preliminary review of the newly released data shows groundwater contamination is likely anywhere coal ash has been dumped in an unlined pond, Frank said.
"With the extent of groundwater contamination we're seeing, this would be a good time to put in place rules that really respond to what coal ash can do," she said. "We'll be pushing for safe long-term handling of the coal ash in safe, lined landfills on high ground, away from water resources."
Frank anticipated the Hoosier Environmental Council would complete its review within months.
NIPSCO would not support regulatory rollbacks that could be detrimental to public and environmental health, Meyer said.
Ponds at the Michigan City plant and the R.M. Schahfer Generating Station in Wheatfield are not lined, but have either a subsurface barrier around an outer area made from sheet piling or concrete-like material, he said.
All six ponds at Bailly have a composite bottom liner and will be closed under the rule, IDEM said. The liner system at Bailly does not meet federal CCR requirements.
The Michigan City facility has six unlined ponds, all of which will be closed. The entire length of the property, which includes the ponds, has two sets of sheet piling along Lake Michigan, IDEM said.
All six ponds at the R.M. Schahfer facility are surrounded by slurry walls, IDEM said.
IDEM said it will review NIPSCO's closure plans and work with facilities to implement site-specific remedial actions.
Next steps include further study
NIPSCO has announced plans to retire 50 percent of its coal-fired electric generation by 2023, starting with the Bailly Generating Station this year. As a result, NIPSCO will reduce the amount of coal ash it produced by 60 percent, Meyer said.
The federal CCR rule also outlines how energy companies should proceed with properly closing retention ponds and conducting more groundwater monitoring, he said.
"As outlined in the rule, NIPSCO will be closing the coal ash ponds that exist on its three properties — the details of which will be outlined later this year," Meyer said. "Additionally, NIPSCO will be investing $193 million this year in related environmental upgrades to further improve coal ash management within its operations."
A groundwater monitoring network surrounding the R.M. Schahfer facility's landfill has been in place for more than 30 years, he said.
An early portion of the landfill, constructed in the early 1990s, is unlined. Remaining areas — which make up the majority of the landfill — are lined.
NIPSCO plans to conduct assessment monitoring at the plant to determine if there is any groundwater impact at the downgradient property boundary, which is to northeast.
If unacceptable groundwater contamination levels are found, NIPSCO would work with IDEM and EPA to assess correction action options, Meyer said.
"With any new regulation, we fully intend to meet all requirements and have done so already," Meyer said.