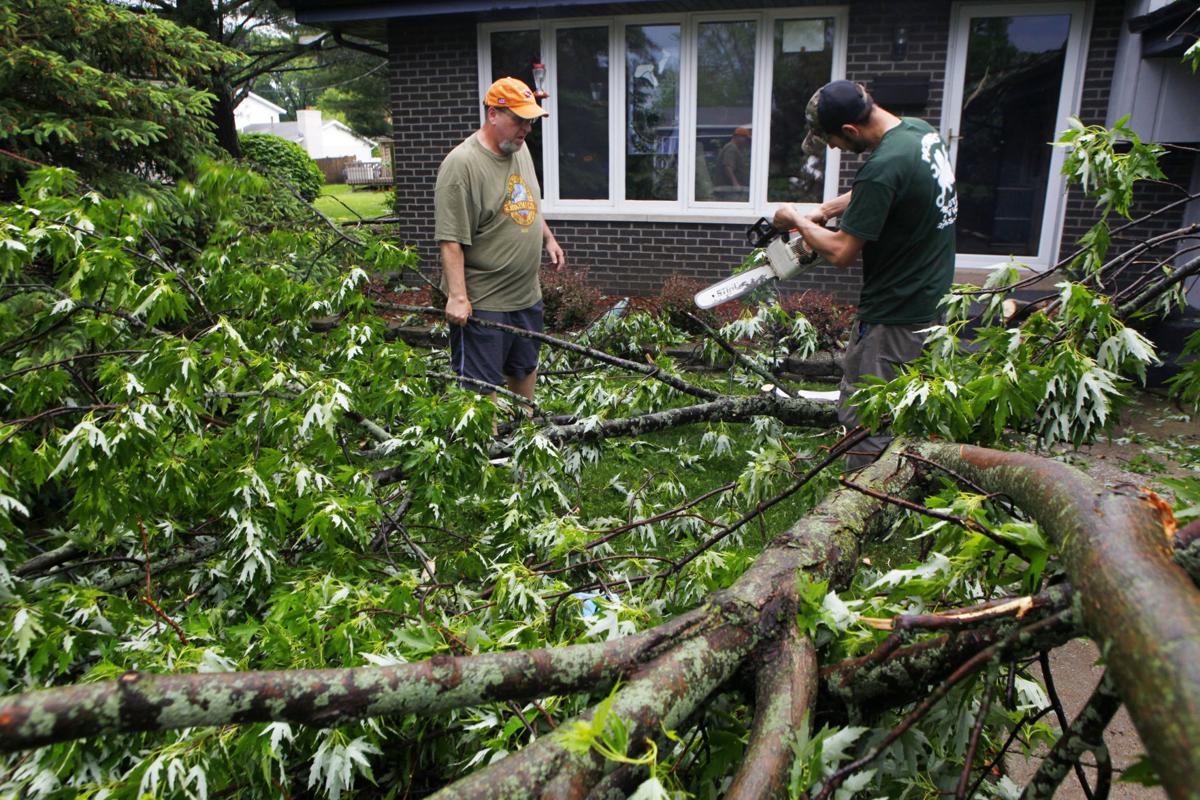 While the overall number of tornadoes in the United States has remained relatively consistent over the past 40 years, there have been more touching down in Indiana, Illinois and a few other states, according to new research.
This increase of one additional tornado at the county level per decade may seem minimal until considering there are only about 1,400 tornadoes across the entire country each year, said Victor Gensini, assistant professor of meteorology at Northern Illinois University and co-author of the research article "Spatial trends in United States tornado frequency."
It also helps to step back and see the bigger picture rather than narrowing in on one county, he said.
Gensini likened it to the difference between one baseball player with a batting average of .200 and another with a .300 average. This differences is not very obvious while watching individual games, he said, but it adds up by the end of the season.
Other states experiencing an increase in tornadoes include Arkansas and Mississippi, Gensini said, while Texas, Colorado and Oklahoma have seen fewer twisters.
It is not known why this change is occurring, he said. Climate change does not seem to be involved.
"It's going to take a lot more work on what's exactly causing it," Gensini said.
The National Weather Service confirmed a tornado touched down in Dyer late Monday afternoon of last week, leaving an estimated 75- to 100-yard track.
The tornado was among as many as 53 that forecasters said may have touched down Monday across eight states stretching eastward from Idaho and Colorado. They tore through Indiana and Ohio smashing homes, blowing out windows and causing one death in Ohio.
There already have been 1,006 tornadoes reported in the country so far this year, which is above the norm of 762, Gensini said. But he said there is no reason to believe the overall number is on an upward swing.
Only a small percentage of these tornadoes are rated "significant" in strength, meaning they can cause a lot of damage and even deaths.
The good news for Hoosiers and others facing an increased number of tornadoes is that there is a pretty reliable way to predict the likelihood of not just twisters, but also hail storms, Gensini said. This is done by taking a looking at thunderstorm activity in the Indian Ocean.
This method, which accurately gave warning a few days ahead of time about the potential for last week's tornadoes, predicts a calm period ahead in Indiana, he said. The tornado season, which begins in April, also should be winding down in early June.
Porter County Emergency Management Director Lance Bella said when the weather sirens started blasting Monday indicating a tornado had either been sighted or was being tracked, he saw neighbors outside rather taking advantage of the few minutes that may be available to seek shelter.
"At that point, when the sirens go off, don't look," he said.
He recommends seeking shelter in the basement of a building and if that is not an option, go to a center room or hallway without outside walls or windows if possible.
"Put as many walls between you and the outside as you can," he said in an online April newsletter on the topic.
If in a vehicle, he recommends making sure your seat belt is on and then attempting to drive to the nearest secure building if possible. Otherwise move the vehicle to an area significantly lower than the road, keep the seat belt on, duck and leave the vehicle running so the airbags can still deploy.
"Do not attempt to outrun a tornado that is nearby," Bella wrote.