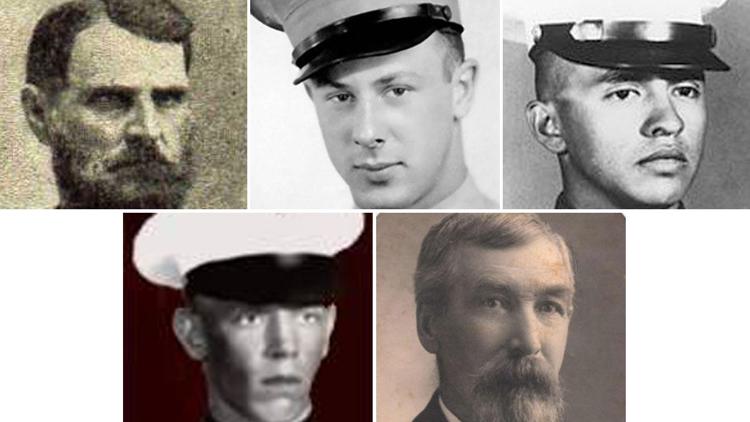 Name: Northwest Indiana Medal of Honor recipients
Hometowns: Michigan City, East Chicago, Westville, Hammond
More than a century and a half ago, Westville Union Army Chaplain John Whitehead ignored a barrage of Confederate bullets to pull wounded troops from the front lines of one of the Civil War's eighth bloodiest battle in Murfreesboro, Tennessee.
While serving with the U.S. Marines in Vietnam in 1970, East Chicago Lance Cpl. Emilio De La Garza Jr. used his body to absorb an enemy grenade in Vietnam. He died in the process of saving fellow platoon members.
They are two of five Northwest Indiana residents to receive the Medal of Honor, the highest and most prestigious personal military decoration that may be awarded to recognize U.S. military service members who distinguished themselves by acts of valor.
They were inducted into the South Shore Wall of Legends in 2011 and joined by:
Marine Pfc. Daniel Bruce, Michigan City. Bruce was killed while serving in Vietnam. He held a live enemy grenade against his body and tried to carry it away from fellow platoon members, dying in the process.
Marine Staff Sgt. William Windrich of Hammond. Windrich died of blood loss from field wounds in 1950 during the Korean War. He was shot multiple times but refused to be evacuated until his men were safely away.
Lt. Thomas Graham of Westville, Company 6, 15th Indiana Infantry. Graham was cited for meritorious service at the Civil War's Battle of Missionary Ridge in 1863 in Tennessee for rallying troops after a regimental flag bearer fell in battle. He planted it in enemy breastworks and exposed himself to enemy gunfire to rally his troops.