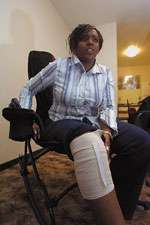 CHICAGO -- The South Side nightclub where 21 people were trampled to death early Monday was operating in violation of a 7-month-old court order, city officials said.
The horrific tragedy was one of the deadliest human stampedes in U.S. history, and the deadliest disaster in Chicago since 19 people were killed in a hotel fire in 1993.
"This is a terrible tragedy that never should have occurred," Mayor Richard Daley said. "It will be fully investigated to make sure nothing like this ever happens again." Twelve women and nine men were killed as they tried to escape pepper spray used when a fight broke out shortly after 2 a.m. at E2 nightclub above Epitome restaurant, 2347 S. Michigan Ave., Police Commissioner Terry Hillard said.
Hillard declined to estimate the number of injured, because many took themselves to local hospitals for treatment. But other officials estimated the number at 55 people, including at least 30 injured that police said were taken to nine local hospitals.
Witnesses said security guards used pepper spray to disperse a crowd as large as 1,500 people. Patrons had difficulty breathing and tried to escape through what they thought was the only available exit, downstairs to the front door.
"I was smashed. I couldn't breath," said Tamyra Dawson, 24, of Chicago. "I didn't know it was that serious because there are always fights in there. I didn't know people were dying. I was lucky enough to get to the main door."
People piled on top of each other to get out, causing some to lose consciousness. Fire officials said most of the victims were treated for cardiac arrest, but no official causes of death had been issued early Monday night.
The victims were between 21 and 43 years old, Hillard said. However, the Cook County medical examiner's office reported at least one victim was 19.
Epitome had been cited on 11 counts of building code violations in July, city officials said. Criminal contempt charges will be sought today against Lesly Motors, owner of the building, officials said.
Tom Royce, an attorney for nightclub operators Andre Grant and Calvin Hollins, said police did not indicate any criminal charges would be filed against his clients.
"They have cooperated fully," Royce said. "This is a tragedy they feel a great deal of sorrow for. All involved in the business have provided all the facts available." Epitome restaurant was licensed to operate Sunday, but only on the first floor, city officials said.
"That owner knows damn well that he is not to be opening on the second floor," said James Joyce, city fire commissioner.
Witnesses said Epitome operates the nightclub on the second floor on a regular basis.
Motors leased the space Sunday night to a promoter who used the two floors above the restaurant for a private party that lasted into the early morning hours Monday, police said. Bill McClellan, general manager of the restaurant, was uncertain who the promoter was or if entertainment was hired.
Hillard and Joyce declined to estimate the size of the crowd. The first-floor restaurant received an occupancy permit for a capacity of 327 people, Joyce said.
Joyce declined to estimate the capacity of the second or third floors, saying only that they did not have valid occupancy permits Monday.
Late Monday Chicago police were still investigating "extremely high-tech" videotapes recorded by E2's security system, Hillard said.
Witnesses said the fight was between two women, but Hillard said police received conflicting reports.
"There was an altercation between two people. We don't know if it was two women or a female and a male or what," he said.
The real culprit was the pepper spray, Hillard said.
"It caused panic," he said. "It sent everyone scrambling towards the exits, particularly the one on Michigan Avenue." Police released diagrams of the building's second and third floors indicating exits to the ground outside the club were available to the rear of the building on both the north and south sides.
McClellan said the south exit opens into the parking lot and the north exit opens into an alley. Both exits were unlocked from the inside when McClellan closed the restaurant at 10 p.m. Sunday, he said.
"I don't think a lot of people realized those doors were open. They could have got out," McClellan said. "There might have been a few laundry bags, but they could have been easily thrown to the side and people let out."
LaTorya McGraw, 22, of Chicago, was killed in the trampling after she got separated from her friend, Marion Robertson, of Chicago.
"The last time I saw her was at 6 a.m. this morning when they put her in an ambulance on a stretcher," Robertson said, tears streaming down her face as she clutched a photo of McGraw's 6-year-old daughter. "All I could think about was trying to get home to my own daughter."
Robertson said one of the club's DJs ordered security guards to clear the group of people involved in the fight.
"The DJ said, 'I don't care what you have to do, because they're not going to mess up my set,' " she said.
Illinois law permits security guards to use pepper spray, but the guards at E2 used "very poor judgment" Sunday, Hillard said.
Robertson said she tried to leave through a side exit, but it was blocked by velvet ropes, a pile of bricks covered by a garbage bag and a security guard sitting in a chair.
"It said exit, but he said we could not exit out those doors," she said. "He said we had to go out the main doors. There was another door. I went down there, but there was two padlocks on the door."
Joyce said one or two exits were locked or blocked, but were not unusable.
"It is a natural tendency to leave the way you entered," Joyce said. "That is exactly what happened here." Joyce confirmed bags of laundry were left in the rear exits, but investigators found no evidence patrons made unsuccessful attempts to leave by the rear doors.
Although bodies were found near the doors, they may have been moved there, he said.
Despite rumors to the contrary, firefighters were not forced to cut chains to enter the building, Joyce said.
"The only thing we cut through was a lock on the gate to the parking lot," he said.
Chicago firefighters responded to a call of "pregnant woman down" on the first floor at 2:24 a.m., Joyce said. The incident involving the pepper spray occurred while they were treating the woman, he said.
When firefighters first learned of the human clusters in doorways, they used sledge hammers to open doors, Joyce said.
"We found people stacked in the stairwell near the exit door," he said.
The Chicago Fire Department sent 23 ambulances, four truck companies and more than 100 paramedics and firefighters, Joyce said.
Fire inspectors had visited the building in October, but did not inspect the second floor because they had no reason to believe it was being used, Joyce said.
Cortez Trotter, executive director of Chicago emergency management, said the building was not boarded up because the first floor was authorized for use.
"The court issued an order," Trotter said. "It is the responsibility of the owner not to violate the law." Chicago officials will determine whether the city needs to implement changes to ensure that future court orders are enforced, Joyce said.
"On any issue, we review our procedures," he said. "We will look at this particular case and determine what needs to be done."
As of Tuesday afternoon, police found no evidence off-duty Chicago police were working as security guards at the club Sunday, Hillard said. They were still investigating whether off-duty Cook County police were working, he said.
Get local news delivered to your inbox!
Subscribe to our Daily Headlines newsletter.