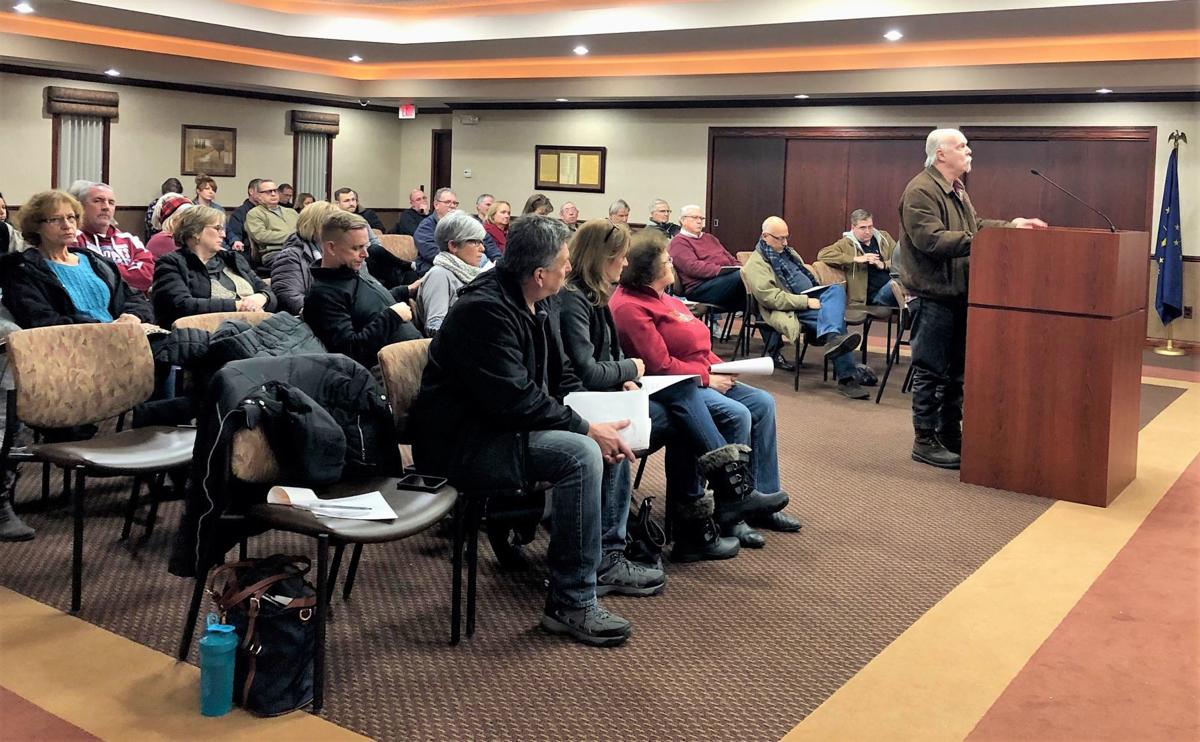 ST. JOHN — Angry residents told the Town Council on Thursday they expect transparency and ethical decision-making from their local government leaders.
The comments came after its two new council members, Gerald Swets and Libby Popovic, were introduced. Swets is a district manager for Adams Remco, an office technology company, and creator of the St. John Homeowners Association. The Republican defeated Democrat Nicholas Georgiou for an open seat on the Town Council in November's general election.
Popovic has been a practicing attorney for 20 years and is the managing partner at her law firm in Chicago. The Republican was selected in December to fill an at-large seat vacated by former Councilman Christian Jorgensen, who was elected to the Lake County Council.
Julie Stevens was one of the first St. John residents to take the mic at the meeting.
Stevens told the council she was new to the community and then began to mention "the November 2015 incident involving our Town Manager Steve Kil," who was charged with stealing opposing campaign signs, but was able to avoid criminal conviction last month as long as he commits no other offenses for the next six months.
Before she could continue, Stevens was interrupted by Town Attorney Joe Svetnoff, who said the comment was not in connection to the meeting agenda.
This upset the full room of St. John residents, who began shouting at the council in disapproval.
"We have a civility ordinance within the town," Svetnoff said. "Listen, we are here for town business tonight."
Stevens said she was trying to "remain optimistic for the future of the town" looking to the new council members to "please use this opportunity to effect change and move forward in a way that is ethical, which has not been done in the past."
Comments continued without interruption and other residents criticized town officials, asking for transparency and ethics.
The council said it belongs to the Shared Ethics Advisory Commission and has adopted the standards recognized by the commission, which promotes ethical behavior in the workplace.
"There is an ethics ordinance in this town. There has been for a very long time. I know, because I was here when it was written," said Councilman Michael Forbes. "The accusations about lack of transparency and ethics in this town are absolutely absurd."
In another matter, the council approved an annual donation of $27,500 to the Tri-Town Safety Village.
The Tri-Town Safety Village in Schererville is a 4-acre facility, specializing in fire, rail and police child-safety initiatives. It's operated as a partnership between Dyer, Schererville and St John.
Council President Mark Barenie acknowledged a concern regarding the amount of this year's donation, which increased by $2,500. He said the town "definitely does pay a bit more than we probably should just based on population," adding that the council has "made that conscious decision many years."
"It is very worthwhile when you hear about the amount of kids that go through and the education that they get," Barenie said.
The council also addressed public comments involving future bike trails in St. John.
One resident referred to Gov. Eric Holcomb's Next Level Trails grant program as an option for the town to invest in. The program requires a 20 percent match from the local agencies and must be used for trails and trail amenities. The application deadline is Feb. 15.
Forbes said he found out about the grant in early January and is planning to apply.
"I have been talking to several developers who are interested in donating easements to the town, that way we don't have to purchase land in order to install this," Forbes said. "If land is donated to us, it has monetary value and we can use that value as our matching portion to the grant.
"I have a plan. I am hopeful that we can get into the second round of this bike trail grant."
Council members, Swets, Popovic, Barenie and Forbes, were appointed to the Utility Board and Redevelopment Commission during Thursday's meeting.
St. John's Town Council is currently only made up of four members since Steve Hastings resigned Dec. 31.
Beth Hernandez, St. John clerk-treasurer, said no caucus has been called to date to replace Hastings' position.
The next Town Council meeting will be at 7 p.m. Feb. 28 at the St. John Municipal Building.