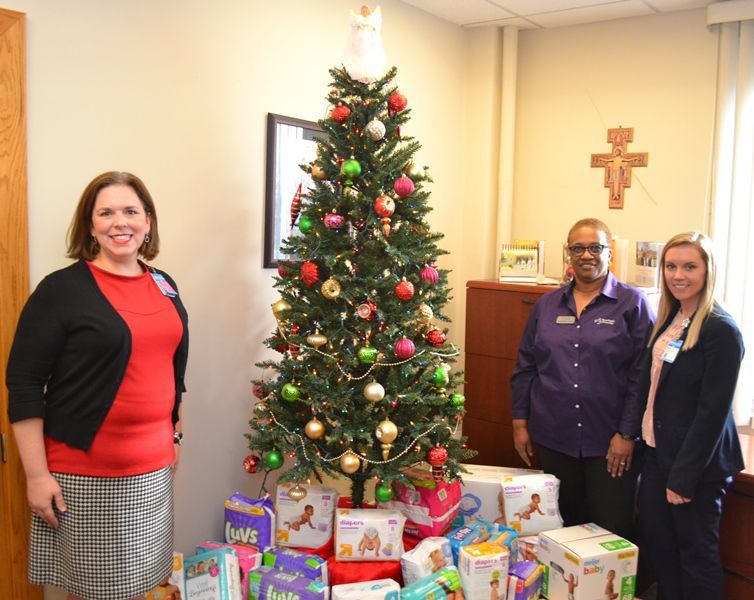 Some 7,000 diapers have been collected for distribution to needy Lake County families through a partnership between Franciscan Health hospitals in Hammond, Dyer and Munster and the Nurse-Family Partnership of Lake County.
The items were collected as part of Diaper Insecurity Awareness Month in October. Donations came from Franciscan and Nurse-Family Partnership employees, as well as Strack & Van Til, Sojourner Truth House, Indiana University Northwest School of Nursing and Purdue Northwest School of Nursing.
The diapers will be distributed to families through community partners, including the Franciscan Prenatal Assistance Program in Crown Point, Nurse-Family Partnership, Women's Care Center in Hammond and Healthy Families Lake County. The goal was to educate the community on the often silent crisis of diaper need and to offset the hardship for families.
Paulette Maxie, Nurse-Family Partnership executive director, is pleased with the effort.
"We are grateful to Joan Culver (Franciscan Health director of women's and children's services) for her vision, because we both recognized that there was a need in our communities related to diapers for infants and children," Maxie said, adding, "I know this will be so very beneficial to the families we serve, who struggle to afford this necessity. We are so appreciative to have been a part of this endeavor, and look forward to continued partnerships in the future."
Culver, likewise, was pleased by the outcome and understands its necessity.
"As a mother, I know the costs and challenges associated with raising kids. No family should have to choose between buying groceries and buying diapers," she said.
The diaper effort also is in conjunction to Franciscan Health's recent receipt of a $1 million Indiana State Department of Health grant to help local health agencies and nonprofit organizations provide projects designed to help reduce Indiana's infant mortality rate.