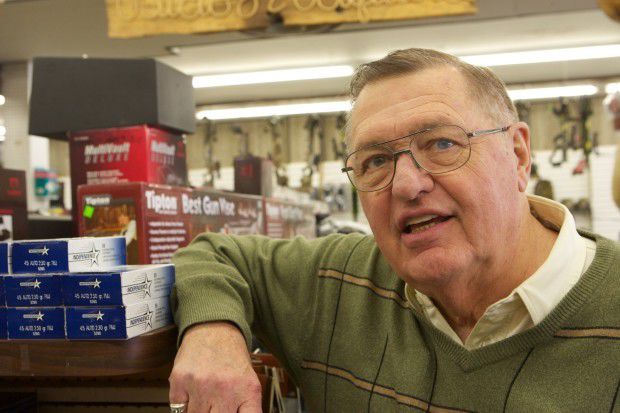 GRIFFITH — Richard "Dick" Blythe, gun enthusiast, conservationist and longtime owner of Blythe's Sport Shop, died Saturday night. He was 85 and in failing health. 
Dick Blythe was also a professional jokester, said his eldest son, Les Blythe, which gave the shop its family-friendly atmosphere.
"These young kids who came into the store, he would line them up and play 'Simon Says' with them," Les Blythe said. "He would then tell them to 'hold your breath' and then just walk away on them and leave them there. He would play jokes like that all the time."
Before Dick Blythe took over the store, Blythe's Sport Shop started in its current Griffith location by his parents, Lester and Ethel Blythe, in 1952.
It was sometime after graduating from Southern Illinois University in Carbondale, that Dick— as he's most commonly called — began overseeing the family-owned and operated business downtown at 138 N. Broad St. Les Blythe said his father would not have been as successful if it were not for his wife of 64 years, Iola.
"She was by his side and supported him all these years," Les said.
As owner, Dick helped build up a well-respected local business that thrived even in the face of corporate competitors such as Gander Mountain and Cabela's.
The local sport shop morphed as the business climate changed to survive, shifting away from the clothing business and focusing more on weapons, gunsmithing and servicing and the gun range, he said.
Dick ran the store until 1996, when his sons Les, Mike and Rodger took over. They eventually sold the Griffith and Valparaiso gun shops to an investment company three years ago, though the athletic shop remains in the family. 
"He taught us how to be a family for the people who came in. We learned integrity and honesty from him. It was a great experience," Les said.
Les said his father's legacy in the Region goes well beyond his reputation as a gun enthusiast and longtime business owner. He said his father was president of the Rotary Club in Griffith and of the Chamber of Commerce. 
He said Dick was also an accomplished basketball player and track high jumper at both Hammond High School and SIU. He is a Class of 1995 Hammond Sports Hall of Fame inductee and was recognized as a Distinguished SIU Alumni in 2006.
Later in life, after his "retirement" from the store, Dick turned his focus toward the protection and restoration of wetlands for wildlife habitat. He volunteered to be chairman of the Indiana Grand Kankakee Marsh Restoration Project, providing office space and clerical support for the effort when it began.
Dick won multiple accolades over his lengthy business career, including being voted one of the top 25 conservationists in the U.S. by Outdoor Life Magazine. He was an avid duck and deer hunter and loved to fish. 
He also won the Sagamore of the Wabash, Indiana's highest honor given by the governor, for leading the effort to spearhead the restoration of the Grand Kankakee Marsh.
A viewing is set for 1-7 p.m. Sunday at Geisen Funeral Homes in Crown Point. The funeral will follow at 11 a.m. Monday. In lieu of flowers, the family requests monetary donations. The donations will be split between Sharing Meadows, a residential community in LaPorte, and to fund a Haiti medical mission trip attended by Les Blythe and a local nonprofit nurses group.