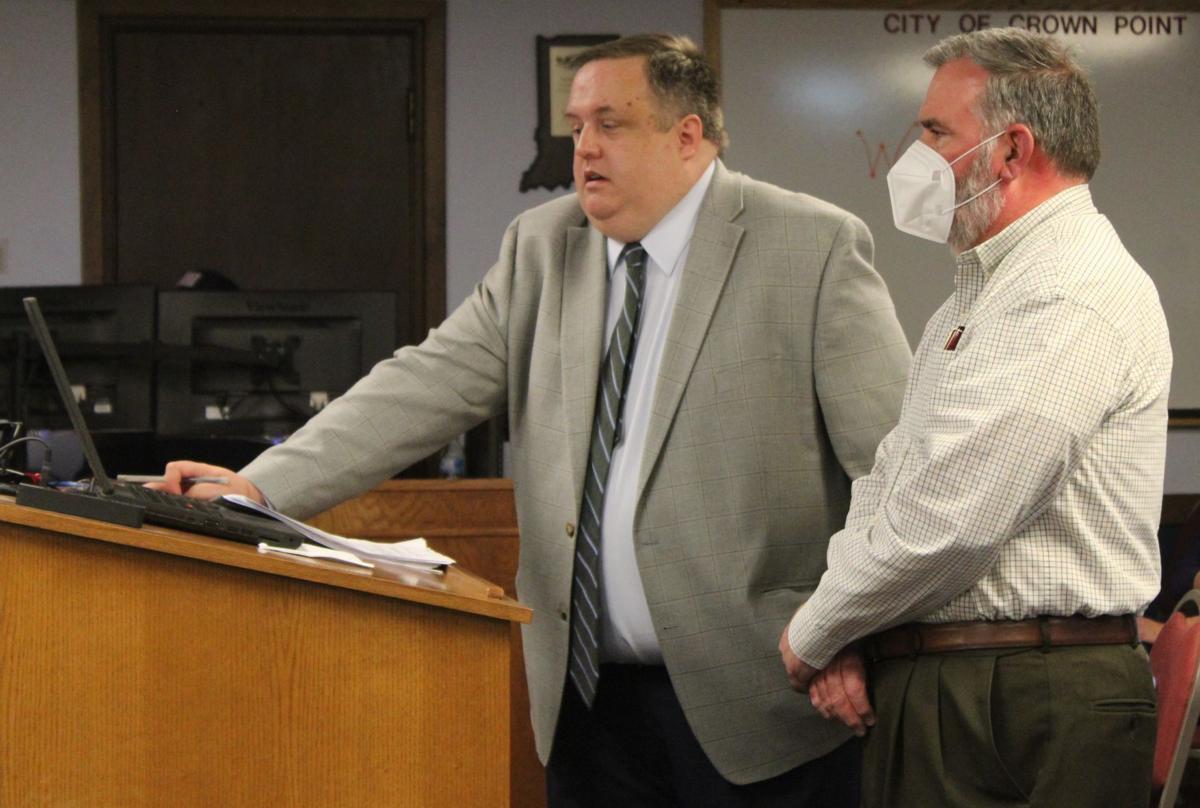 CROWN POINT — City officials told petitioners with Pinnacle Treatment Centers and CapGrow Holdings, LLC, they were left with more questions than answers following a Monday night presentation.
During its monthly meeting, the Crown Point Board of Zoning Appeals (BZA) heard a pitch from Pinnacle and CapGrow to continue operating a group home in the 1700 block of East 106th Place in the Waterside Crossing subdivision.
Pinnacle Treatment Centers is not affiliated with Crown Point-based Pinnacle Hospital. 
Indianapolis-based attorney Mark Crandley, representing both Pinnacle and CapGrow, and Tom Delegatto, executive director of Recovery Works, a Pinnacle treatment facility in Merrillville, fielded questions from BZA members.
At the center of the meeting was a variance to allow more than five unrelated individuals occupy the residence, which began operating as a group home last year, according to neighbors and previous Times reporting.
Only eight residents
The residents in the home, of which Crandley and Delegatto repeatedly emphasized are only eight, are recovering from substance abuse disorder.
"These are not people who are using drugs, let's start there. You cannot be under our system and use drugs," Crandley said. 
"We have rules for the people living in the house. They break those rules, they generally are asked to leave. These folks are in a transitional setting. They're going from having a condition to starting to transition back into the world, to get jobs, to move out and get on with their lives."
The men and women who live in the four-bedroom home are taken to treatment at Recovery Works in Merrillville in a Pinnacle van from 9:15 a.m. to 4:30 p.m. every day, Crandley said, noting during those hours, no one will be in the single-family home. Visitors aren't allowed in the home, Delegatto later noted. 
When home, the residents also have to "obey" house rules. Neither a copy of said rules, nor findings of fact, had been provided to the BZA prior to Monday evening's meeting. 
Crandley told board members he would make the documents available in the coming days. 
When residents are in the home, there is at least one Pinnacle staff member on site, Delegatto said, noting the staff are subject to internal training, but don't "necessarily have a certification or a license." 
Delegatto later noted the state doesn't monitor the home, but does monitor Pinnacle's programs. The home, Delegatto said, is subject to quarterly site visits by an internal, corporate-level quality team.
"Our company is in the process of going through an accreditation for all of our homes around the country, but that's just getting started," he said. 
Pinnacle is asking for "a reasonable accommodation," Crandley said, to allow no more than eight residents to occupy the home during the course of their treatment, which Delegatto noted lasts three to four weeks. 
Delegatto said Pinnacle currently has four such homes in Indiana, three of which are located in Lake County — two in Merrillville and one in Crown Point. 
Two of the three Lake County homes are currently operational, and one is new, Delegatto said. 
"The folks who are there live their lives. They cook. They clean. They socialize. They go to bed," Crandley said, pointing out substance abuse is considered a disability under the Americans with Disabilities Act and those who struggle with addiction are protected under the Fair Housing Act. 
It wasn't clear how much the off-site treatment program costs, as Delegatto noted the stay is typically covered by insurance. 
Delegatto said there is a "very high cash rate," but didn't disclose a specific amount during the public meeting. He did note, however, if someone can afford it, residents are charged $75 a week to stay in the home. 
Both Crandley and Delegatto declined to answer follow-up questions from The Times following the meeting due to pending litigation in federal court.
'It's a bed and breakfast'
Neighboring homeowners in attendance spoke out against the recovery home and said there is often visitors and more than eight people living in the home.
Neighbors also complained of residents hanging out on the home's roof, working out shirtless in the garage and walking up and down the street in socks, acting erratically.
"They slipped in, and now created a whole mess out of our community, and then they're running for protection under the ADA in a Fair Housing Act, and which that's made for people with actual disease," said Dan Bajda, a retired Lake County Sheriff's Department officer who lives next door to the home. 
"The stay, I will guarantee you, out of the time they opened up ... the average day is seven to 14 days. It's a constant rotation. It's not a group home. It's a bed and breakfast." 
Bajda said he and other neighbors aren't against recovery, rather "a corporation making a huge profit for not following business rules."
"We feel prisoners in our own community, which we worked very hard to maintain and build," Bajda said, after noting no one walks around the neighborhood because the Pinnacle van blocks the sidewalk and they are scared. 
Seven others, in person and online, also spoke out against the home. 
Crown Point Mayor David Uran said he planned to reserve his questions for a future City Council meeting, but noted, "As I am leaving here tonight, I've got more questions than answers and that's disappointing." 
"I am disappointed in the fact that some of the questions that were asked, that should be asked across the board, weren't answered today by the petitioner," Uran later said. 
After public comment was closed, both Crandley and Delegatto turned down an opportunity to rebuke comments made by neighbors and online commenters.
Before the matter was put to a vote, BZA Member John Marshall asked if members could visit the site and verify information presented during the meeting. 
Crandley said he needs to talk to his client before saying yes. 
Ultimately, the BZA unanimously deferred the matter for 30 days. Its next meeting will be at 7 p.m. May 24 at Crown Point City Hall. The meeting also will be held on Zoom and streamed live on Facebook.