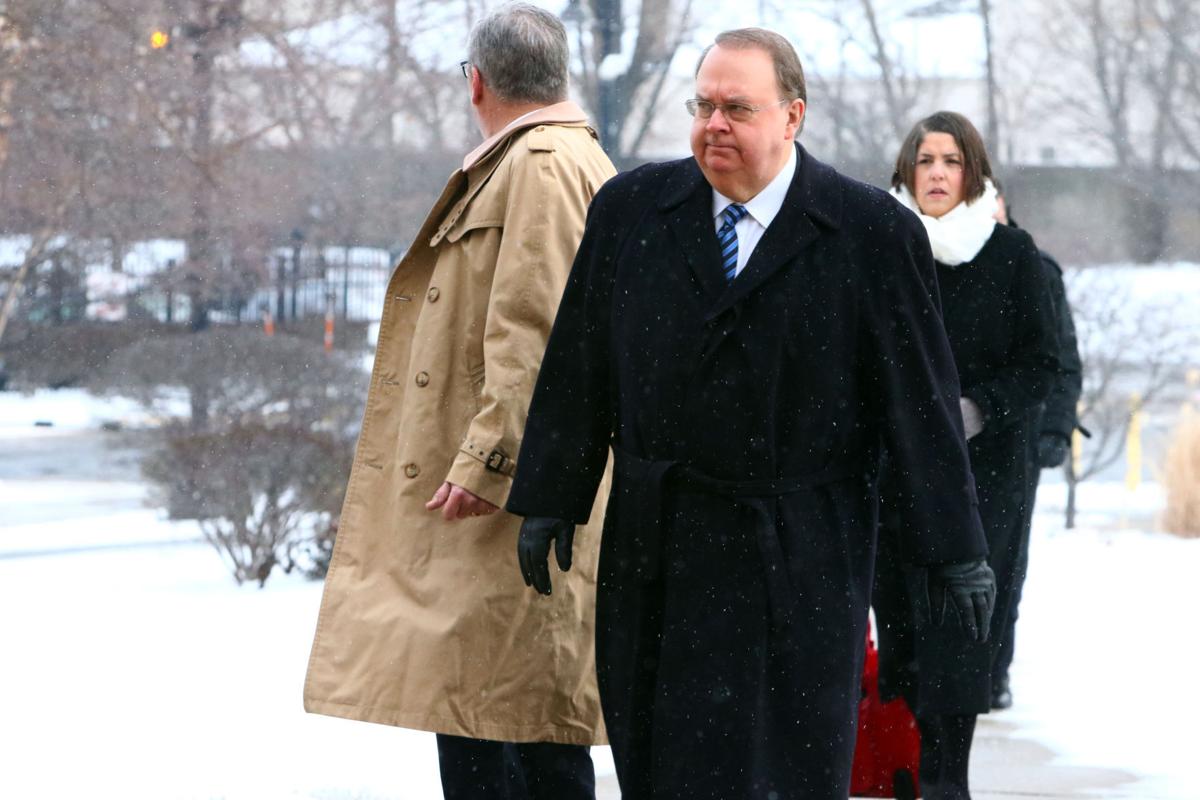 The man who was once the most powerful and well-paid elected official in Lake County is now reduced to begging for money.
Former Lake County Sheriff John Buncich earlier last week petitioned the U.S. District Court in Hammond for taxpayer dollars to hire an attorney to appeal his latest 151-month prison sentence for bribery and fraud.
U.S. District Court Judge James T. Moody on Thursday granted Buncich's request for a publicly financed appeal lawyer.
His lawyer, Kerry C. Connor, who represented him at his sentencing earlier this month, said he can no longer afford to pay for her services.
Connor stood by Buncich's side on a pro bono or free-of-charge basis Aug. 5 when U.S. District Court Judge James T. Moody handed down Buncich's latest prison term.
She even filed a request for the Seventh Circuit Court of Appeals to review anew, but such appeal also requires more time-consuming work to compose a legal memorandum.
Connor stated in her motion to the court last week Buncich only has $3,300 cash in his commissary fund at the federal prison in Oklahoma City, Oklahoma, where he currently is serving his sentence. That money is used to buy snacks.
Connor said Buncich avoids the prison cafeteria as a safety measure against catching COVID-19, which is spreading through the federal prison system.
It is a far cry from the former stature of the police veteran who rose to the office of sheriff between 1995 to 2002 and again from 2011 until his conviction in 2017.
He once commanded 475 county police, corrections officers and civilian employees and a $32 million annual budget.
He had a salary of $145,670 in 2016, the year he was indicted.
In his early years as sheriff, Buncich also drew an annual bonus of around $60,000 a year as his cut of delinquent sales taxes his office collected from county businesses. A change in state law about 12 years ago ended that bonus.
Buncich also served as chairman of the Lake County Democratic party between 2014 and 2017, an influential — if unpaid — position of leadership.
Vendors used to rain hundreds of thousands of dollars in campaign contributions down on Buncich when he ran for sheriff five times between 1994 and 2014.
But four years of paying lawyers to defend him against public corruption charges and nearly three years of imprisonment have cost him almost everything.
His income today is now down to $1,300 a month in rent a relative pays Buncich to live in his old home, but Buncich owes a $155,000 mortgage on it.
Buncich also has to repay a fine, fee and restitution of more than $36,000.
There were rumors after FBI agents and state police officers raided the sheriff's office and his home Nov. 10, 2016, that investigators found hundreds of thousands of dollars buried in his yard.
The FBI later exploded that myth with testimony at his 2017 trial that they only found $1,600 in his house.
Government investigators said in previous court hearings Buncich's personal finances have been in disarray before this.
In the years between 2003 and 2010, when he was out of public office, Buncich ran up considerable unpaid bills, including $40,000 to the Internal Revenue Service and $30,000 in credit card debt.
He was forced to borrow more than $134,000 from friends and some former employees and emptied his retirement account of more than $600,000 to repay debt.
His political campaigns spent more than they took in. He had to loan his campaign organization $85,000 from his personal funds to run for sheriff and was fearful of never getting it back, once out of office again.
Prosecutors argue that was the motive for Buncich shaking down towing firms for about $40,000 in illegal campaign contributions.
ICYMI: Here are the most-read stories from the past week
The most-read stories during the past week.