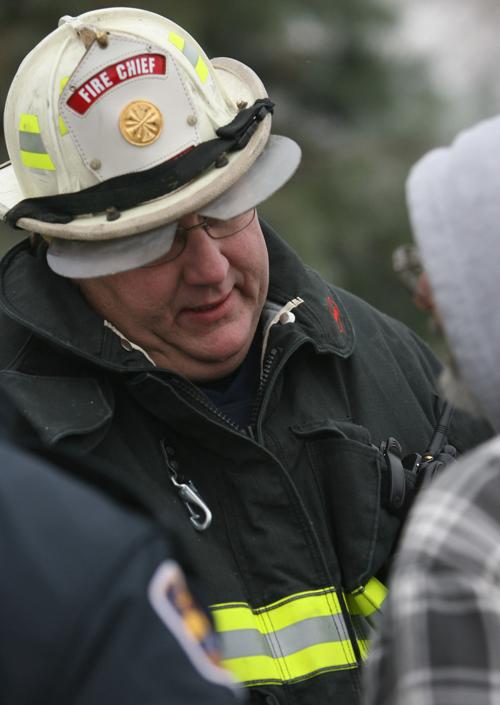 CEDAR LAKE — Fire Chief Todd Wilkening is looking to put his recent suspension behind him and move forward. 
In an interview with The Times Thursday, Wilkening explained how he found himself at the Lowell Police Department in late January following the arrest of a volunteer firefighter, who had run a red light while intoxicated, police records state. 
Wilkening served a one-week, unpaid suspension for not informing the Cedar Lake Board of Safety of the incident, as well as not disciplining the volunteer, he said earlier this week. 
While he believes the punishment was harsh, looking back, Wilkening said he should have made the board aware of the incident. 
"It's not that I did it purposely. We are a newly formed public safety commission, and we are currently going through growing pains and learning on what we need to notify people of and what we don't," he said. "It was a strong statement sent to me, and it won't ever happen again."
A police report of the Jan. 24 incident states after volunteer firefighter Jeremy Kuiper was arrested, Wilkening arrived at the Lowell Police Department with another man and requested information "as to why a Lowell Police Department officer was working a grant in Cedar Lake and arresting 'my guys.'" 
The report also states Wilkening said he would have liked for Kuiper to have been given a "professional courtesy."
"The professional courtesy I asked for was to allow us to bail him out at Lowell instead of county. The police officer was very upset with me when I asked him why he was pulling people over in Cedar Lake. I did not know he was working a grant at the time, and he got very upset with me," Wilkening said.
"So I tried to calm him down a little bit, and I said, 'How about a professional courtesy and just allow us to bail him out from Lowell instead of taking him to county?' because I was instructed by our police officers that Lowell has a town court, and that that is a possibility for anybody. That part of it wasn't put in the police report."
Wilkening said a volunteer firefighter contacted him about Kuiper's arrest, and the pair went to the police agency to bail Kuiper out.
"I did not go down there to try to get him out of a DUI. I did go down there to try to bail him out with another firefighter, and that's what we did," Wilkening said.
He later added: "We all know that's not possible. ... This isn't 50 years ago, this is today — people are held accountable."
A 'wake-up call'
Disciplinary action has yet to be taken against Kuiper, Wilkening said.
"I'm having a hard time finding something in our policies or procedure that allows me to do any disciplinary action towards him. I'm going to defer this to our Public Safety Commission (as) a discussion point under personnel in the future ... once we have another meeting," he said.
"I'm at a crossroad with it simply because he did not get convicted of a DUI. His driver's license status never changed. We do have policies that say if your driver's license status changes, you will be suspended, but it didn't."
Court records show when Kuiper was booked, he was charged with reckless driving, operating while intoxicated and operating while intoxicated with at least .08% concentration, but less than 0.15%.
In late February, Kuiper pleaded guilty to reckless driving in the matter, court records state.
All other charges were dismissed as part of the plea agreement, and Kuiper's 60-day jail sentence was suspended on the condition he serve six months on probation and take court-approved drug and alcohol counseling, according to his plea agreement.
"He's a very, very good guy, but he did make a mistake. I do not condone it. I read him the riot act. I did everything I could in my power at the time," Wilkening said of Kuiper.
"The council is waiting for me to make a decision on disciplinary action. I'm having a hard time finding something in our policies that states that he can be disciplined for a reckless driving complaint. In the future, I know that we will put something in our policies to address things like this, so that we don't have to ever go through this again."
The early January incident was a "wake-up call," for the Cedar Lake Fire Department, Wilkening told The Times.
"We have policies for the fire department, but we don't have enough," Wilkening said. "What we did is we hired this company to come in, and we're getting professional policies built for the fire department, 180 new policies, and the police department's going through the same thing right now."
Wilkening added both the fire and police departments are "committed to upgrading everything and ... putting our departments to a higher standard by having those policies in place."
Both departments began updating their respective policies earlier this year at the request of himself and Cedar Lake Police Chief Bill Fisher, Wilkening said. 
ICYMI: Here are the most-read stories from the past week
The most-read stories during the past week.