GARY — A politically connected attorney and project consultant for the company behind Hard Rock Casino has been buying up hundreds of tax delinquent properties in the city — some near the proposed casino site — for cheap at Lake County tax sales, county records show. 
Gary City Council attorney Rinzer Williams III is listed as one of two managers for Broadway Logistics Complex LLC, a limited liability corporation created in February, according to the Indiana Secretary of State's Office. 
Williams, whose time with the city dates back to Mayor Rudy Clay's 2007-2011 administration, said he believes his personal real estate investments across the city produce no conflict of interest with the work he does for the Gary City Council or casino company, Spectacle Entertainment. 
But some Steel City public officials believe the deals raise ethical questions, as Williams also serves as a legal adviser to the city council.
In June, Williams signed a conflict-of-interest disclosure form stating he works for both entities. The disclosure form makes no mention of his real estate investments.
Records obtained by The Times show hundreds of the tax certificates purchased by Williams' LLC were initially sought by the city's redevelopment arm, which has undertaken an ambitious plan in recent years to acquire thousands of blighted properties with the financial backing of the Chicago-based MaiaCo. 
MaiaCo is a private company that's fronting money and resources to the Gary Redevelopment Commission for land acquisition and consolidation to spur redevelopment in the cash-strapped city. The plan targeted parcels that are blighted, abandoned or tax delinquent and on the county's tax sale list. 
While money from MaiaCo will be used in acquiring land, the commission will own the land and has determined what property to acquire, per the contract. MaiaCo will be reimbursed and profit only after the property is sold, or leased, to an outside entity, according to the agreement.
Two of Williams' city government clients, Gary City Councilwomen Rebecca Wyatt and LaVetta Sparks-Wade, said they question the ethics of Williams, the council's legal adviser, investing in land that the city's redevelopment arm was after.
Both said there's a lack of transparency with Williams working under an LLC name with several unnamed investors.
"It may not rise to the level of a conflict of interest, but it certainly has the appearance of impropriety," Wyatt said. "He's a private citizen, and he can buy what he wants. But he probably got that info about what to buy because of his position with the city." 
Wyatt, a fellow local attorney, disclosed she advised one property owner with two parcels near the casino site by reviewing with them a contract for option to purchase.
At Tuesday's council meeting, Wyatt announced she had withdrawn as their attorney after uproar from her colleagues. 
Contacted last week for comment, Gary City Council President Ronald Brewer said he was not aware of Williams' real estate investments at the recent tax sales.
"I knew he was project consultant for Spectacle, but I had no idea that he had interest in properties," he said.
He said he planned to look into the matter.
Gary Mayor Karen Freeman-Wilson said she doesn't think Williams' real estate investments presents a conflict of interest.
She added the MaiaCo agreement was never meant to be "an exclusive arrangement."
"If (Rinzer's group) is able to do it, I'm hoping they can partner with the city," she said.
Still, she admitted the competing interests make MaiaCo's job more difficult in acquiring land for the city's redevelopment arm.
"There's no question," she said.
Properties whose owners are behind on property taxes wind up on the Lake County Treasurer's tax sale in August. For any properties not sold at the treasurer's tax sale, the board of commissioners are issued certificates and can choose to auction those off in March and May.
Those county officials also can choose to donate parcels to local governments when requested.
When someone puts in a winning bid, and payment is received for the tax lien, a certificate is issued and the purchaser must conduct the proper title work to become true owner of the property.
In the meantime, the owner of record has 120 days to redeem the property by paying the back taxes owed plus 10 percent of the minimum bid to the purchaser. The purchaser at auction also can be reimbursed up to $1,050 for attorneys and notification fees if the original property owners are successful in re-obtaining the properties.
A large share of the properties up for bid in Lake County each year are in Gary, where local government is grappling with serially tax delinquent homeowners, declining property tax revenue and shrinking population. Gary parcels are frequently recycled back onto the tax sale each year.
90% went to Williams' LLC
Unlike in past years, the Lake County Board of Commissioners — which oversees the county's March and May tax sales — denied the Gary Redevelopment Commission's entire request for land donations, so those parcels were left on the tax sale for public bid. 
Records show Williams' LLC, Broadway Logistics, purchased the overwhelming majority of the properties originally requested by the city redevelopment commission in the March tax sale — about 90%.
The commission's attorney, Matt Fech, said the board has been very accommodating to the commission in the past, but had concerns about the staff's ability to execute the voluminous title work this year, despite a pledge from MaiaCo to offer resources.
Broadway Logistics Complex was the most active buyer in the March tax sale, picking up 351 of the 389 parcels requested by Gary that were sold in the March tax sale, records show. Williams' company also purchased other properties not requested by the commission.
Of the 2,364 parcels acquired in Lake County during the March tax sale, 1,925 — or 81 percent — were in Gary, records show. Of the 1,200 requested by the city redevelopment commission, more than 780 were not sold or donated during the March sale, perpetuating the city's blight problem.
Williams and his investment partners had at least $272,000 on hand to successfully bid on 544 properties in the March 2019 tax sale, tax sale data show, and most parcels went for as little as $500 each — the minimum bid.  
Many of the parcels purchased by Williams' firm are located in the city's Black Oak section and the northwest and northeast corners of Broadway and the Borman Expressway. Some are not far from the proposed Hard Rock Casino footprint, nestled adjacent to the Borman Expressway at Burr Street. Williams' LLC also won bids on numerous properties west of Roosevelt Park, south of 21st Avenue, east of Broadway and north of 23rd Avenue. 
Williams declined to say how he and his partners plan to redevelop the properties acquired. He also declined to name any of the major investors involved. 
"The people who want to be known will be known. We're a large group of investors that made a calculated decision. We put money together, and it's all above board," Williams said. "We've been working on this for a couple of years." 
Williams said he conducted legal work for the group before they presented him with "an investment opportunity." 
'Let the highest bid win'
Williams said he never approached the Lake County Board of Commissioners to discourage them from accommodating the city's request for donated land. 
"All I said was, 'Put them on the tax sale,' so that MaiaCo and John Q. Citizen can bid, and let the highest bid win," Williams said. 
Williams said while he never had a conversation about this year's tax sales with any particular commissioner, he said he did have a meeting once with MaiaCo and the city redevelopment commission to see if he and his investors could work out an agreement to "help facilitate getting some of the (title) work done," he said.
"MaiaCo was totally reluctant to do that. They had their own plans," he said. 
Williams said he doesn't want anyone to think he or Broadway Logistics Complex "got any favors" from the county. But MaiaCo was "sitting on these 3,500 parcels and did nothing with them," he said. He said MaiaCo has not lived up to its expectations and milestones set forth in its contract with the GRC. 
"They hadn't done anything. So we came up with our own money. We weren't asking for a handout. We said if they want (the properties), they can bid on it," Williams said. 
Mike Reinhold, a partner with MaiaCo, said a lawsuit filed in 2016 by Gary resident Jim Nowacki challenging the legality of MaiaCo's contract with the city had impeded some of MaiaCo's ability to execute its land acquisition plan with the redevelopment commission for nearly two years. 
The lawsuit has since been dismissed, and resources have been secured, Reinhold said. 
Approached for legal work
Indiana Secretary of State records show Broadway Logistics Complex LLC was registered on Feb. 19, about two months after Williams and one of his partners, Tom Wisniewski, approached MaiaCo seeking a joint venture, according to Reinhold. 
"Stark philosophical differences prevented those discussions from progressing," Reinhold said. 
He said Williams also was once considered for hire with MaiaCo as an attorney, "at the recommendation of others."
"We found his proposed fees to be excessive and were concerned by his unwillingness to provide an hourly accounting for his time," Reinhold said. "MaiaCo ultimately determined that building a dedicated team of local Gary residents to manage the tax sale process was a better approach as reflected by the 2019 operating budget."
Williams said he and MaiaCo couldn't agree on contract terms, and ultimately MaiaCo went with their own legal team. 
"That was something else they (dragged) their feet on that, too. Nothing came to fruition," Williams said.
Online records show one of Williams' alleged partners, Wisniewski, largely invests in real estate, having created, maintained and dissolved dozens of limited liability corporations over the years under various different names. 
County tax sale records show his corporations have purchased hundreds of parcels off the county's tax sales in past years. Wisniewski declined comment about the meeting with MaiaCo and the nature of his real estate work. He did not return a subsequent phone call. 
Emails provided to The Times show Reinhold, with MaiaCo, and the redevelopment commission's former director, Joe Van Dyk, appeared to be working toward an agreement for donated land with the county. 
A list of parcels, first submitted in November, was narrowed from about 3,500 to 1,200 at the county's request in January, then lowered again to 500. The county's full denial to the city came just days before the March tax sale, though county officials argue revised requests arrived too late to accommodate, county records show. 
Fech said the county denied the redevelopment commission's entire request for donations this year because of past bad experiences. In 2016 and 2017, the commission requested and received a donation of 3,500 tax certificates for parcels, according to Fech.
But the city was only able to obtain about 100 title liens — essential legal paperwork — during that time period. That meant the parcels were kept off the tax sale list, preventing them from being available for auction, Fech said. 
Fech said county officials believed the city couldn't obtain the proper tax liens in time, so the request for parcels was denied.
Freeman-Wilson said she is disappointed that the city represented to Lake County that GRC had funding in place to carry out the title work but were denied outright.
"We told them," she said. "I can see them not giving us the full list, but grant us a partial list. The fact that there was not time for us to (register) was a real unfortunate turn of events. It has impeded the relationship." 
Scott Duerkop, senior vice president with the Chicago-based commercial real estate services firm Jones Lang LaSalle, said Gary's real estate market is challenging to navigate.
The Black Oak section, for example, is largely blighted and doesn't have large tracts of contiguous land attractive to industrial developers. The redevelopment commission and MaiaCo's plan to consolidate fragmented parcels would greatly improve the real estate market in Gary, which is ideally positioned close to Interstate 80/94, he said.
"You can't find anything attractive that's over five acres," said Duerkop, who represents industrial developers eyeing the Region. 
Duerkop said while he couldn't speak directly to the discord among Broadway Logistics, MaiaCo and the Gary Redevelopment Commission, competing interests in Gary's real estate market aren't helping matters. 
"Time is of the essence in Gary. Developing industrial buildings could be the injection that moves Gary up the chain here," he said.
A closer look: Interior and exterior renderings of Hard Rock Casino Gary
A closer look: Interior and exterior renderings of the Hard Rock Casino in Gary
Main entrance to Hard Rock Casino Gary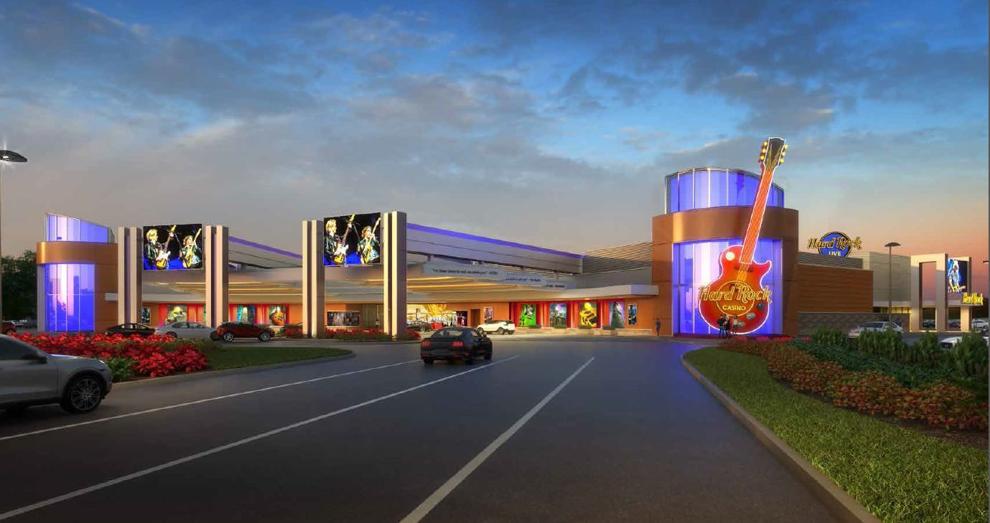 Valet parking and main entrance to Hard Rock Casino Gary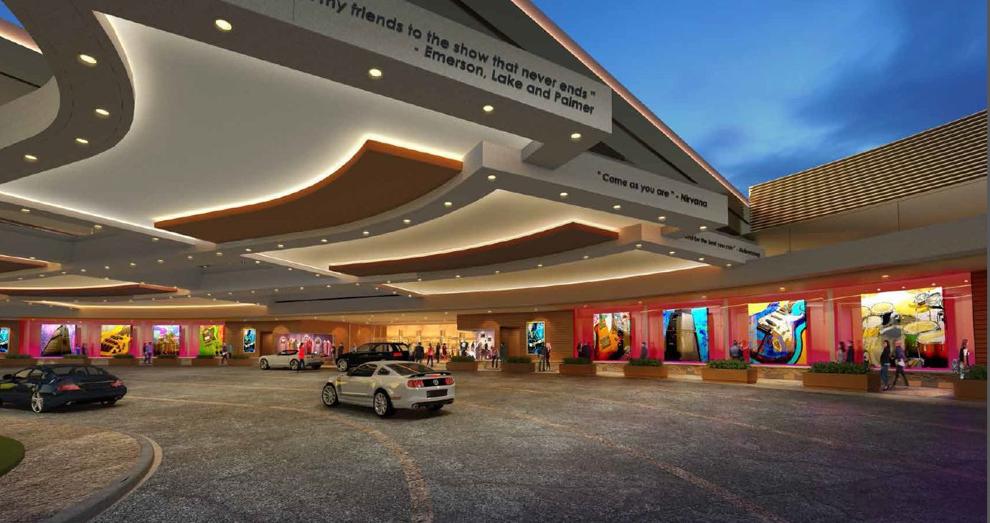 Center aisle inside Hard Rock Casino Gary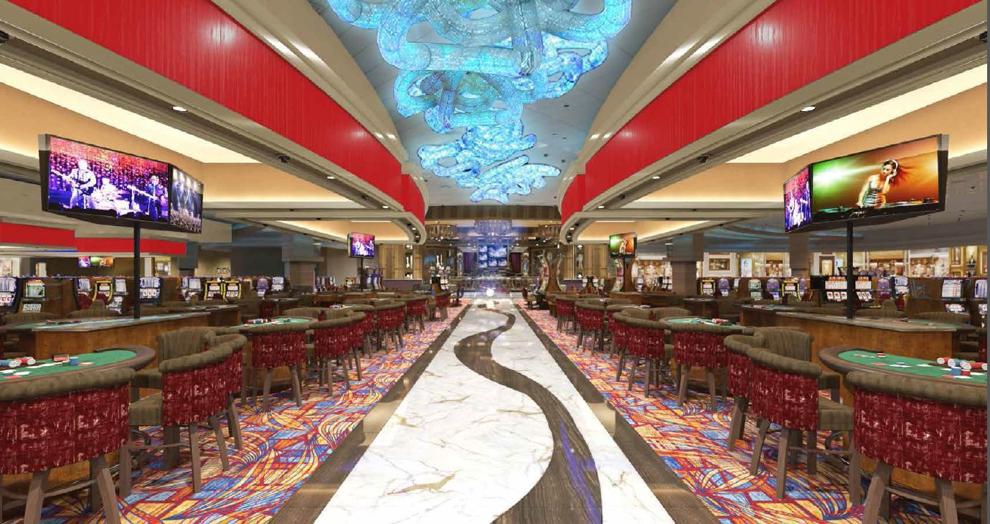 Center Bar inside Hard Rock Casino Gary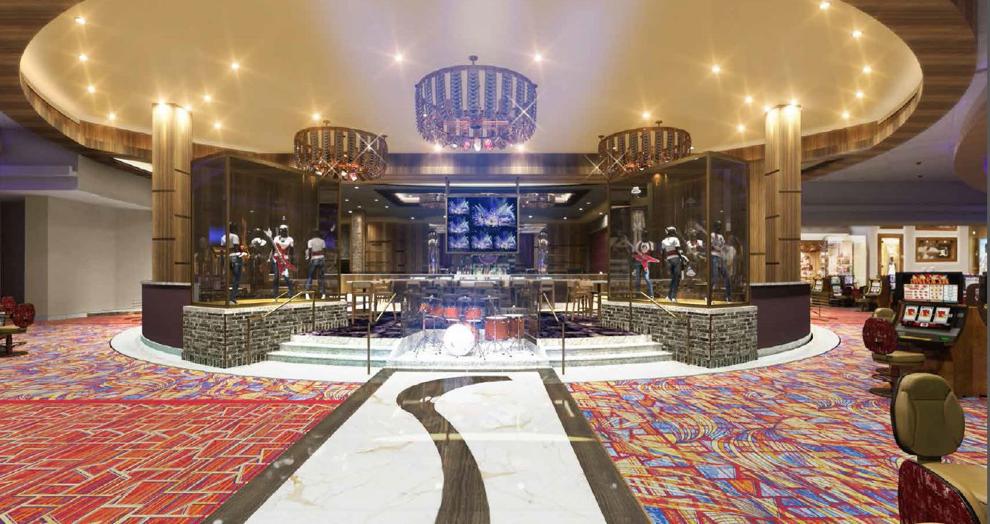 Baccarat room inside Hard Rock Casino Gary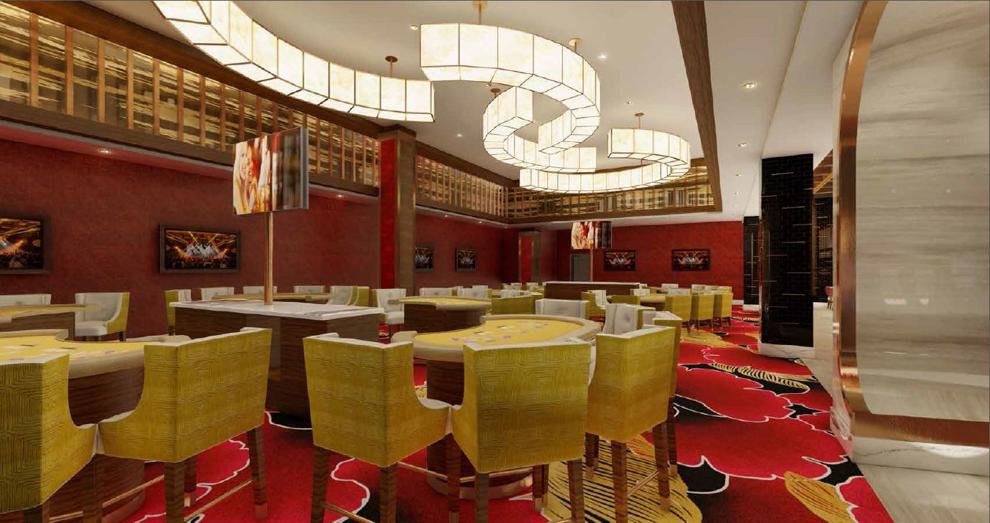 High-limit gaming inside Hard Rock Casino Gary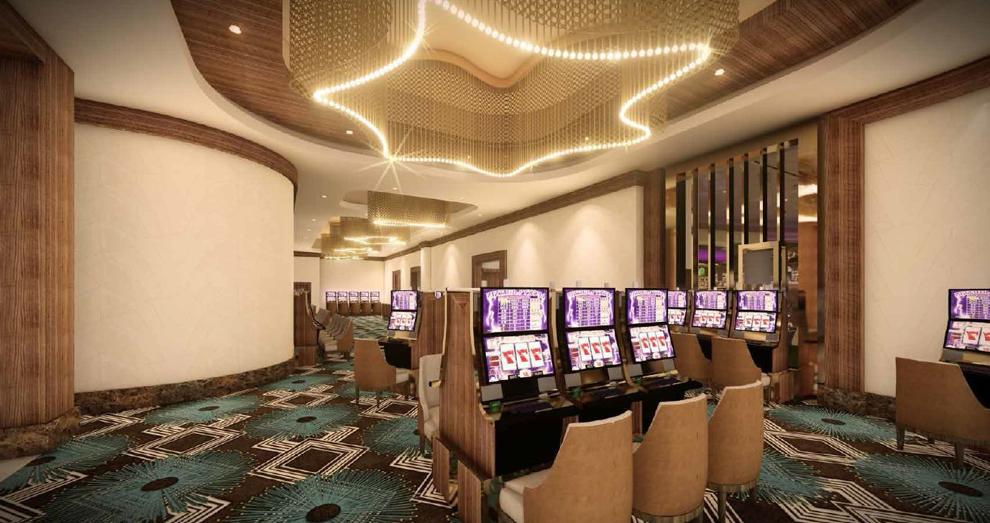 High-limit lounge inside Hard Rock Casino Gary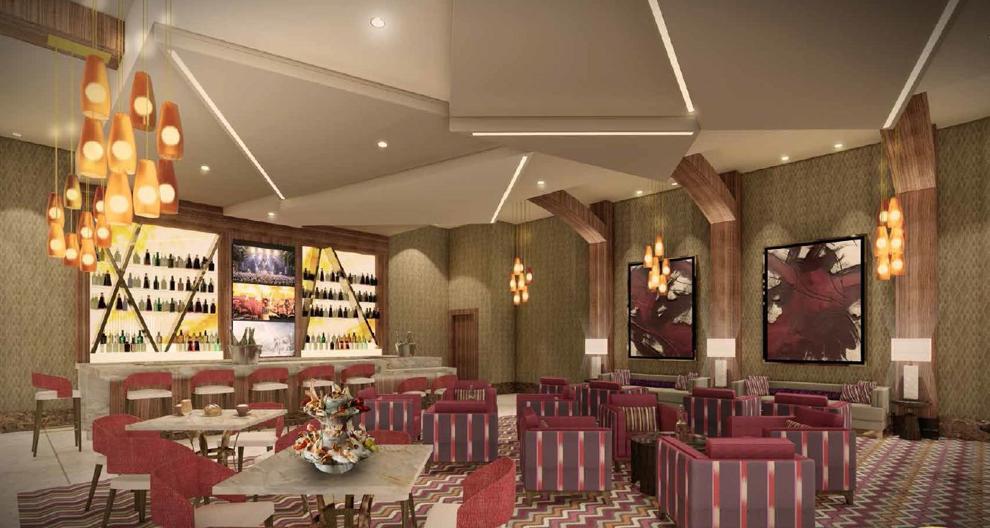 Council Oak Steakhouse inside Hard Rock Casino Gary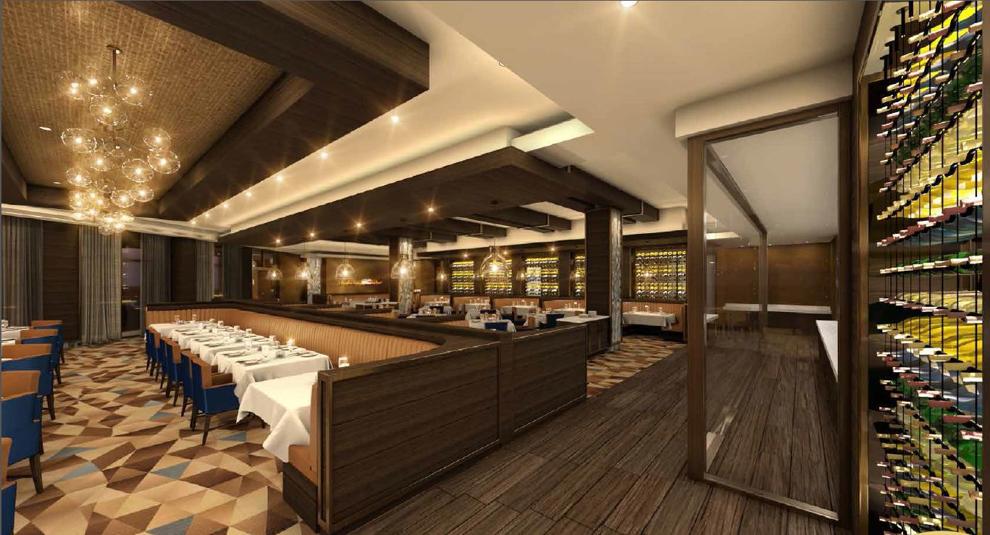 Fresh Harvest Buffet inside Hard Rock Casino Gary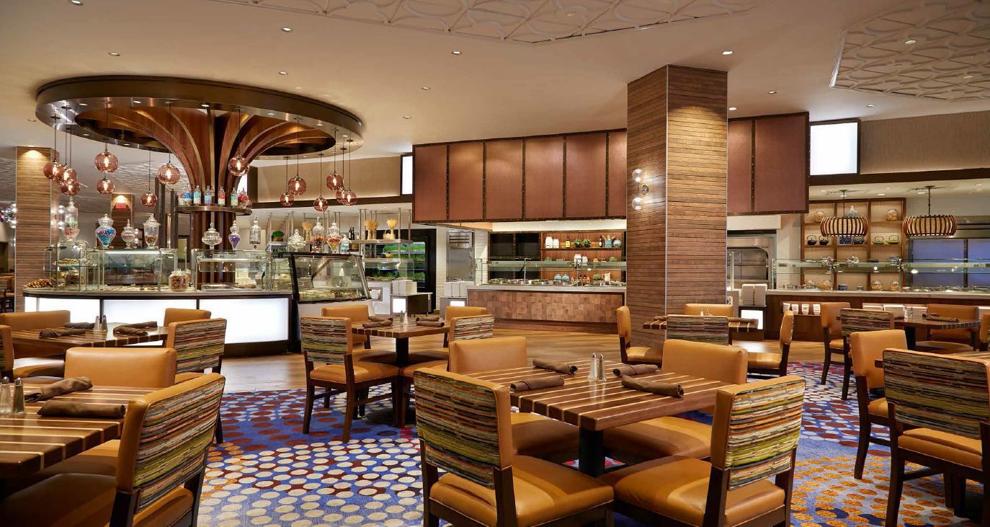 Asian Noodle Bar inside Hard Rock Casino Gary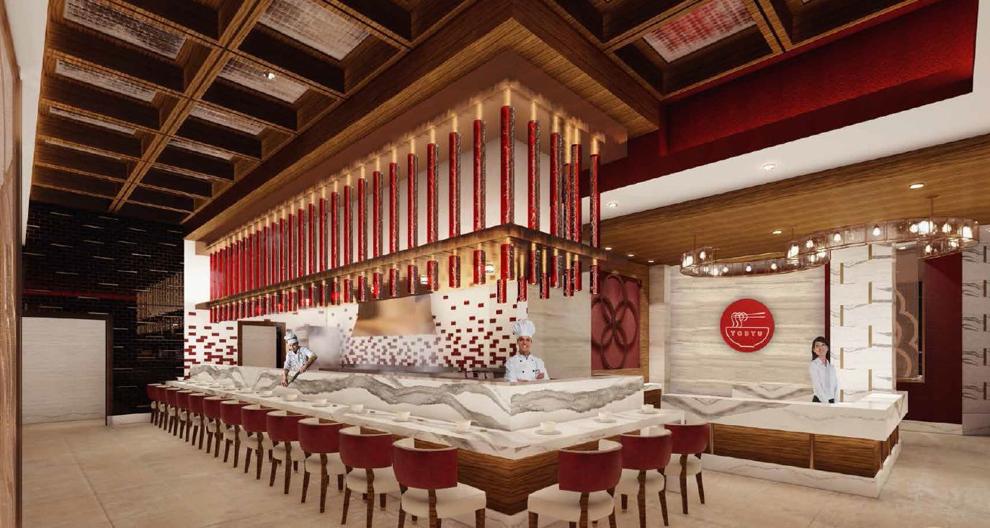 Hard Rock Live performance venue inside Hard Rock Casino Gary
Hard Rock Live performance venue inside Hard Rock Casino Gary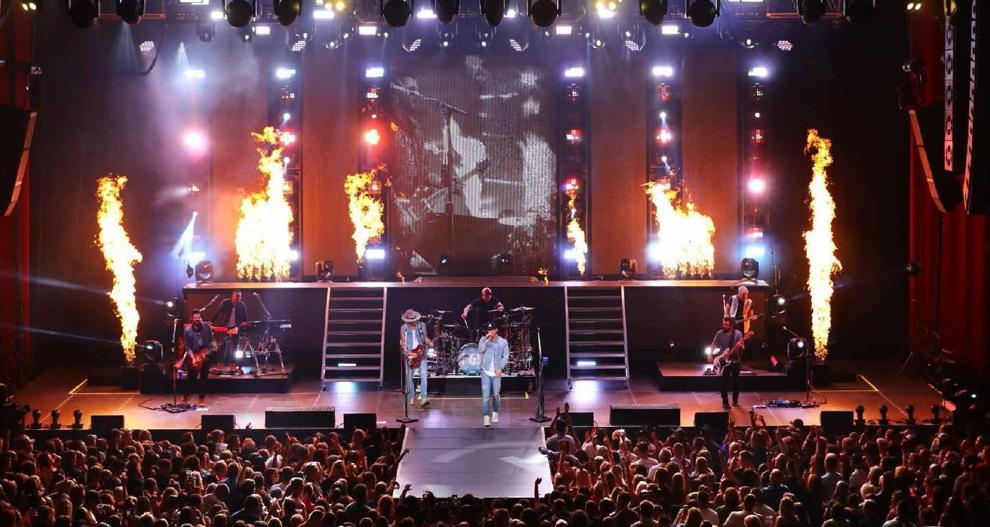 Floor plan for Hard Rock Casino Gary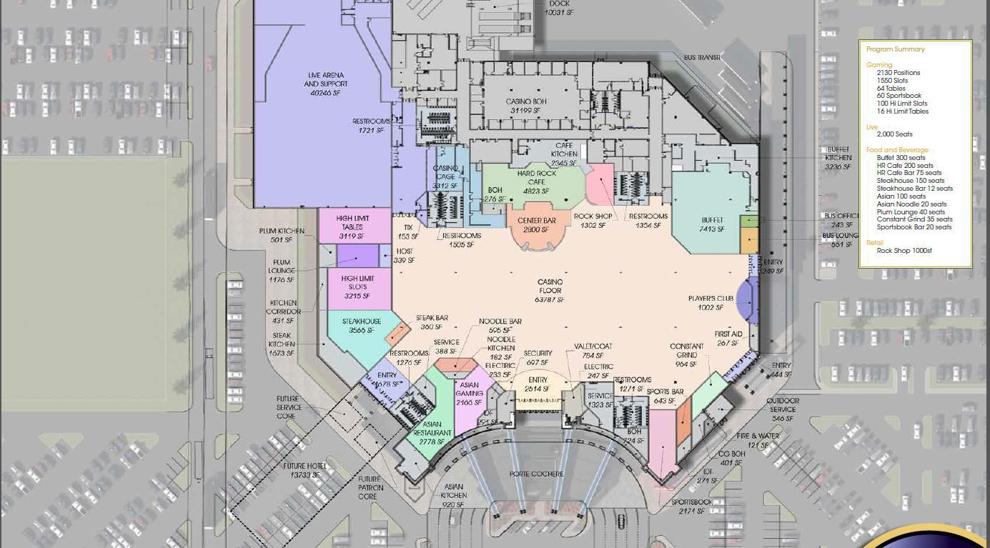 Phase I exterior view of Hard Rock Casino Gary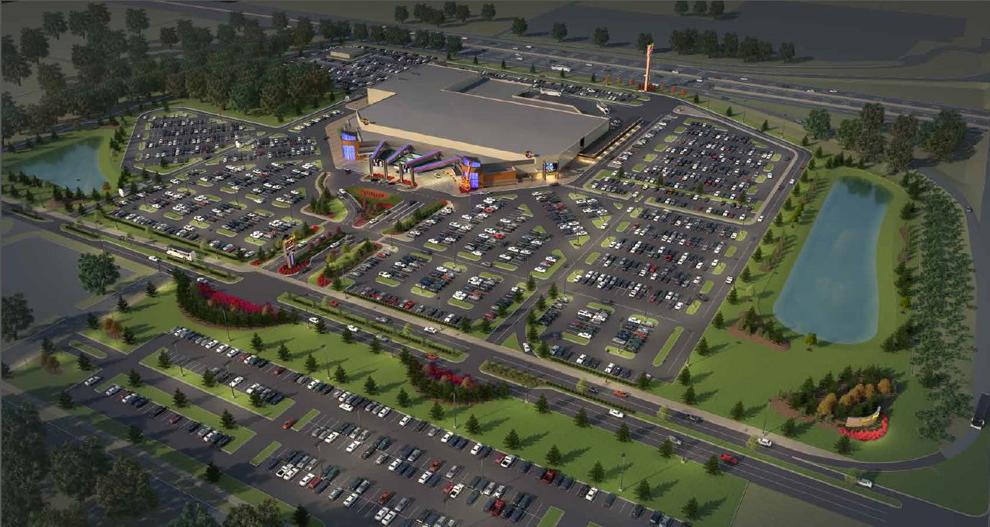 Phase II exterior view of Hard Rock Casino Gary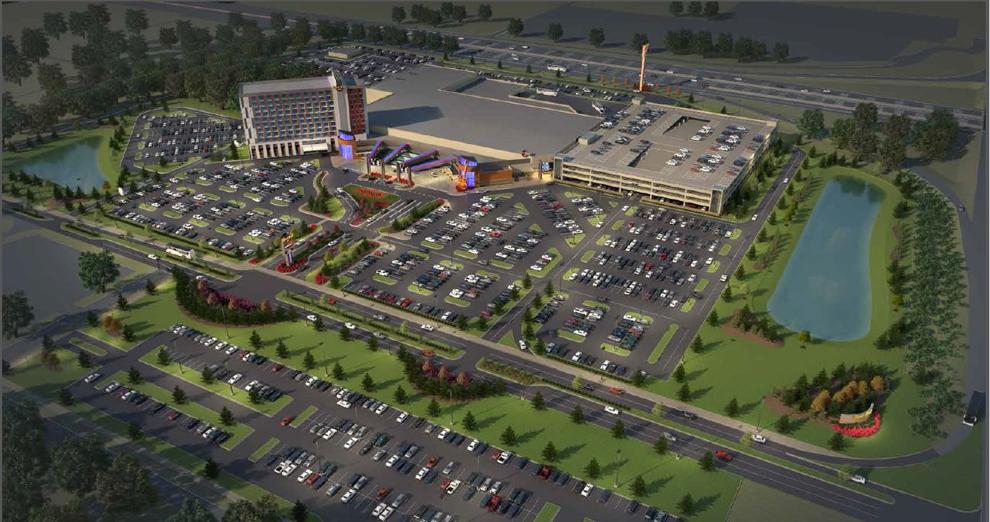 Hard Rock Casino Gary