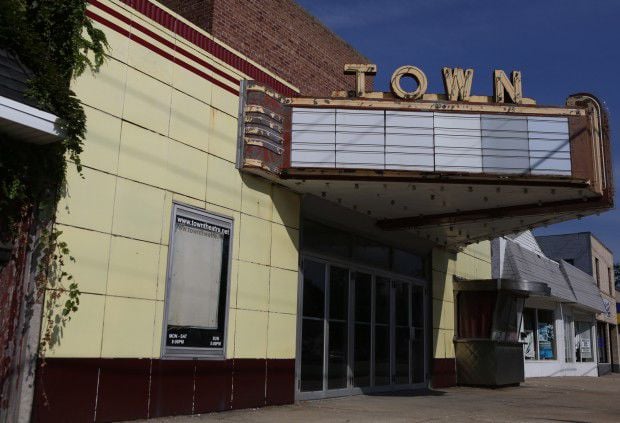 HIGHLAND —The Town Theatre and two adjacent buildings north of it will be razed, likely this summer.
The Highland Redevelopment Commission has awarded a contract to Actin Contracting of East Chicago. For a fee of $35,700, Actin will bring the theater and the two adjacent buildings to the north down to ground level.
Four other contractors presented bids ranging from $61,000 to $88,900 to tear down the same three buildings, all of which are owned by the town.
The commission, which also doubles as the Town Council, said the two north buildings will be inspected for asbestos before the demolition takes place.
"We found asbestos where the ticket booth flooring is," Redevelopment Director Cecile Petro said.
While the commission does not expect asbestos to be found in the other two buildings, the board said it is best to check first.
There are also various artifacts inside the 71-year-old building that need to be saved, including a few statues, some vertical lighting and the projector, Petro said.
The commission said the Public Works Department will be asked to remove them.
Commissioner Michael Griffin asked if there was any chance the marquee could be saved.
Rehabilitating the 10-foot wide marquee, which is badly in disrepair, would cost $50,000, but Commissioner Bernie Zemen said he will check with a Homewood man who has expressed an interest in buying it.
"It's to be determined when that's going to happen this year," Commissioner Dan Vassar said of the tear-down.
Zemen estimated it will probably happen during the summer.
Actin's bid also included razing the adjacent town-owned building south of the theater, 8620 Kennedy Ave., for $13,430.
This will be done later and could require a new bidding process, board members said.
The commission said it wants to delay the destruction of that building until it finds a new home for Maria's Buena Cocina, a Mexican restaurant with a lease through 2018 that is held by the town.
"I've been looking and working on it," Petro said. "She wants to keep her size small."
The recently vacated First Midwest Bank building, downtown on Highway Avenue, is too large, Petro said, adding that Maria is also looking for a new location.
Petro said she is even checking to see if the restaurant can be matched with an existing business.
In any event, the commissioners said they will not tear down the building and leave the business without a home.
The commission also approved a resolution to have appraisals performed on seven buildings near the theater.
These properties are 8600 Kennedy Ave., 2726 Garfield St. and  2712, 2716, 2720, 2733 and 2736 Condit Ave.
The board would like to acquire these buildings so the entire block can be leveled and prepared for future redevelopment.