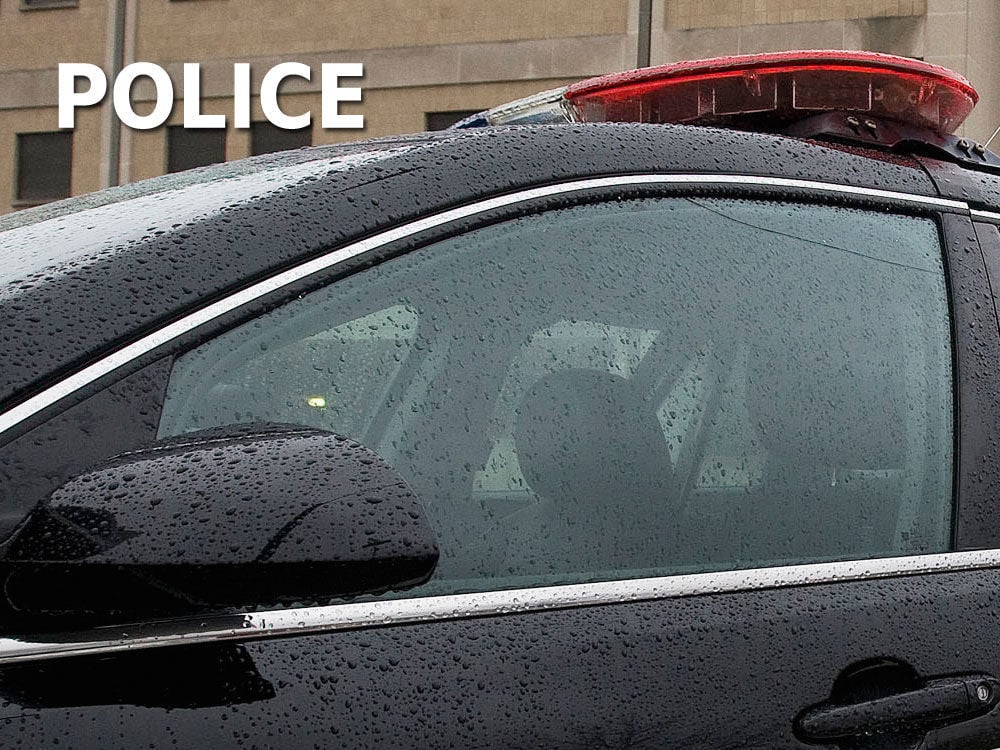 Dana Reiner has never been able to bring herself to complete "The Day You Were Born" page in her 3-year-old daughter's baby book.
Instead, the Chesterton mother has filled those pages with newspaper articles and a copy of a lawsuit she and her husband, James, filed against Hebron and two of the town's former police officers, she said.
"How am I going to write who was there?" she said. "Me, two paramedics and a nurse? Where was your daddy?"
Sgt. Anthony Dandurand and Travis Thomas took James Reiner to jail and sent Dana Reiner, who was in labor, to Franciscan St. Anthony Health hospital in an ambulance after a traffic stop in January 2012 on Ind. 2, just east of Clay Street near Lowell, U.S. District Court records show. James Reiner was booked into jail on probable cause felony resisting law enforcement. But no formal charge was ever filed.
The couple didn't immediately pull over for Dandurand, who claimed in a police report he chased them for 5 miles but later admitted in court filings that he activated his emergency lights and in-car video camera about 1.1 miles from where James Reiner stopped his 1994 Lincoln Town Car.
Dana Reiner gave birth to daughter Abigail within minutes of arriving at the hospital in Crown Point, though her doctor paused the delivery twice to turn Abigail and unwrap her umbilical cord from around her neck. Dana Reiner said the doctor told her that her baby would have died had she given birth on the side of the road.
Portage Police Chief Troy Williams said Dandurand, who now serves as a K-9 officer, has been a model officer since joining the department in June 2012, five months after the Hebron incident.
"Officer Dandurand should not be demonized for one unfortunate incident in which several factors played into the outcome," Williams said.
Thomas was sworn in at the Crown Point Police Department on Aug. 28, 2013, just one day before the Reiners' lawsuit was filed. Thomas and Crown Point Police Chief Pete Land did not respond to requests for comment on this story.
During a recent interview at her home, Dana Reiner turned on a laptop computer and pulled up just eight photos taken after Abigail's birth. She scrolled down to dozens of photos from her 5-year-old daughter Evelyn's birth.
"That's a moment you are never going to get back. There's no redoing it," she said.
"When I think about the fact that James, who is a wonderful man, was deprived of that — it makes me sad. And it makes me sad that Abby missed out on that, too," she said. "They missed out on that very first, that bond."
Couple: 'It's about accountability'
A U.S. District magistrate judge ruled in July 2014 that while there is no clearly established legal right to be present at the birth of one's child, Dandurand and Thomas violated the Reiners' constitutional rights when they continued to detain the couple after learning Dana was in labor.
"The court does not think a reasonable officer, after realizing (as Officers Dandurand and Thomas did soon after handcuffing James) that plaintiffs were en route to the hospital to have their baby, would have continued to detain them, much less have kept James under arrest and taken him to jail for the night. To the contrary: such conduct, at that point, violates the clearly established guarantees of the Fourth Amendment," Magistrate Judge Paul Cherry wrote.
Cherry dismissed the lawsuit in May after the Reiners, who lived in DeMotte when Abigail was born, and the defendants reached a settlement. The Reiners and their attorney, J. Michael Loomis, said they could not comment on the terms of the agreement.
James and Dana Reiner said they wanted to make clear they support police. They have family members and friends who work in law enforcement, and police play an important role in society, they said.
"We're anti people acting like that," Dana Reiner said of the behavior of Dandurand, Thomas and other police officers at the traffic stop.
The Reiners said they declined media interviews shortly after James' arrest. They approached county and federal agencies before filing a civil lawsuit, because they wanted to press criminal charges, they said.
"There's no other avenue. We took every legal route that we could take," James Reiner said. "The criminal element got thrown out."
Dana Reiner said they had never been involved in a civil lawsuit before and didn't want to be. She's close to earning a master's degree in history and understands the implications of allowing people to trample on others' civil rights, she said.
"We're not going to lay down and let that happen," she said. "We're going to stand up for what's right."
James Reiner said, "It's all about accountability."
'You pull over. I don't care.'
Dandurand's report said the Reiners crossed a fog line at the intersection of Ind. 2 and U.S. 231 and were speeding. The Reiners said they gave Dandurand and Thomas wide berth at the intersection, because the officers had someone else pulled over. They dispute that they were speeding.
When the Reiners pulled over, James had to open his door because the driver's side window was stuck and would not roll down. He got out and did not immediately lie facedown, because he was trying to tell Dandurand over a blaring siren that Dana was in labor, he said. James Reiner suffered a cut to his face during the arrest.
In his ruling, Cherry dismissed the Reiners' claims based on Dandurand's decision to stop the couple and the officers' decision to handcuff James Reiner and arrest him.
"Given the apparent danger of the situation — James had not pulled over when ordered to, had exited his car, and was yelling — the court does not think the use of force, which caused only minor injuries, was excessive," Cherry wrote.
However, the magistrate judge did allow several of the Reiners' federal and state law claims, including illegal seizure of person, excessive force, false arrest, assault, battery and false imprisonment, to remain to the extent they alleged wrongdoing after the officers knew Dana Reiner was in labor.
The continued detainment of the couple became unlawful after the officers learned Dana Reiner was in labor, Cherry wrote, and any further use of force was objectively unreasonable.
James Reiner can be heard shouting his wife was in labor shortly within minutes of where the video from Dandurand's car begins.
"You pull over. I don't care. You pull over," an officer responded.
About 20 seconds later, Dana Reiner shouted, "I'm in labor. My water broke."
An officer immediately told her he was calling an ambulance.
About 30 seconds passed before Dana Reiner said, "I don't need an ambulance. I just need my husband."
The officer replied, "You need an ambulance. He's going to jail."
Dana Reiner recalled her response to that statement.
"It was like this shrill, ear-piercing, 'But why?' And I know I screamed," she said.
"That's one of the only things you can hear from me on the tape. I've only listened to it a handful of times, because you relive it. And it's just gut-wrenching. Every time I hear my own voice make that sound, it's like you're there again."
When she got out to show the officers her water had broken and her pants were wet, she saw a red light from a gun's laser sight on her stomach and was ordered to "get back in the f------- car," she said.
"I thought, 'OK,'" she said. "I'm not going to let them shoot my kid. I got back in the car."
Attorney: Prosecutor felt 'lied to'
Dandurand wrote in his report that, because of the "extraordinary circumstances with the wife being in labor," he contacted on-call Porter County Deputy Prosecutor Rebecca Soto.
"I advised her of what had happened, and she advised to arrest Mr. Reiner and take him to jail for resisting with a vehicle," Dandurand wrote.
Loomis, the Reiners' attorney, said he interviewed Soto in the presence of a deputy attorney general as part of his work on the lawsuit.
"Ms. Soto was professional, calm and straightforward. She gave me no reason to disbelieve her," Loomis said. "She told me she felt angry toward Sgt. Dandurand, because she felt that he hadn't been truthful with her."
Soto did not return a call seeking comment.
The video from Dandurand's car shows James Reiner was forced to lie on the ground, submissive and in handcuffs, for nearly seven minutes that January night.
James Reiner said the officers at the traffic stop talked about erasing dash camera videos, made disparaging comments about the public and told him it wasn't too late to be shocked with a Taser after he had been submissive for some time.
When one of the officers asked why the couple had been pulled over, another replied, "I wanted to get stupid," the Reiners said.
In a video from Thomas' car, an officer can be heard talking about a "blue Caddy," which the Reiners suspected was a reference to their green 1994 Lincoln Town Car.
"Blue Caddy, two times," the officer says. "I'm like, yeah, this is going to the 'hood."
After an ambulance arrives more than 20 minutes after the video starts, the officers can be heard discussing a previous crash in which a man was seriously injured and an ambulance took more than 20 minutes to arrive.
James Reiner said what disturbs him the most is the behavior of all the officers at the scene.
"They ask, 'Do you want me to pull the tape? I know how to pull the tape.' So they're talking about destroying evidence. The problem is that there is no oversight. There's zero," he said. "There's nobody randomly pulling tapes to make sure that they're being professional. And that's done in every profession."
Hebron's police chief in 2012, Steven Sibrell, resigned without explanation in July 2014. FBI and federal Bureau of Alcohol, Tobacco, Firearms and Explosives agents collected documents at Hebron Police Department in September 2014, the department's acting police chief said at the time.
Hebron Town Council President Don Ensign forwarded an email seeking comment for this story to Town Attorney Brian Less.
"The matter involving the Reiner's was settled through the Town's insurance carrier and therefore no additional comments are warranted," Less wrote in an email. Less did not respond to an email seeking clarification.
A tort notice, which precedes a lawsuit, was served on Hebron on May 24, 2012, according to court records. The Reiners filed their lawsuit in Porter Superior Court in Aug. 29, 2013, and it was later moved to federal court in Hammond.
Dandurand told The Times when he was sworn in June 25, 2012, that he joined Portage to "keep a little busier."
Williams said Dandurand was unaware of the tort notice at the time of his hiring in Portage. Dandurand would have passed background checks and been on the approved hiring list when the tort claim was filed, he said.
Williams said Dandurand has been an exemplary officer. He's received five letters of commendation; serves as a member of the Portage police heroin-overdose response team, which is part of the larger Porter County heroin-response task force; and served a one-year, part-time assignment on the U.S. Marshals Great Lakes Fugitive Task Force.
Williams said the traffic stop occurred more than 3.5 years ago while Dandurand was with Hebron. Portage police have more supervisors and officers working at all times to assist with calls and traffic stops, he said.
Although James Reiner was not formally charged, his criminal history still shows a felony arrest, he said. He's a track supervisor for Norfolk Southern and would have to pass a background check if he applies for a different job within the company.
Loomis, the Reiners' attorney, said he has filed a petition in Porter Superior Court to expunge James Reiner's record.
"This isn't over for us," Dana Reiner said. "We still have a process that we have to go through to clear his name, so that it's not detrimental to his career."