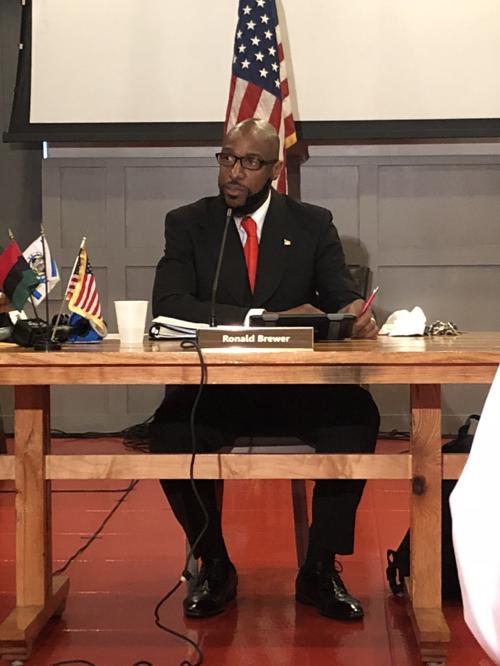 GARY — Common Council President Ronald Brewer thanked his supporters and defended his decision to track down teens in his stolen vehicle Sept. 22, resulting in his arrest by East Chicago police. 
"As a husband, father, I would never knowingly subject my family to public humiliation. As an elected official, I would never intentionally bring shame to my community," Brewer said in a statement near the beginning of Tuesday night's Common Council meeting.
Brewer was allegedly overheard during a 911 call Sept. 22 threatening one of the teenagers, age 14, found in the politician's stolen Lexus the day after he reported his car stolen, saying the teen's mom would be getting him back "in a (expletive) body bag."  
The council president said he stands by his innocence, arguing he reported the car stolen immediately to Gary police. 
Brewer said he believed the teens stole his vehicle for the "purpose of joyriding" and using his credit cards in Hammond and East Chicago.
He said he and others have a right "to expect our personal property to remain in our possession without threat of theft, vandalism, spoil or loss."
East Chicago detectives are pursuing kidnapping, criminal recklessness and possibly intimidation charges in connection with accusations Brewer took one of the teens against his will into the city of Gary and fired off a weapon while pursuing the stolen vehicle with teenagers inside.
He has yet to face formal charges. James Nowacki, a Gary resident and frequent government critic, called on Brewer to resign at Tuesday's meeting. 
Gary resident Michaela Spangenburg, 33, of Gary, a supporter of the local Black Lives Matter group, criticized Brewer's focus on the teen's "joyriding" and stealing of his property.
She said Gary city leaders are usually quick to judge criminals, including those who die by the hands of Gary police. She suggested Brewer's case is being addressed differently because he's a public figure. 
"If we had been talking about something that did not involve a member of the Common Council, and it involved just a regular, old average person shooting at children in a car, we wouldn't be talking about property crime. We would be talking about a violent act," she said.