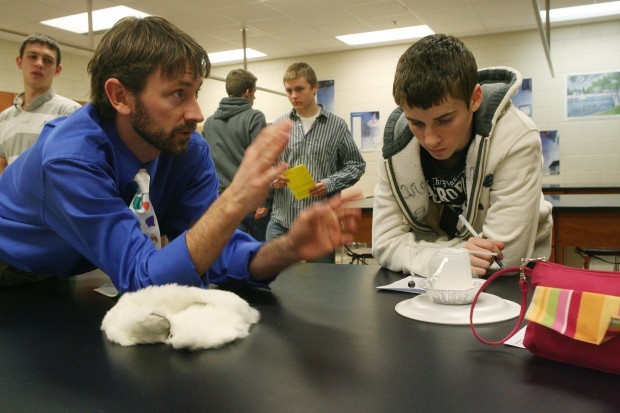 CROWN POINT | Karen Rodd, a Crown Point resident, believes getting a jump on college credits during high school can provide significant savings for parents and create life-changing opportunities for students.
Rodd's daughter Krysta is a freshman at Purdue University finished freshman psychology and communications in her first semester at college. Rodd said it costs about $2,000 for students carrying six to nine hours.
However, her daughter could have taken them at Crown Point High School for a fraction of the cost, $75 per class -- or $25 per credit hour.
"That's a nice savings," Rodd said. "My daughter's boyfriend took the classes at Crown Point High School. He earned As just as she did, but he paid a lot less for the classes."
Dual credit classes allow high school students to receive both high school and college credit. The classes not only offered high-achieving students an opportunity to take college classes for credit, but also exposed them to more rigorous college-level classes.
In collaboration with Purdue University Calumet in Hammond and Indiana University Northwest in Gary, Crown Point High School is offering a new model for dual credit in Indiana called the Advanced College Project. Both schools charge $25 per credit hour.
This is the second year for the pilot project with Crown Point. The trio also is working with the Lumina Foundation to help fund the cost of college faculty training and supervising high school faculty.
Crown Point High School also continues to work with Ivy Tech Community College Northwest, which offers classes to students in 30 high schools throughout Northwest Indiana for free.
In fall 2009, 339 CPHS students took dual credit classes and 86 percent of them earned university credit. In spring 2010, 247 students took dual credit classes and 89 percent earned university credits.
IUN spokeswoman Emily Banas said Crown Point is unique because the program was based on a grant the high school received. This semester, IUN instituted a concurrent enrollment Early Start Program with East Chicago Central High School. Forty-two students have taken a course on campus, taught by IUN faculty.
Courses include speech, psychology, anthropology and a student success seminar. This program's aim is to provide the college credit option for earning the Academic Honors Diploma.
Banas said Andrean High School offers courses through Indiana University's Advanced College Project, open to qualified seniors. Lake Central offers classes in business, English and calculus through a partnership with Ivy Tech.
Sue Wilson, director of School Partnerships at Purdue University North Central, said the school's Dual Credit Program is partnering with 31 high schools in Northwest Indiana. Nine high schools in Porter County offer dual credit with PNC.
Ken Rosenblum, the retired Ivy Tech Northwest director of K-12 Initiatives, recently made a presentation to the NWI Superintendent Study Council. President Peggy Buffington, Hobart superintendent, said some high schools are replicating efforts to obtain dual credit from universities.
"Our goal was to get standardization and provide equal opportunities for all students in all schools," Buffington said. "Ken Rosenblum brought the background knowledge to do this."
"My role is to act as a consultant and assistant to provide greater clarity to the various post secondary programs that are available," Rosenblum said.
Ten school districts in Lake and Porter counties have expressed interest in Rosenblum's services including Lake Central, Lake Ridge, Lake Station, Merrillville, MSD Boone Township, River Forest, Highland, Hobart, Valparaiso and Gary.
Two weeks ago, the Gary School Board approved paying $8,000 to Rosenblum to develop the dual credit initiative.