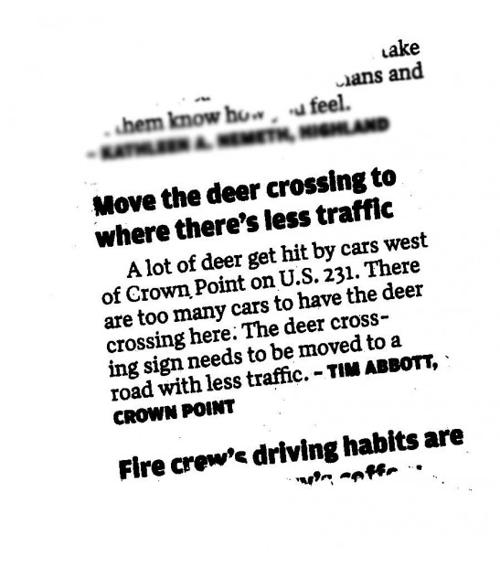 CROWN POINT | Crown Point resident Tim Abbott wrote a three-sentence letter to the editor in August 2011 about a deer crossing sign.
He thought the letter might raise a few eyebrows locally.
Instead it generated an onslaught of attention from around the world thanks to Internet posters intrigued, if not puzzled, by its tongue-in-cheek message.
Abbott wrote his hometown paper, The Times of Northwest Indiana, to say many deer get hit by cars west of Crown Point on U.S. 231. He suggested a deer crossing sign located there needs to be moved to a road with less traffic.
The letter caught the attention of Jay Leno, who read it on air in September. Since then it has gone viral on the Internet, especially after a June 4 posting on the Facebook page of George Takei, the actor known for his role as Hikaru Sulu on the television series "Star Trek."
Reaction to Takei's Facebook posting included 42,369 likes and 5,906 comments.
Abbott, 47, said Tuesday he'd written the letter expecting it might elicit a few raised eyebrows from local readers perusing the paper as they munched their breakfast cereal.
"Really all I wanted was to get a little rise out of people," Abbott said.
He wouldn't say whether he intended it to be humorous. "That would spoil the mood," Abbot said.
All the attention has been a little unsettling for Abbott, a worker at a local oil refinery — he didn't want to say which one.
"I get letters, and phone calls in the middle of the night," he said.
Online comments were troubling.
"Some people seem to think I believe deer can read," Abbott said.
Nearly a year after writing the letter, Abbott's 2012 Toyota Tacoma collided with a deer in the very spot marked by the deer crossing sign.
Abbott's daughter Julia, apparently a chip off the old block, penned a June 10 letter to The Times asking, "What is it going to take to get the deer crossing signs removed?"
Abbott said Tuesday he's got a suggestion for officials.
"If they don't want to move that sign, maybe they could post another sign, kind of a warning to deer to look both ways before crossing the street," he said. 
Be the first to know
Get local news delivered to your inbox!