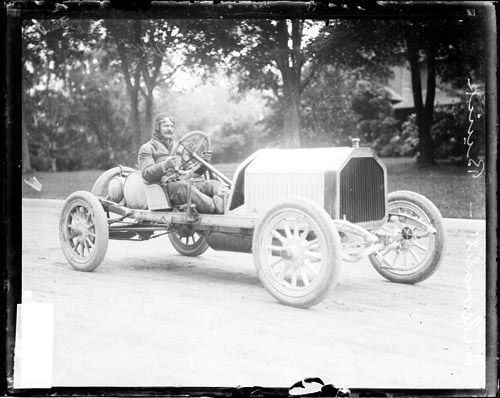 It was 1909, and automobiles were still toys for super wealthy Americans like Ira Cobe, a Chicago financier and the president of the Chicago Auto Club.
Cobe wanted to stage a glamorous event to showcase the speed and power of his beloved automobiles, the way events like the Vanderbilt Cup did on the East Coast, so on June 18 and 19, he arranged for a multilap road race covering 232.74 miles between Crown Point to Lowell.
Sunday's 97th Indianapolis 500 traces its roots to those larval races of bygone days.
That's because the Indianapolis Motor Speedway wouldn't open until later that year, leaving only the open road for automobile enthusiasts to race their cars. 
Cobe's idea meant everything would have to be built from scratch. That included constructing telegraph stations to relay standings, bridges so pedestrians and horses could cross the course during the race, and five grandstands — one a 10,000-seat space at the start-finish line on Indiana Avenue near Burrell Driver in Crown Point.
Sixteen cars were entered in the Indiana Trophy race Friday, June 18, and a dozen to contest the Cobe Trophy on Saturday.
There were Fiats and Knoxes and Locomobiles and Stoddard-Daytons. There were Marions, a Corbin and a Moon, all of them stripped-down, souped-up versions of passenger cars.
They would barrel through Crown Point, turning south on Court Street from South Street, through what was called "Ruffle Shirt Hill," and eventually down Cedar Lake Road to the reverse S curve over a creek — straightened today, though remnants of the original bridge remain – before reaching the resort town. A couple of tight turns in Lowell, and the racers were headed east for Ind. 55, and then back north on the eight-mile-long straightaway to complete another lap.
The drivers included Harry Stutz, later of Bearcat fame, and Louis Chevrolet, who drove a Buick.
Joe Matson won the race, driving a Chalmers-Detroit Blue Bird. He beat 1908 Vanderbilt Cub winner George Robertson to the finish line by nearly eight minutes. The favorite, Louis Strang, broke an axle on the second lap.
"The only man I was afraid of was Strang," Matson told a correspondent for Automobile Magazine. "I did not know he was that he was disabled, but thought he was ahead of me all the time."
Matson would receive the silver Indiana Trophy Cup before the start of Saturday's Cobe Trophy race. By then, it was clear the organizers had dreamed too big. The huge grandstand was half-filled. Many fans watched for free from the sides of the road on the long course, parking on other country roads. The estimated loss ran to about $25,000, though Cobe put on a brave front. And the Cobe Trophy race, 17 laps totaling 395.59 miles, proved to be too long. It would take more than eight hours to run.
Billy Bourque, driving a Knox and averaging 49.18 mph, would cross the finish line first — but didn't win. Road races began with staggered starts like a ski or boat race, one car at a time a minute apart until the field was away. Timing of each car at the finish line and quick math determined the order after each lap.
Thus, when Bourque finished, officials knew that his time of 8:02:44 was good, and put it on the scoreboard, but also knew that Chevrolet had been the leader since the 14th lap, when he regained the lead from Bourque, erasing a seven-minute deficit. A pit stop by Bourque put Chevrolet in front.
This time Chevrolet took the lead on the 14th lap and had led on two other occasions, despite blowing a cylinder in his four-cylinder engine on the 10th lap and taking 16 minutes to repair it.
Could Chevrolet's ailing Buick engine hold together long enough for him to finish with a better time than Bourque? All eyes looked south to the distant hill, where a car was sighted. It was Chevrolet, and he roared across the finish line. The statisticians did their work, and his No. 10 remained in the first slot on the scoreboard by 65 seconds.
Only then did a loud cheer go up. In a time of 8:01:39, averaging 49.287 mph, Chevrolet had won the Cobe Trophy, driving a Buick with only three good cylinders.
"I drove the last eight laps on nerve, nothing else," Chevrolet, who would win nine other Indy car races, told Automobile. "When I lost the use of one cylinder as the result of the hard jumping over the rocks I almost wanted to give up. But something told me to stay in.
"It was a hard drive, though. I'm 12 pounds lighter tonight than I was before the start. Two such contests in rapid succession will tell on any man."