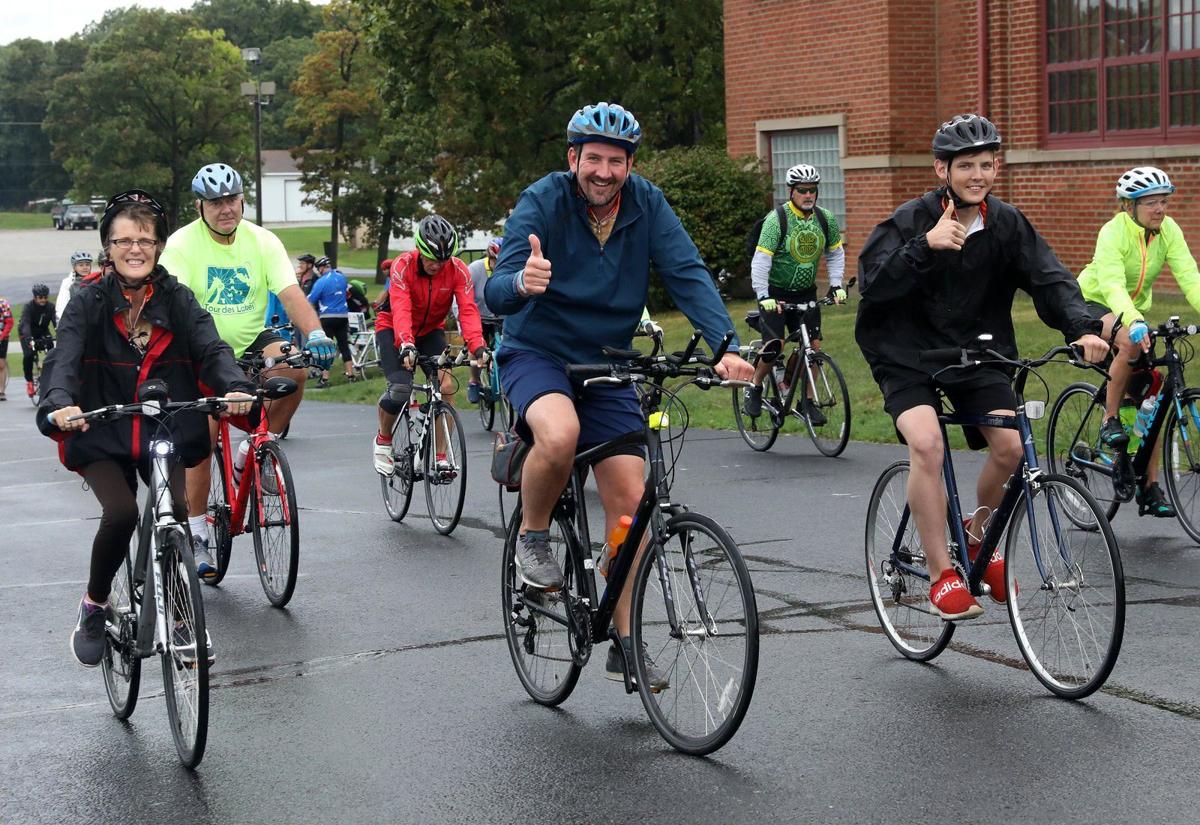 For many cycling enthusiasts, Hospice of the Calumet Area's Hospice Hustle is a fun tradition, but for Melissa Rothchild, it's a moving reminder to never give up.
Rothchild, her husband Greg and her boys Greg, 27, Andrew, 25, and Jacob, 21, have participated in the annual event for more than seven years.
She's a pretty determined participant. Last year she told her oncologist that she must be discharged from the hospital just 36 hours before the ride.
Rothchild was diagnosed with thyroid cancer in 2015 and colorectal cancer in 2018.
"I'm always determined to ride the Hospice Hustle because we've experienced the organization's compassion for our loved ones," Rothchild  said.
"As a survivor, I ride for all those that are fighting for another day and feel blessed to ride alongside my very supportive family. Hospice of the Calumet Area is very dear to our hearts and I will continue to ride the 25-mile route as long as I am able."
This year, due to the pandemic, Hospice of the Calumet Area co-chairs Dr. Gus Galante and Hasse Construction owner Bill Hasse were forced to make their ride a virtual social distanced cycling event for safety precautions.
Riders are encouraged to register at BikeForHospice.org and choose their own location and course length between from now through Sept. 13.
"Registration is only $35 and all proceeds benefit HCA patients and their families," said Jenifer Vargo Okamura, Hospice of the Calumet Area development director. "Since 2005, with the help of fellow cyclists and generous supporters Dr. Galante and Bill Hasse have helped to raise more than $450,000 to ensure that Hospice of the Calumet Area's services remain available to Northwest Indiana and neighboring Illinois communities."
In 2019, the nonprofit was able to care for more than 1,400 patients and provide more than $1.7 million in charity, discounted and uncompensated care.
Two years ago, Griffith's Angel Hair Salon and Café owner Angela Avorio-Mollin completed the 100-mile course in honor of her father-in-law James Mollin, who was battling bladder cancer. She sent him photos, videos and encouraging message throughout her trek. The following year, Avorio-Mollin completed the ride with her husband Ben.
This year's sponsors include Community Healthcare Systems, Peoples Bank, First Merchants Bank, Strack & Van Til, Largus Graphix Solutions, Gustavo E. Galante, M.D., Hasse Construction, Deen-Gross Eye Centers, Horizon Bank, Braman Insurance Services and CBC Surgery Center.