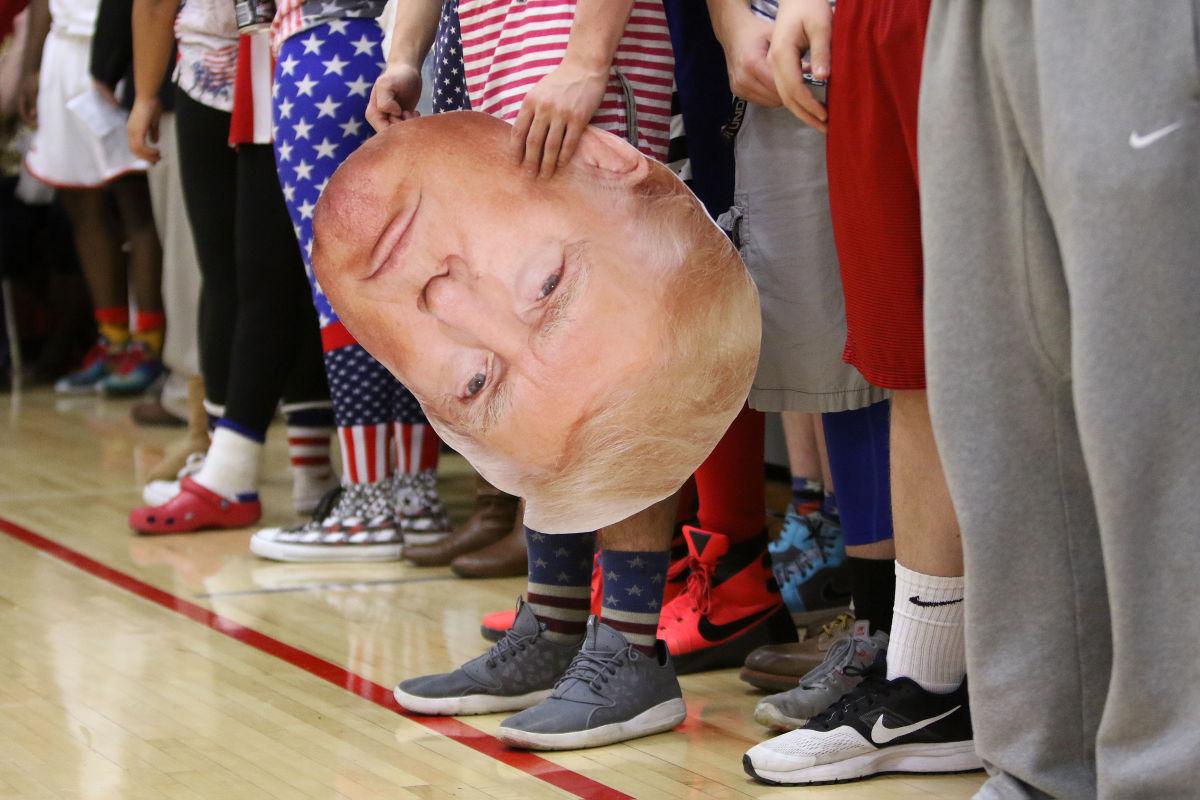 MERRILLVILLE — The Diocese of Gary and Bishop Donald J. Hying on Monday issued a statement concerning controversial behavior by some of the student sections at Friday's Bishop Noll vs. Andrean boys basketball game at Andrean High School.
A student from Andrean brought a large photo of Republican presidential candidate Donald Trump's head to the game. During the game, some Andrean students began chanting to the Bishop Noll students across the gym "Build a wall," which was followed by the Noll students chanting "You're a racist."
In the statement from the Diocese, Hying said:
"The incident continues to be under investigation by school officials and is being taken very seriously. Any actions or words that can be perceived as racist or derogatory to others are antithetical to the Christian faith and will not be tolerated in any of our institutions. It was the furthest thing from anyone's mind that such actions would be happening at a gathering of two of our Catholic high schools. This is not what we teach our students.
"Jesus is at the center of all we do and his message was and is one of inclusion and respect for all people. I take this incident to heart and again state that it is not to be tolerated, even as a childish prank."
Late Sunday, Andrean Principal Rick Piwowarski sent a message to the Andrean community explaining that administrators took care of the problem as soon as they were aware of it.
"As soon as administrators were made aware of such activities, actions were taken to stop such taunts and confiscate items from the student section," the statement from Piwowarski read. "At Andrean, we take very seriously the allegations that members of the public have placed on our shoulders. Those allegations are inconsistent with our school's mission as well as the proven reputation of compassion and service that Andrean has offered Northwest Indiana for over fifty years (sic)."
Both the Diocese and Andrean confirmed that the schools are working together for sportsmanship.
The Diocese statement included words from Noll Principal Craig Stafford, who contacted his school's community, saying: "This is a teachable moment for everyone about responsible speech, social media and sportsmanship. Perhaps (the incident) was an unfortunate byproduct of irresponsible speech in today's political arena. (We) are proud of our students. We are proud of our diversity. Our diversity is our strength. Bishop Noll will continue to educate our students in faith, social justice and to always respect all people, regardless of race, creed or socioeconomic status."
Hying, who attended the basketball game, was out of state at meetings on Monday and could not be reached directly.
IHSAA Commissioner Bobby Cox spoke with the administration from both schools on Monday, and the group agreed to allow the administrators to handle the concerns internally.