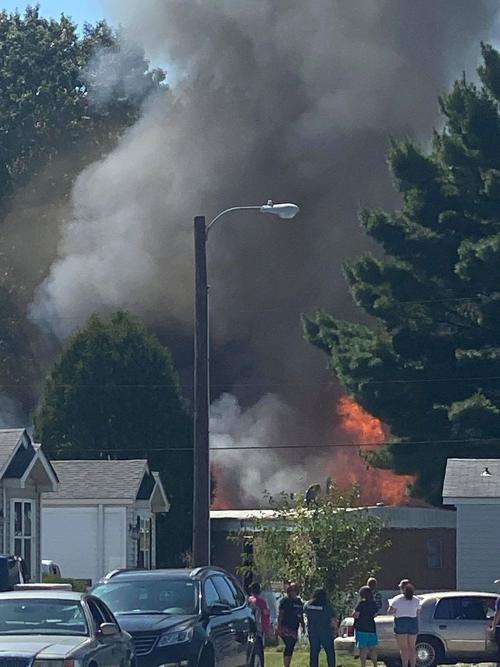 HOBART — A fatal fire that ravaged through three mobile homes in Ravinia Pines Mobile Home Park earlier this week caused the loss of life, homes and belongings. 
A donation drive to collect and distribute items will be held noon to 4 p.m. Sunday at the Hobart VFW Post 5365 at 540 S. Indiana St., said Barb Blashill of Valparaiso.
A 5-year-old boy, a 3-year-old girl and 6-month-old girl and their families lost everything in the fire, Blashill said, so children's and infant's items are needed.
"We just picked up from a donor and she said her little boy asked her what she was doing and she told him what happened," Blashill said. "He went and grabbed a box and filled it up with his own toys to give to the kids. The outpour of help has just been amazing."
Blashill said clothing, child care items, hygiene items, food, gift cards and more will be collected and people can drop off items any time during the drive. Baby formula; baby food; girl's size 4 toddler clothes; girl's size 6/9 baby clothes; boy's size 5 toddler clothes; adult tops sizes XL, medium, large and small; pants size 16, medium, large and small; and bedding and blankets were specifically requested. 
The collection was sparked after members of the public Facebook group Porter County Neighbors Helping Neighbors, created by Blashill and Jacinda Hinten, began offering up items after hearing the news. Since then, many others have chipped in to help, including the Hobart Domino's owner Jim Gronemann, who donated gift cards to the affected families, Blashill said. 
Families and individuals affected by the fire who are picking up donations should first proceed to the check-in table, where they can be helped by organizers.  
Those who wish to donate larger items like furniture are asked to contact bblashill@yahoo.com ahead of time to make arrangements. Blashill said any items that are not picked up by the end of the drive will be given to Ravinia Pines management to distribute.
At 2:38 p.m. Thursday several agencies responded to a fire at Ravinia Pines, a mobile home community at 534 E. 37th Avenue on the border of Hobart and New Chicago.  
When first responders arrived, they saw heavy fire in one of the trailers, which spread to the two others on either side of it, he said. 
New Chicago, Lake Station and Hobart firefighters worked together to enter the home and located an unconscious woman in a back bedroom. A UCAN medical helicopter was called, and the woman was flown to University of Chicago Medical Center, fire officials said.
The toddler, whose identity has not yet been released, was found in a living room after firefighters knocked down the flames, New Chicago Fire Chief Joe Eakins said. 
The Indiana State Fire Marshal is investigating the cause and nature of the fire.