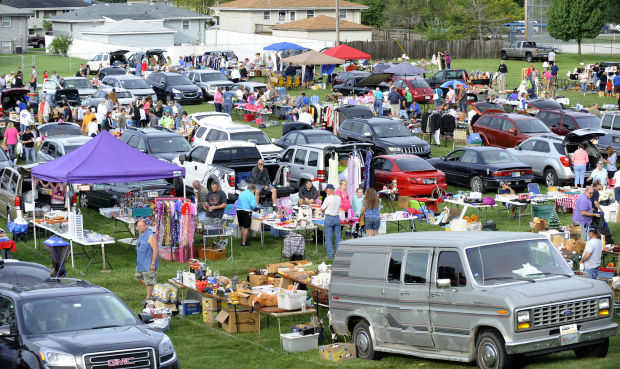 Every year an average of more than two dozen people are killed by lightning strikes in the U.S., but Dyer installed a system last fall that it hopes will prevent anyone in the town from becoming one of those victims.
Parks and Recreation Director Michael O'Shea said Thor Guard lightning prediction system is in place at 10 locations to ensure everyone in Dyer can  hear the warning horns when a lightning strike is imminent.
O'Shea said he's not aware of anyone  being hit by lightning in Dyer, but the town decided it was worth the $78,695 to try to make sure it doesn't happen. The system has two main locations and eight satellite stations that receive information from the two main ones. If the instruments detect the possibility of lightning, they emit a 15-second blast of the horn as a warning.
Thor Guard also has systems capable of sending warnings via email, text or other method to warn when lightning is possible in the next 5 to 20 minutes.
"It warns people to get away from open areas, like parks, and seek shelter," O'Shea said. "Once the danger clears, it will give three five-second blasts that it is safe."
One of the main locations is Northgate Park, a popular place for residents to congregate with its tennis courts and softball fields. After it was installed last fall, it went off a few times before it was shut down for the winter. It was just reactivated in March and went off shortly afterward. Signs in the park explain what the warning horn means.
"It will help with the athletic programs and help the umpires when something is coming and when it is safe to get back on the fields. We have 22 parks overall, 15 with playgrounds, so there is a lot of open area. It's just more of a safety feature so residents know when to seek shelter."
Of course, the system works only if residents pay attention to the warnings. O'Shea said the warning system was operational at a previous place he worked, but someone was killed by lightning because they ignored the warning.
"It was at the end, when the storm had passed, and it looked like it was safe but the warning light was still on," he said. "You can have sun in the distance, but it's still not safe."
After the horn warns people to seek shelter, a flashing light alerts people that warning is in effect. It will continue flashing until the all-clear is sounded.
According to the Thor Guard Web site, the system reads the activity within the electrostatic field and predicts the probability of a lightning strike. It also can predict potential "bolts from out of the blue," strikes that seem to come from nowhere and are cause a high percentage of lightning fatalities.
Be the first to know
Get local news delivered to your inbox!