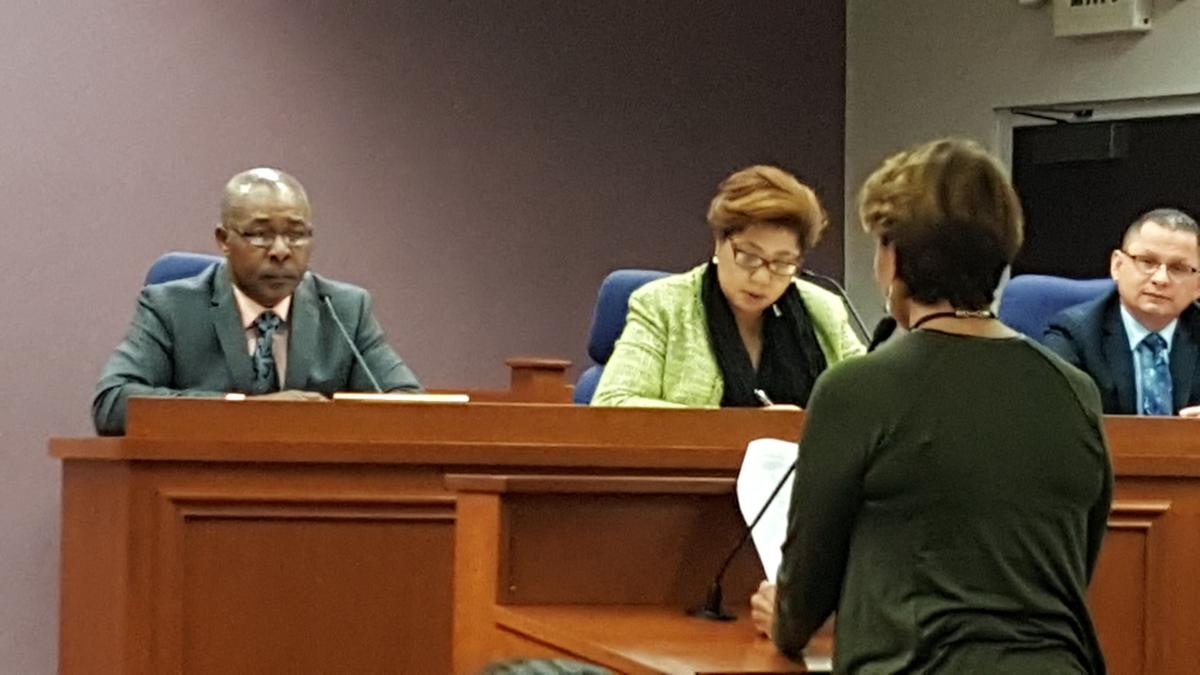 EAST CHICAGO — In his first public face-to-face meeting with residents since news first broke about dangerously high lead pollution in sections of the city, Mayor Anthony Copeland on Wednesday asked everyone to unite in a fight for state and federal aid.
"Let's not be divided. Let's keep our eye on the prize of what we're truly fighting, where the monies are, and how do we tap into the funding," Copeland said.
Residents from a community group requested Wednesday's meeting after an impromptu protest last Friday at City Hall. The initial purpose of the visit was to personally hand Copeland a list of demands, but a secretary said he was not available.
Residents have criticized Copeland for a lack of transparency during the crisis that has left more than 1,000 families displaced from the West Calumet Housing Complex and hundreds of homeowners uncertain about their health, safety and the future of properties.
At the start of the meeting, Copeland pushed back against criticism the city has done little to fight for residents as staff passed out a timeline of meetings held among local, state and federal officials to discuss the EPA's USS Lead Superfund site.
Residents denounced Copeland's request for $8 million to tear down the lead- and arsenic-contaminated complex even though nearly all families still live there.
Ray Mosley, a resident in East Calumet, said while residents appreciate Copeland blowing the whistle on the severity of the problem this summer, the mayor must push harder for more state and federal resources.
"The city of East Chicago does not have the fiscal resources, staff or personnel power to address the public health crisis and environmental catastrophe that the residents are coming face to face with every single day," Mosley said. "The USS Lead Superfund site is a man-made, catastrophic health and environmental disaster. We need our mayor to acknowledge it and declare it as such."
Copeland defended his decision to apply for federal funding.
"At the end of the day, why should we let these buildings stay idle as a reminder of the atrocities that happened to us?" Copeland said.
He said now that election season is over, he plans to reach out again to governor-elect Eric Holcomb about declaring the Superfund site an emergency disaster area.
Maritza Lopez, a resident in East Calumet, stressed it's not the mayor's lack of doing, but a lack of communication with residents.
"There has been a failure to disseminate information to us, the residents, who are the ones living on this poison. We are getting different stories from different agencies, and here you're speaking, you say you're making negotiations we know nothing about it," Lopez said.
Residents demanded the mayor push for Medicare for life for all residents exposed to environmental health hazards in the Superfund site. Residents also asked for timely reimbursement of security deposits for West Calumet families, a chance for homeowners to relocate and recoup the value of homes, and for the city to hire health care staff to go door to door and ensure all children are tested for lead poisoning.
Copeland agreed to provide on-site blood lead testing at the John B. Nicosia Building, where some seniors have tested positive for the presence of lead in their blood. Copeland said he would also look into many of the issues raised Wednesday.
Cheryl Rivera, executive director of the Northwest Indiana Federation of Interfaith Organizations, said residents came to Wednesday's meeting seeking the mayor's help.
"All the residents here are seeking you as an ally. You are the greatest ally we could possibly have. ... We have come here in that spirit, but also knowing that we hold public officials accountable," Rivera said. "That does not mean we are seeking to divide but we know that we are stronger together. We will continue to push because the residents have their fight."