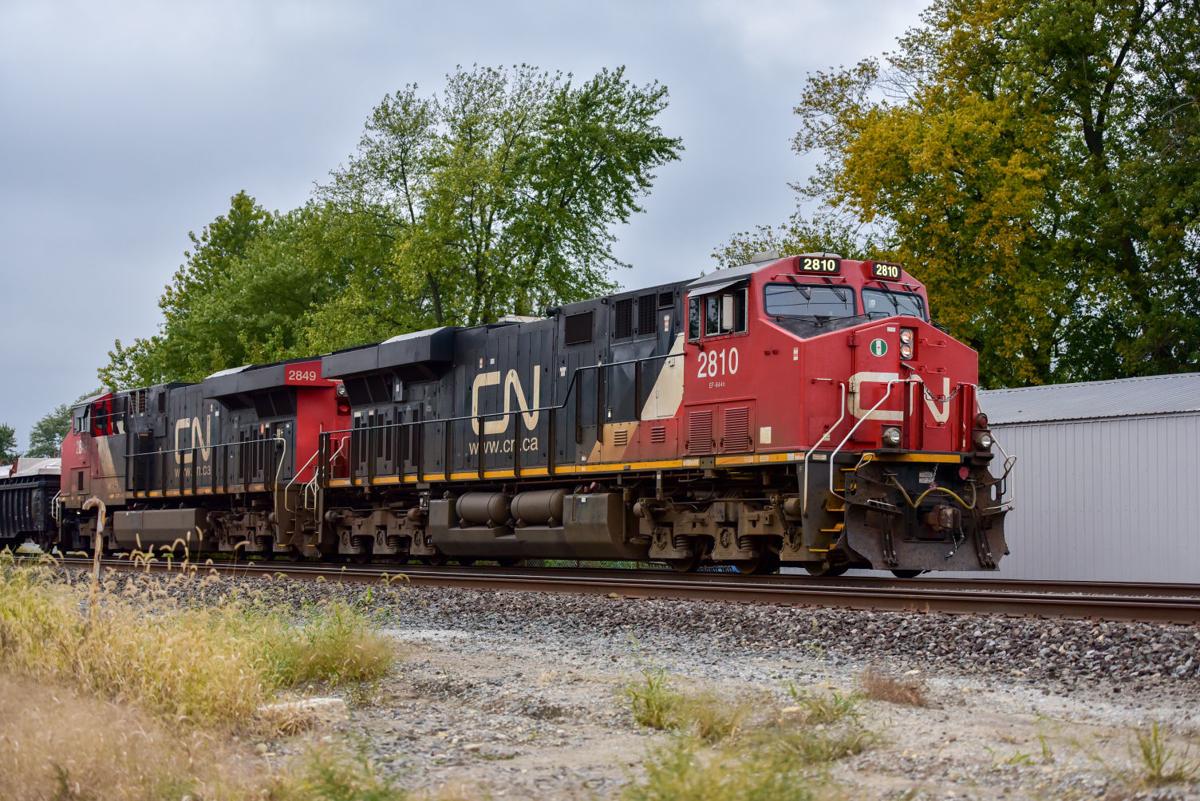 EAST CHICAGO — Activists and homeowners expressed outrage Friday after learning of Canadian National's documented plans to store dusty piles of BP petroleum coke in the city's already environmentally burdened Calumet neighborhoods.
"This is insanity. This just tells you how vulnerable this community is. Petcoke is a product that is being chased out of every other community, and they've all found their power to stand up. What this shows that there still is a vacuum of power here with these big polluters," said Thomas Frank, an East Chicago resident and member of the Southeast Side Coalition to Ban Petcoke.
In a statement Friday, CN denied any current plans to store petcoke there, saying the expansion project underway is only to facilitate the staging of 120 "empty cars" to safely and reliably service local customers. 
However, city officials presented documents confirming the railway intends to expand operations along its rail line at 149th Street in East Chicago, creating a "transfer point" — what is in effect a rail yard for the storage of the tar sands byproduct produced at BP's Whiting Refinery.
The city alleged petcoke would be stored there until it is transported to New Orleans and eventually shipped overseas to Asian markets for use as fuel in countries with more lax regulations. 
City officials said if CN receives approval from regulators to fill in wetland, the railway would store hundreds of open rail cars of petcoke within a few feet of homes in the East Calumet neighborhood.
The site is near an Indiana Department of Natural Resources-regulated wetland and the Grand Calumet Restoration area, which also was recently remediated.
Permit pending
CN, through its subsidiary Wisconsin Central Ltd. Railway, submitted a permit application to Indiana Department of Environmental Management to fill in wetlands in order to expand its tracks along Gary Road. The city says it's part of CN's petcoke storage plans. 
The public comment period ends Tuesday. The city said it intends to submit comments opposing the plan before then. 
Debbie Chizewer, managing attorney for Earthjustice's Midwest Office in Chicago, said everything about the proposal "is unjust."
"Petroleum coke is a dirty product of dirty fossil fuel production. The proposed location of this known health hazard is next to an environmental justice community, currently living on and next to contaminated land. It will also impact wetlands, a critical natural resource," Chizewer said. 
She said IDEM has provided a limited time frame for public engagement and opportunity to comment.
"A public hearing and extension on this comment period is a minimum step needed to recognize the serious health and environmental concerns raised by this proposal," she said. 
'Especially offensive'
The low-income, minority Calumet neighborhoods in East Chicago already are facing an environmental crisis. Families lived, and many continue to live, there with lead and arsenic contaminated yards leftover from the Region's legacy industry.
Now it's a designated Superfund site by the U.S. Environmental Protection Agency, which is excavating contaminated soil in those neighborhoods. In summer 2016, more than 1,200 public housing residents, including 600 children, were evacuated from the West Calumet Housing Complex — built in the 1970s on top of a razed lead smelter.
"The proposed plan ... is especially offensive considering all that the residents of Calumet have just experienced with the USS Lead Superfund and the cleanup which is entering its final stages," Mayor Anthony Copeland said in a statement.
Petcoke is produced at BP's Whiting Refinery on Lake Michigan as a byproduct of refining Canadian tar sands oil.  
Under the proposed plan, CN's rail cars would be filled with the very same petcoke from BP that was "kicked out of South Chicago," and which BP promised to "never store in Indiana, much less re-contaminate the USS Lead Superfund site," Copeland said in a statement.
'My backyard'
Frank and several Chicago-area groups fought from 2013 to 2015 to stop BP from shipping its petcoke on barges along the Calumet River in Chicago to two sites in Chicago's East Side and South Deering neighborhoods.
The sites are owned by KCBX terminals, a firm owned by the wealthy industrialist Charles Koch. The groups ultimately prevailed, arguing the black clouds of sulfur dust were a detriment to residents' health, and BP announced in 2015 it would no longer be sending its petcoke to Chicago. A 2016 federal health study discovered that blown petcoke dust from the Chicago facilities posed public health hazards to residents, especially children and the elderly, records show. 
"Now it's in my backyard," said Frank, who lives on the next block over in East Chicago.
BP's Whiting Refinery has been an epicenter for environmental protests over the years. The refinery processes more crude from the oil sands of Canada, in large part due to a $4.2 billion modernization project completed in 2014.
BP declined to address questions about petcoke, and instead issued a general statement: "BP is committed to being a good neighbor and is one of many industries utilizing rail to transport products in Northwest Indiana. We will continue to work with the city on CN's rail project, and other projects, and remain committed to safe, compliant, reliable operations."
CN's rail line stretches from BP and down Kennedy Avenue before crossing Chicago Avenue and winding through the Calumet neighborhoods in the USS Lead Superfund site.
Maritza Lopez, who lives half a block away from the proposed rail yard, said she was in disbelief. She and others in the lead- and arsenic-contaminated neighborhood have been pushing since 2016 for EPA to conduct a more stringent cleanup of their yards, homes and basements.
Now, this is another potential environmental harm they have to worry about.
"Oh my God," said Lopez, who lives in the 4900 block of Euclid and lives with her 24-year-old niece and 4-year-old great-niece."
Mark Templeton, an attorney at the University of Chicago Law School's Abrams Environmental Law Clinic, said IDEM should closely scrutinize CN's application due to the proximity of this "highly contaminating activity" to the Superfund site and residents.
City first learned in December
City officials said the city's first indication about CN's track expansion project came Sept. 27, when CN burst a 24-inch, city-owned water main at 151st and Kennedy doing prep work for the expansion.
While CN used licensed contractors, they didn't pull the proper permits or locate utilities before digging, the city alleged.
"The city lost 7 million gallons of water. The repair cost the city was in the hundreds of thousands, in addition to the inconvenience of lost water service, a boil order for our residents and businesses," the city said.
When the city said it further inquired, CN told the city they were wanting to close the right-of-way off Gary Road, in effect blocking access to the city's animal control facility.
It wasn't until December that the city became aware of the IDEM permit and scope of the plan, the city said.
CN denied on Friday the cause of the water main break is related to the company. 
"The break occurred near our property and our track was impacted by the break.  We have not performed any construction activity for Whiting to date. The only activity that we have had in the area is unloading rail," the company said. 
'The lion's share'
In a letter sent Wednesday to BP, Copeland urged the company to reconsider.
"We ask BP to consider the human costs. ... We also ask you to take a look at the business cost and risk inherent in such a plan," Copeland wrote. He said while CN would be jointly liable, BP would have "the lion's share" of liability in the transportation of petcoke until it leaves the U.S.
Copeland wrote to BP that nearly $85 million has been spent so far to excavate lead and arsenic from the neighborhoods, but that would be negated with the introduction of petcoke and the accompanying health risks.
He said residents living next to the planned rail site "has suffered long enough."
"These are the very same residents who were asked to make sacrifice when BP asked for and was granted its $5 billion abatement to expand its refinery operations across East Chicago, Whiting and Hammond. This abatement came at a sacrifice to area schools and other services. It is unconscionable that these residents would be burdened by the byproduct of BP's refining process," Copeland wrote. 
'A ray of light'
On Friday afternoon, Copeland issued an updated statement to The Times, saying his letter sparked a meeting with BP Friday morning that seemed "hopeful."
The city would like to give BP an opportunity to be a good corporate citizen, the statement read. 
"We see a ray of light here. The parties have agreed to continue to talk in a spirit of openness. I think they understand that protecting the lives and health of our residents is my paramount concern," Copeland said.