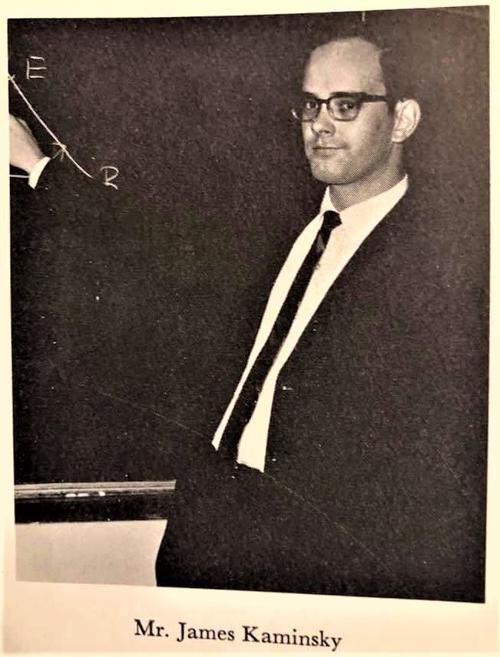 WICHITA, KANSAS — A former East Chicago teacher was killed in a hit-and-run crash while walking across the street after getting his mail, police said. His family said he is remembered as a dedicated educator who touched many people's lives.
James Kaminsky, 80, of Wichita, Kansas, was the victim of a fatal hit-and-run crash Tuesday in front of his home. He was a longtime math teacher for two East Chicago schools before he moved with his family out of state.
His sister, Samantha Kaminsky, of Robertsdale, said she was moved by all of the former students who have reached out to her with their condolences. 
"He loved teaching," Samantha Kaminsky said. "He was a math genius. And he loved the children, that was his whole life. I read a comment where a girl said that because of him, she graduated from high school. There were just so many people saying wonderful things about him. ... He touched and has changed so many lives."
James Kaminsky was a math teacher at Roosevelt High School and Washington High School in East Chicago for more than 20 years, his sister said. He worked as a Region educator from the early '60s to the '80s, when he moved out of state for a job opportunity. He also taught at a former Purdue University extension in East Chicago. 
He eventually ended up living in Wichita, Kansas, when he was hired as a computer analyst for The Boeing Company. 
"But even then, he always kept a finger in teaching; he couldn't stay away," Samantha Kaminsky said. "While working at Boeing, he continued teaching math at a community college out there."
James Kaminsky was preceded in death by his wife of many years, Helen Kaminsky, and his younger brother, Terry Kaminsky. He had two children, Joseph and Meghen. His sister said he was known as a loving family man who was devoted to his wife and children and enjoyed shooting at the range and photography in his free time. 
At 6:15 p.m. Tuesday, officers responded to a report of an injured person in the 1600 block of North Parkridge Street in Wichita, according to the Wichita Police Department.
Police found James Kaminsky in the road with serious injuries and he was taken to a local hospital, where he died.
Investigators said James Kaminsky was crossing the road back to his residence after walking to his mail box when he was hit by a white pick-up truck driving south on North Parkridge Street, according to police reports. The driver did not stop and fled the scene.
Police have identified a person of interest and it is believed that alcohol was a factor in the fatal crash. The investigation is ongoing and pending criminal charges from the Sedgwick County District Attorney's Office.