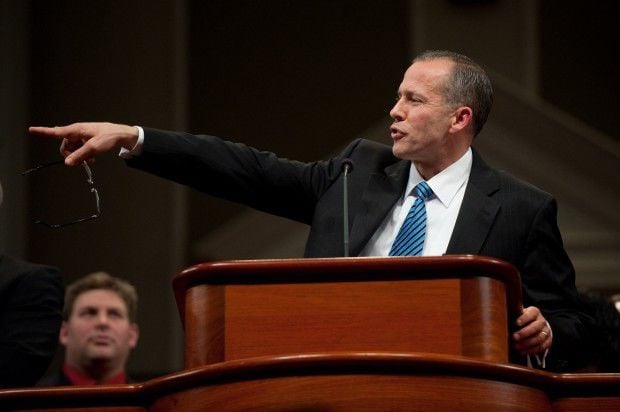 HAMMOND — The First Baptist Church of Hammond is being sued by two couples for money they said was lost in an investment scheme pushed by a former deacon who allegedly was hired by the church to provide "one-on-one financial counseling."
The former deacon, Thomas Kimmel, was sentenced in 2014 to 22 years in prison and ordered to pay more than $16.5 million in restitution after being convicted in federal court in Raleigh, N.C., of defrauding hundreds of investors around the country.
According to the lawsuit, Jack Schapp, former pastor of the Hammond church, received a 1 percent commission on each Hammond church parishioner's investment, while Kimmel received a 10 percent commission. Schapp and Kimmel did not disclose these commissions to parishioners, according to the lawsuit.
Schaap is currently serving 12 years in prison after pleading guilty in 2012 to having sexual relations with a teenage church member.
The lawsuit against First Baptist Church of Hammond, Inc., was filed this week by Joseph Elwell, Crystal Elwell, Robert Baldwin, and Deborah Baldwin, individually and as custodian for her two minor children. The Elwells are former Schererville residents now living in Yuma, Arizona, while Deborah Baldwin is a former Crown Point resident now living with her husband, Robert, in Kiel, Wisconsin.
Rick Hammond, an attorney representing the church, said Friday the church "believes the charges are baseless. That there has been absolutely no wrongdoing on behalf of the church and the church stands by its good works and the missionary work it has been doing in the community and around the world," for decades.
There are times when individuals may engage in wrongful conduct, but, he said, many people want to take that as an opportunity to wrongfully criticize the church.
According to the lawsuit, Elwell has been employed by First Baptist Church as a missionary since January 2000. From May 2006 until July 2009, he was allegedly employed by the church as the North American and Caribbean director for its Fundamental Baptist Mission Board. During that time, he also is said to have taught classes at Hyles-Anderson College, a ministry of The First Baptist Church of Hammond.
Kimmel also served on the college's board of directors, according to the lawsuit.
According to federal prosecutors, Kimmel sold investments in Sure Line Acceptance Corp. in churches across the country. The federal indictment against Kimmel characterized the corporation as a Ponzi scheme where investors were paid their interest from new investor money.
The lawsuit seeks to recover approximately $225,000 in losses supposedly incurred by the Elwells and $235,400 incurred by the Baldwins.
According to the lawsuit, by January 2006 Schapp had hired Kimmel to act as an employee of First Baptist Church for the purposes of providing financial advice, debt counseling, budgeting and investment advice for members of the First Baptist Church. Schaap allegedly informed church members during services that Kimmel "was the church's financial adviser with offices on church premises and was available to members of the church for financial advice."
The lawsuit states that Kimmel also "represented to parishioners" he had invested $450,000 of his own money in Sure Line and First Baptist Church of Hammond and Schaap had invested $1 million in the corporation.
According to the lawsuit, First Baptist Church and Schapp could "have terminated Kimmel's ability to provide financial services to parishioners, solicit the Sure Line Investments, and the right to use First Baptist Church Office for the same purposes at any time."
The lawsuit contends an attorney named David Gibbs, retained by First Baptist Church, advised Schaap around November 2007 they should not be offering Sure Line Investments to parishioners "because it could violate Indiana law and the parishioners were largely unsophisticated investors."
Despite that information, the lawsuit said Kimmel was not stopped from providing financial advice by the church.