ST. JOHN — Former police Cmdr. Michael Fryzel is accused of sexually battering three women and of receiving pay for hours he didn't work, according to court records.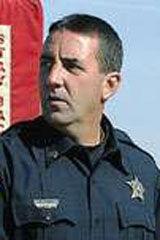 Fryzel, 54, was charged Thursday in Lake County Criminal Court with three counts of sexual battery, five counts of official misconduct, two counts of theft and three counts of battery. 
His defense attorney, Thomas Vanes, said Fryzel would surrender Thursday to police and intended immediately to post the $75,000 surety, or $7,500 bond, issued in the case. In a previous statement, Vanes said Fryzel was confident he would be vindicated once the full truth was known.
Fryzel, a former St. John Town Council member, resigned from the department in March 2015, days before federal lawsuits were filed accusing him of sexual harassment. 
In the charges filed Thursday, one of the women, who worked for the St. John Police Department, told Indiana State Police that in 2013 Fryzel commented on how he wished she would apply for a position so he could see her breasts during a physical test required for the position, according to the affidavit.
The same woman told police that on Jan. 27, 2015, Fryzel pressed his groin against the woman while she was sitting down, according to the affidavit.
Another woman, who worked for the department, told investigators that on Feb. 2, 2015, Fryzel smacked her buttocks. Two days later, Fryzel commented on the woman's breasts. The woman questioned another officer who was present if the comments were in violation of policies he had just written.
Fryzel answered, "Those policies don't apply to me. I am a commander so they don't apply," according to the affidavit. 
During another incident, he is accused of poking the woman's breasts while explaining that her body was the reason he was a, "sick (expletive)," according to the affidavit. 
Keep reading for FREE!
Enjoy more articles by signing up or logging in. No credit card required.
A third woman, who worked as a janitorial contractor, told detectives Fryzel frequently called her a name that was a reference to a sexual position. According to the affidavit, Fryzel and former Police Chief Fred Frego would ask if she had sex with a black man.
Fryzel also is accused of smacking her buttocks, according the affidavit.
While police were investigating the allegations, investigators compared the department's payroll with police dispatch logs from the Lake County sheriff's department. An analysis determined Fryzel was paid $5,356.97 from 2011 to 2015 for hours he didn't work, according to the affidavit. 
The charges come months after women filed federal lawsuits against Fryzel, the department and the town. One of the lawsuits was settled, though the details were sealed. The other two remain pending. 
Last year, the prosecutor's office announced it would convene a grand jury to investigate allegations involving the St. John police. Lake County Prosecutor Bernard Carter said his office instead decided to file the charges directly.  
"After reviewing the case and speaking with the investigators, we decided to file it directly," Carter said.
Vanes said he was suspicious of the timing surrounding Thursday's filing.
"For at least six months, the prosecutor has been talking about a grand jury," Vanes said.
"Then it got stalled, by them not us. Then all of a sudden they are taking a short cut. I smell a lot of outside pressure to file something."
He wasn't sure where the pressure was coming from, but he said there were a lot of people looking to make money.