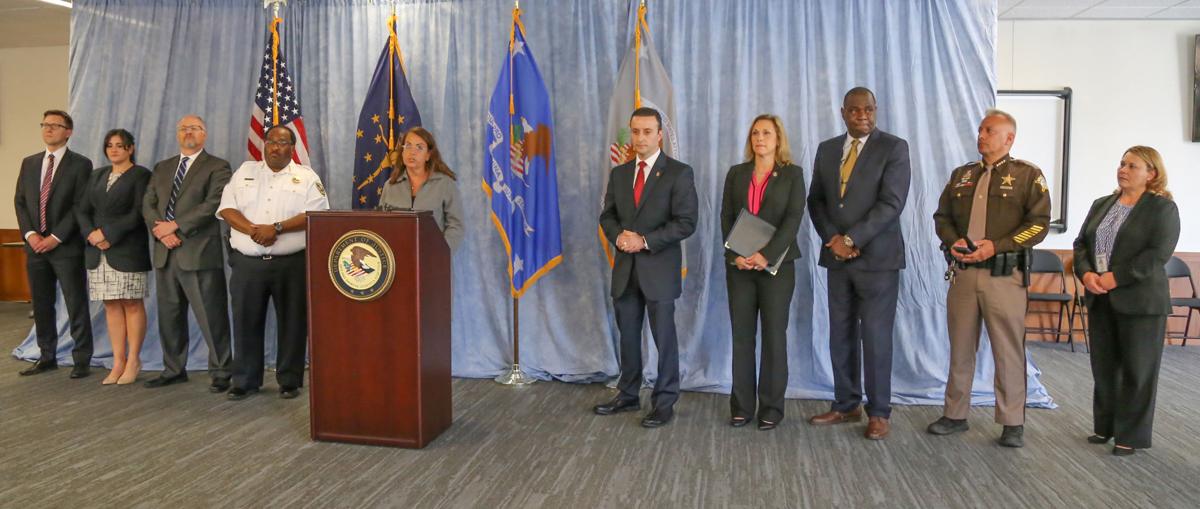 HAMMOND — A Gary man facing the prospect of a death penalty murder prosecution made his initial appearance Friday in U.S. District Court.
Magistrate Judge Andrew P. Rodovich appointed Chesterton defense attorney Adam Tavitas to represent 26-year-old Hailey Gist-Holden.
The Gary man is charged, along with James A. King Jr., 24, of Miami, with killing bank security guard Richard Castellana June 11 during a holdup of the First Midwest Bank branch at 1975 W. Ridge Road in Calumet Township.
The charges make Gist-Holden and King eligible for a capital murder charge, if officials at the U.S. Justice Department approve such a prosecution.
But Rodovich asked Assistant U.S. Attorney Caitlin M. Padula to determine soon whether the expense of a death penalty prosecution is necessary in this case.
Rodovich noted that U.S. Attorney General Merrick B. Garland has imposed a moratorium on federal executions while a review of the Justice Department's policies and procedures is pending.
Rodovich said, "If we can avoid spending time and money on the usual capital memoranda, I would like to do that. If there is in fact going to be a moratorium on federal executions, I doubt the Justice Department will approve any new capital cases."
The magistrate scheduled the next hearing in the case July 22 to formally arraign Gist-Holden on charges of murder, armed bank robbery and possession with intent to distribute marijuana.
The magistrate noted a federal grand jury could meet as soon as next week to consider a superseding indictment charging Gist-Holden and King as co-defendants in the case.
It was Gist-Holden's first court appearance since he was returned to Indiana from Georgia, where police arrested him last month.
The government alleges Gist-Holden carried out the bank robbery to bail out his semipro football team, the Illini Panthers.
Authorities said Gist-Holden needed money to pay his players, their hotel bills and rent on his Gary home.
They allege Gist-Holden enlisted King, one of his football players, to assist in the robbery.
Police say the two, dressed in black and armed with a handgun and rifle, stormed the bank from a nearby wooded area, ambushing Castellana before he saw them coming and fleeing with $9,771.
Lake County, Gary and other local police departments captured King within hours in a wooded area south of the bank.
Authorities allege King admitted his participation in the robbery and accused "Coach Hailey" Gist-Holden of shooting Castellana.
Police arrested Gist-Holden June 18 near Valdosta, Georgia.
Authorities raided Gist-Holden's rental home in the 4600 block of Buchanan Street in Gary's Glen Park neighborhood June 16 and found marijuana being cultivated in grow rooms in the basement.
The government is charging Gist-Holden with possession of about 27 pounds of marijuana confiscated from the rental property.
King is pleading not guilty to similar armed bank robbery murder charges. He is represented by defense attorneys Michael A. Campbell and Michael W. Bosch of Highland.