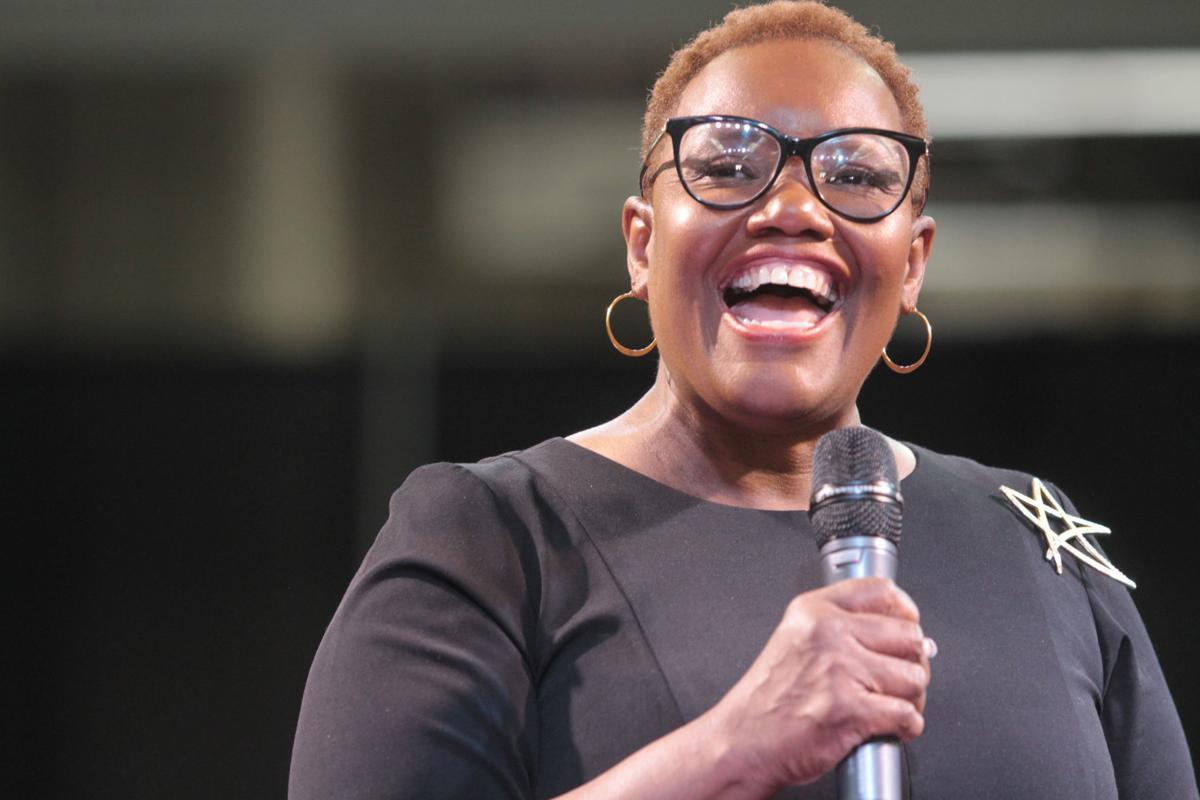 GARY — Now in her seventh year as mayor, Karen Freeman-Wilson delivered her annual State of the City address with a promise she can get Gary back on track and balance the budget by 2021. 
Speaking to hundreds in the Genesis Center's banquet hall, Freeman-Wilson touched on a wide range of challenges facing the economically depressed city of 76,000, while highlighting recent accomplishments like improvements in the homicide rate and demolitions of blighted homes. 
With a crowded mayoral race around the corner, Freeman-Wilson spent much of her 38-minute address emphasizing how the city's crushing $17 million structural deficit is no easy fix with a dwindling population, horribly low tax collections, along with declining property values and casino revenue. 
"The good news is we have a plan," said Freeman-Wilson, who is seeking a third term as mayor. 
Within the last year alone, the city has successfully attracted $1.5 billion in investments from big businesses like Amazon, Alliance Steel and Fulcrum Bioenergy and small businesses like All Pet Supplies, Onos Pizza and R&R Sports Bar and Grill near the U.S. Steel Yard stadium, she said.
She was also optimistic about working closely with state lawmakers to move Majestic Star Casino from Buffington Harbor in hopes of pursuing new industrial development there. 
"You can't just cut your way out of a deficit. We're going to grow our way out," she said. 
With a $17 million structural deficit, Freeman-Wilson said her financial recovery plan is underway with the switch to a less expensive health insurance provider, a hiring freeze and a laser-focus approach to improving internal fiscal controls.
The State Board of Accounts has flagged several city departments in recent years for the staff's inability to follow internal controls.
Under her plan, the city would save more than $3 million annually as Gary would reduce professional service contracts, centralize the procurement and purchasing departments, consolidate other departments, reduce the footprint of city-owned buildings and change the city's employee health care plan.
Without corrective action, the city is projected to end 2025 with a general fund deficit of $7.6 million, she said. 
Critical is the pending sale/leaseback of the city's public safety building, shoring up about $40 million to give the city time to implement the plan, she said. That sale hit a snag in recent months, with investors unwilling to offer low-enough interest rates to make the deal worthwhile.
Gary City Councilwoman LaVetta Sparks-Wade, a frequent critic of the current administration and a mayoral candidate this year, said Freeman-Wilson has had more than enough time to turn Gary around. She said while she attended the luncheon, she did not stay for Freeman-Wilson's address because "I've heard it all before." 
"People have died hoping Gary would come back. I was talking to a young man the other day and he said he is tired of hearing the stories of how Gary used to be. He's 40. And 40 years is too long to be waiting on a dream, when everybody around us is thriving," she said.
"It breaks my heart when I drive over to East Chicago and see improvements (Mayor Anthony) Copeland has made, and I drive to Hammond and see the development there. That's what development looks like," she said. 
Citing mounting negative stories in the local press, Gary City Council President Ronald Brewer said he and Freeman-Wilson are excited about a new initiative — a television show called "Good News Gary" on Channel 4 WJPN that will highlight positive developments.
"We had a period of a lot of negative press inside our city, and we want to show that there's more positive than negative," he said.