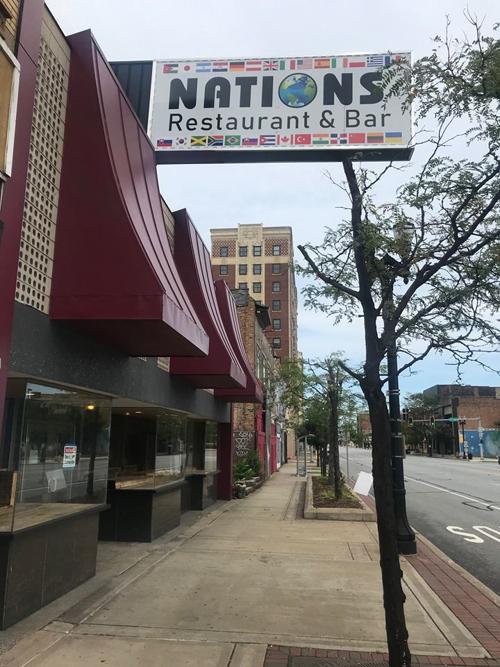 GARY — A Lake Superior Court judge has sided with the Gary Housing Authority in round one of a lawsuit filed by a local restaurant operator subject to eminent domain proceedings.
Later Thursday evening, the housing authority board voted to award 624 Broadway, LLC compensation — though John Allen, the operator of Nations Restaurant and Bar at 624 Broadway, he maintains the LLC didn't get a fair deal. The Gary Housing Authority passed a resolution awarding the corporation $75,000 in damages for the condemnation and acquisition of the property. 
"This is confirmation that the way we run our city needs to change," Gary resident and restaurant owner John Allen said. "We don't need to have administrative seizure of property and I want this emphasized for the record; I'm OK with eminent domain procedures as formally done in all different Supreme Court cases. I'm OK with the fact the government will win 90% of the time. What I'm not OK with is local administrative seizure of private property. That's a problem, it's an open door for abuse."
Some residents voiced their support for Allen and his restaurant, including Gary resident George Howard, who said more restaurants like Allen's are needed in a city designated a "food desert."
Gary Housing Authority members said the process of acquiring the property has been ongoing for years. At the close of the meeting, members addressed the residents' concerns. 
"What I'm saying to the public is we do have a vision, we do have a plan," Sharon Levels, advisory committee member, said. "... Please continue to come to the meetings so you can hear our vision and so we can hear from you what you want to build."
The next step of the process will be for the Gary Housing Authority to make the payment to 624 Broadway. 
Earlier Thursday, Judge Thomas Webber denied Allen's request for a temporary restraining order to bar the GHA from meeting. Allen had argued he would be "irreparably harmed" if the hearing took place.  
Allen sued GHA on Wednesday, claiming GHA illegally and unilaterally transferred the restaurant property out of his name.
During Thursday's court hearing, Webber denied Allen's motion despite Allen's attorney, Tracy Coleman, arguing GHA "blatantly" abused its powers by sidestepping the courts and taking ownership of her client's downtown building while shielded from the public eye. 
The circumstances surrounding the Gary Housing Authority's land grab shines a spotlight on the complicated, complex process that is eminent domain — or the power governments have to take land from private owners for public use.
Earlier this year, the Gary Housing Authority attempted to take the property through eminent domain action in the courts March 14, but moved to dismiss July 26.
It was revealed in court Thursday that GHA quietly, but legally, already obtained 624 Broadway back in September, bypassing the need for a court order.
Eminent domain law offers two ways to take property. One method allows municipality agencies to take eminent domain action through administrative means. The second, more commonly known method is through the courts. 
Allen's suit claims a "chilling effect" will be had on Gary's business community if "people know that if you come into Gary, renovate a building for commercial use, that the government can come in and take it without just cause."
However, Raggs attempted to pierce Allen's argument to the public in recent weeks that he's an innocent victim caught in the crosshairs of the authority's eminent domain proceedings. 
Raggs told Webber that Allen knew prior to his purchase of 624 Broadway in January that the GHA was in negotiations with then-owner HTO Investments Inc. and that the property could be subject to eminent domain. 
Because he allegedly knew of GHA's interest in the property in advance, Allen "accepted the risks" of investing his money into renovating the building, Raggs argued.
Taryl Bonds, GHA deputy executive director, also testified he even offered Allen fair compensation for the building and provide him with another location to house his new restaurant, but he "refused" to negotiate with GHA and instead wanted in as an investor early on.
"I said, 'How deep are you in the project? I'll make you whole,'" Bonds said. "I'll hand you four walls, whatever you'd like."
Allen argued the GHA has little to show for its future plans for the block, whereas his business would put people to work and generate tax revenue for the city now. Allen said the economically depressed city is severely lacking in sit-down eateries in the downtown area and Nations could be part of the revitalization of the Broadway corridor.
Bonds argued GHA would be further along with the development proposal, "if not for Allen sitting in the middle of the block," Bonds said.
Indiana code allows a municipality to acquire properties without a court order if it adopts a resolution, gives notice to the owners in a newspaper publication, holds a hearing to consider remonstrances and then takes final action, Raggs said.
Allen said he never received notice of the intent to take possession, but GHA's only responsibility was to publish in the local newspapers, which it fulfilled. 
Webber said he admittedly was not familiar with the process GHA used to take ownership. Wyllie said the same, saying it's not a common method.
County attorney John Dull said the GHA took advantage of a shortcut in eminent domain law, but a legal one.
GHA's eminent domain move allows Allen opportunity to appeal the condemnation through the courts. He has that recourse even with Thursday's meeting proceeding as scheduled. 
on Thursday, Webber dismissed the Lake County Auditor's Office as a defendant in the case. 
Times Staff Writer Anna Ortiz contributed to this report. 
Be the first to know
Get local news delivered to your inbox!