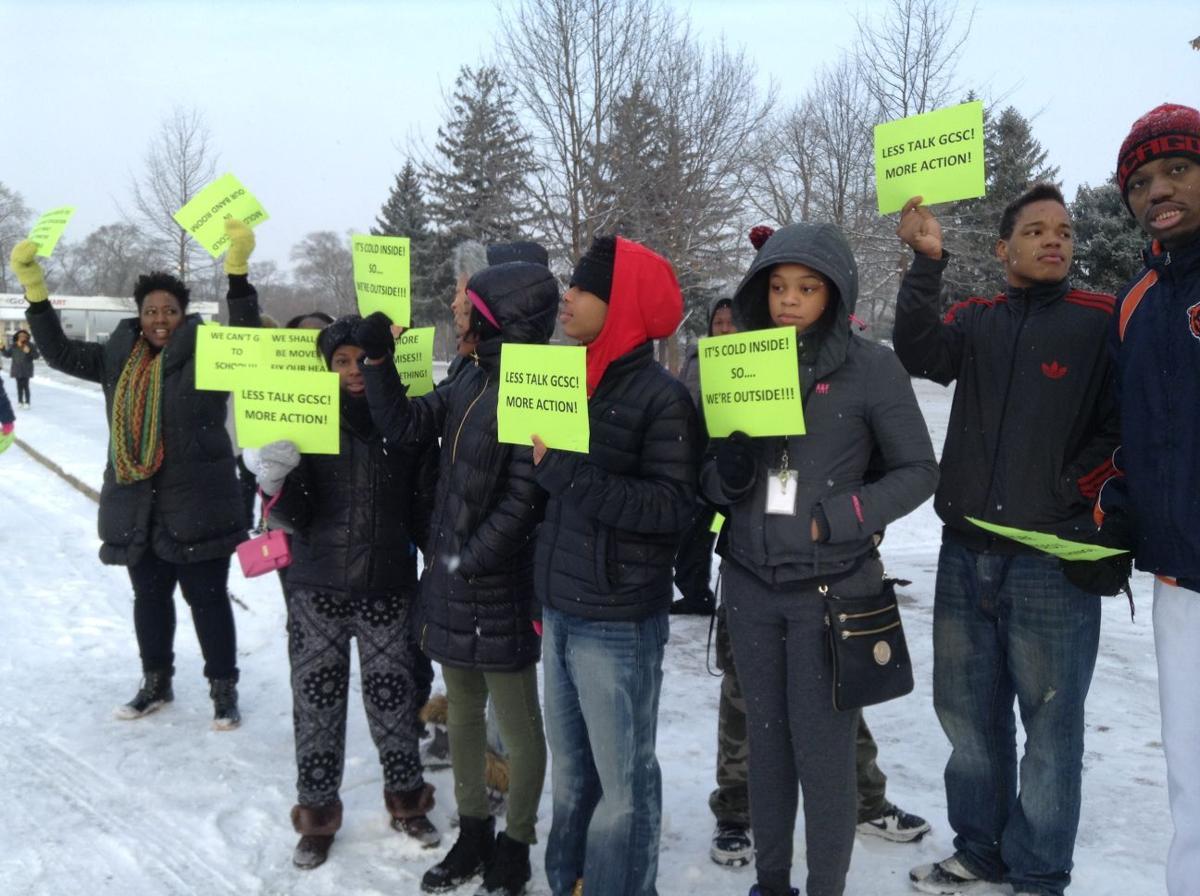 INDIANAPOLIS — An Indiana State Board of Education member expressed concern about the lack of heat at Gary Roosevelt College and Career Academy causing 670 students to miss school this week.
Eddie Melton, of Merrillville, a new member to the board, said every Hoosier student has the right to a quality education in a suitable learning environment. 
"The ongoing situation involving lack of heat and adequate facilities at Roosevelt is extremely troubling," he said in a statement released Thursday by the State Board of Education's office. 
"This simply cannot continue," Melton said. Melton also is a NIPSCO manager of governmental and community relations.
"I am in communication with Dr. Cheryl Pruitt (Gary school corporation superintendent) and have been assured the school will be ready to reopen sometime next week. I also stand willing to work with all parties, including the State Board of Education and state lawmakers, to ensure the best interests of Roosevelt staff and students are met moving forward."
Melton, a Democrat, is seeking the state Senate seat held by Earline Rogers, who is not seeking re-election.
The school is not scheduled to reopen until Jan. 27.
Gary Roosevelt is operated by Tennessee-based EdisonLearning Co., a private management company appointed by the state about five years ago due to poor academic performance under the Gary Community School Corp.
The Gary school system still owns the building, and EdisonLearning is considered a tenant.
Gary Community Schools Corp. Superintendent Cheryl Pruitt said they don't manage the day-to-day operation of the school. She said the school corporation is willing to assist if there are things that need to be done. She said some sections of the building are closed off.
"That building has more than 407,000 square feet and sits on 17 acres, and they have fewer than 700 students," she said.
"The building was built for 4,000 students. It's a matter of figuring out what parts of the building are being used. I can't speak to the day-to-day operation of that building."
She said the district tries to ensure all children are served properly, but "there are also financial issues with the district."
Pruitt said traditional public schools, charter schools and others are facing issues, but she is willing to work with EdisonLearning to find solutions.  
EdisonLearning spokesman Mike Serpe said the school was not scheduled to be open Thursday and Friday due to teacher development, and the staff and teachers were not at the building. He said the Gary school district contracted with Artic Engineering to do the heating repairs, and they hope to reopen Jan. 27.
A statement was posted on the school's website that read: "The Gary Community School Corp. has assured us that they are giving this matter the serious and urgent attention it deserves."
Parents are concerned. Elliott Carswell has a sophomore daughter, who told him they sit in classrooms with their coats on because it's so cold inside.
"It's getting to the point of being ridiculous with kids missing so many days of school," he said.
Carswell said he and his wife are discussing whether to transfer her to another school for the next academic year.
Grandparent Madeline Williams said she thinks the situation is terrible. Williams, who has two grandchildren at the school, said, "I don't know who is responsible, but this is happening every winter.
"I passed the kids outside protesting, and I told them to keep fighting because the adults are not doing what they are supposed to do. When the grownups don't do what they are supposed to do, the kids have to fight for themselves," she said.
Roosevelt senior Cary Martin said Wednesday there are many problems besides the cold building, including an inability to use the showers in the gym area, spoiled food and few working water fountains.
"Some of my colleagues and friends stink after gym class, because they can't wash up," he said.
Gary Roosevelt students and teachers protested the frigid temps inside the building earlier this week. Every year, there have been problems with the boiler system, and students have lost multiple days of learning.
In January 2014, due to the heating failures, a number of pipes burst causing the hallways near the gym to flood with up to 2 inches of water. In June 2014, Indiana American Water Co. turned off the water due to a lack of payment on the bill.