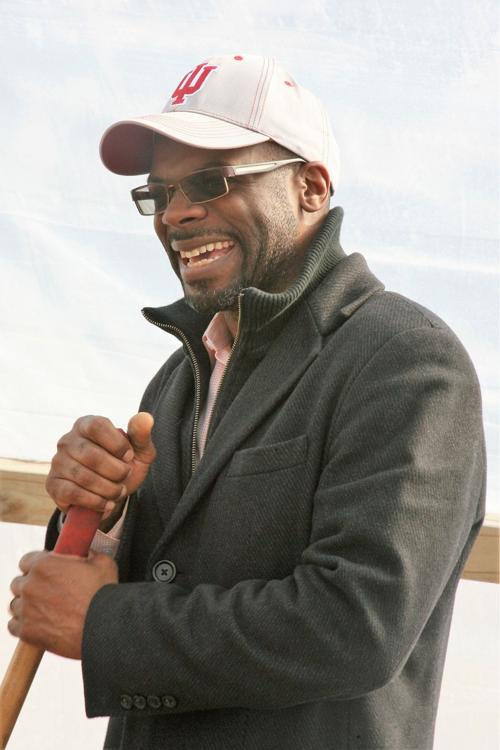 GARY — The city's Redevelopment Commission has transferred property that once housed the troubled Gary Urban Enterprise Association to Curtis Whittaker, a church pastor with ties to the now-dissolved group.
Whittaker, who also is a certified public accountant and financial consultant for the city these days, said connections aside, the property transfer is part of his church's mission to empower the Emerson neighborhood by eliminating blight and creating sustainable food sources. 
GUEA, an economic development-driven nonprofit whose principal officials were convicted of embezzling about $1 million in public funds, was headquartered at 576 Carolina St. until it shuttered in 2005. Whittaker was hired as an accountant for GUEA during the fallout, but was never accused of any wrongdoing in the case.
"After they got in trouble, and things came out about them, our firm was called in to help clean it up and to help them wind down," Whittaker said.
Whittaker said his church, Progressive Community Church, 656 Carolina St., in the past six years has purchased several parcels of land in the low-income Emerson neighborhood that's marked by a lack of nutritional food sources, blighted homes and shuttered schools.
This transfer from the Gary Redevelopment Commission will add to the church's inventory. Over the years, PCC has transformed parcels into community gardens, urban farms and chicken coops for egg production to aid Emerson residents, he said.
The transfer was approved by the redevelopment commission on Dec. 19.
Through a consortium of churches in the Emerson area known as FAITH CDC, the GUEA property will be turned into an urban fish farm, growing Lake perch, to bring a positive change in the community, Whittaker said.
PCC is in partnership with Triple B Tilapia to establish Faith Fish Farms, which will create a re-circulation aquaculture system to farm fish. The fish would both be donated and sold in the community, he said.
Church active in community outreach
"Our church is very active in ensuring that the community has fresh, local affordable produce and eggs available in our neighborhood. Last year, our church grew over 10,000 pounds of food, the majority of which was donated to city residents," Whittaker said.
This past semester, students from Purdue University Lafayette partnered with FAITH CDC to design a pollinator garden to complement the urban gardens in the area. The church will sell honey from the garden once it is built across the alley from PCC's church, he said.
Whittaker said he had previously offered to purchase the old Emerson High School from the school system, but never received a response, he said.
Whittaker's church also is breaking ground on a community of tiny homes in the neighborhood, aimed at providing shelter for Gary's homeless, he said. Initial construction should begin in spring 2019.
Downtown Emerson is bounded by Interstate 65 to the east, Madison to the west, U.S. steel to the north and 11th Avenue to the south.
"We want to partner with the city of Gary, Redevelopment and others. We've approached the Legacy Foundation and others to turn our community around. The reality is, Superman and Batman aren't coming to redo our neighborhoods when we have the ability and the power to do that," he said.
Whittaker said he hopes to have the fish farm up and running by the end of summer 2019.
At Wednesday's Gary Redevelopment Commission meeting, Whittaker's past ties to the troubled GUEA did not go unnoticed by one local resident, Jim Nowacki, a frequent critic of Gary government. Nowacki questioned the ethics of GRC transferring the building to Whittaker.
Whittaker addressed those concerns by saying he came in long after members of the GUEA were charged with embezzlement.
"We were not involved in any way with whatever happened at GUEA from a bad perspective," Whittaker said.