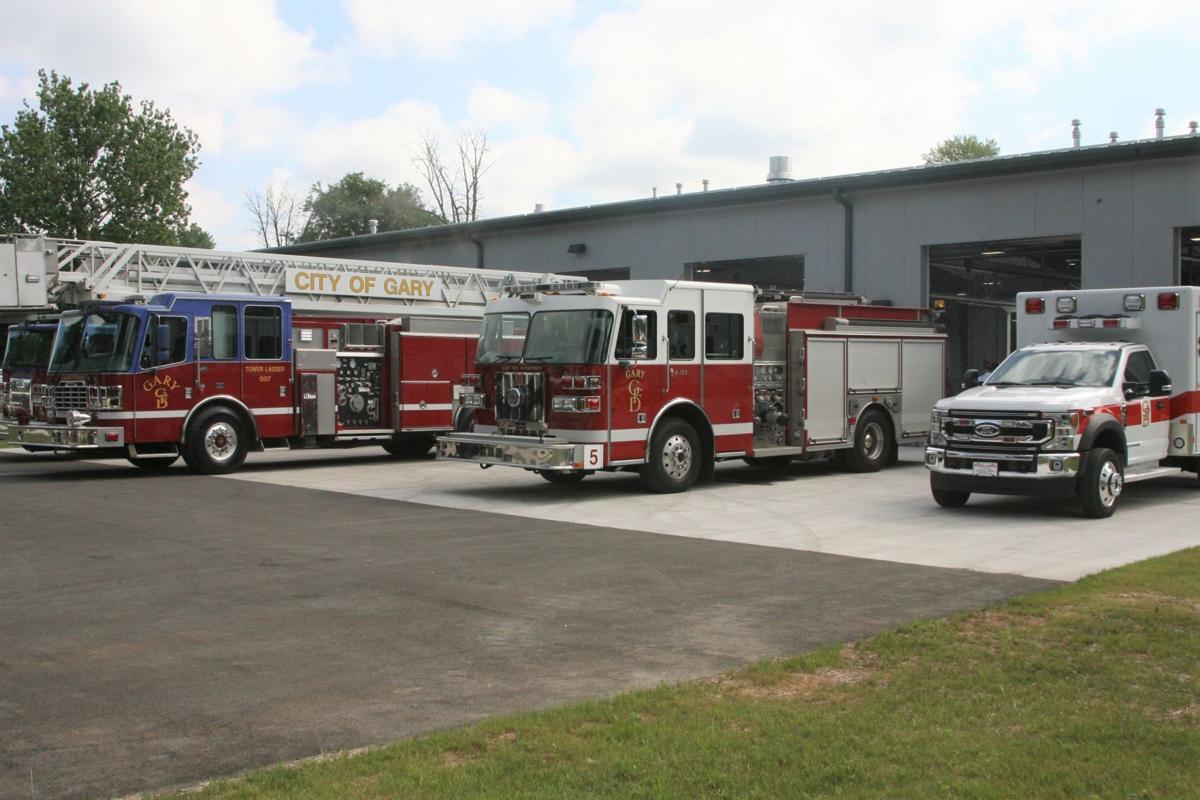 GARY — Thanks to an anonymous donor, the fire department is getting the city's first baby box — a safe place where mothers can discreetly place newborns if they are unable to care for them.
Gary Fire Chief Sean G. O'Donnell said the Safe Haven Baby Box will be located at Gary's newest Fire Station No. 5 in the city's Glen Park section.
This location was selected — as opposed to the high-trafficked areas like Station No. 1 in the downtown area — because it's more low-key and offers mothers anonymity and protection, O'Donnell said. 
"Giving up a child is a very hard thing to have to do, so we wanted mothers to have that anonymity," O'Donnell said. "But they're doing the right thing. This gives them a safe place to do that."
The Indiana Safe Haven Law, first enacted 20 years ago, enables a person to give up an unwanted infant no more than 45 days old — anonymously, and without fear of arrest or prosecution.
As long as there are no signs of intentional abuse on the baby, no information is required of the person leaving the baby in the incubator box, according to the Indiana Department of Child Services.
Once the baby is examined and given medical treatment if needed, the DCS will take the baby into custody through Child Protective Services where it will be placed with a caregiver, according to the state agency.
DCS requests parents leave with the baby any knowledge of the date of birth, race, parent medical history, child's health or anything that would be useful to the child's caregiver.
The box, which is climate controlled and has an automatic locking mechanism, costs about $15,000 on average. 
O'Donnell said he got the call from an anonymous donor this past summer. Ironically, the call came on the same day he finalized a letter he intended to send to local businesses seeking donations for a baby box, he said. 
"The donor called, said she had two baby boxes and asked me if I wanted one," O'Donnell said. "I was like 'Are you reading my emails?' because I was just about to print out a letter seeking donations."
O'Donnell said he and Mayor Jerome Prince had been exploring ways to raise money.
Prince said he was first introduced to the concept of a baby box after he won the May primary election when he met a woman from Griffith who was an avid supporter.
"Even if one child is impacted, it's one too many. I felt we had a sense of responsibility to make an effort," Prince said.
He said he was pleased to hear the baby box was being donated to the city's fire department.
The baby box will be at Station No. 5, 4959 Pennsylvania Ave. in Gary.
O'Donnell said two companies, 1-800-BOARD-UP and Alert Alarm, donated all their time and labor for free to the project.
"They've done quite a few (baby boxes) in Northwest Indiana," he said.
He also credited Crown Point Fire Chief David Crane for introducing him to 1-800-BOARD-UP.
O'Donnell said the donor expressed a wish to remain anonymous. He did say the female who called is the owner of a large, family-operated business with a long history in Northwest Indiana.
"We are so extremely thankful," O'Donnell said. "This is huge for us."
O'Donell said when the box is opened, a silent alarm is triggered, alerting 911 dispatch and the fire department of a drop-off.
The silent alarm ensures the mother has the utmost privacy and can feel safe and secure dropping off her newborn.
The chief said they are currently testing the alarm system and hope to have a baby box ceremony in a few weeks.
According to the Safe Haven organization, 38 baby boxes are in Indiana, and another is coming to Gary. There are three others in Ohio, 1 in Arkansas, and six baby drawers in Arizona. Baby Drawers were introduced by Banner Hospital.
According to the Safe Haven organization, other baby boxes in the Region include:
Coolspring TWP Fire Department-7111 W 400 N, Michigan City, IN 46360
Chesterton Fire Department- 702 Broadway, Chesterton, IN 46304
Franciscan Health Michigan City- 3500 Franciscan Way, Michigan City, IN 46360.
Franciscan Health Hammond- 5454 Hohman Ave, Hammond, IN 46320
St. Catherine Hospital - 4321 Fir Street, East Chicago, IN 46312
Crown Point Fire Station- 126 N. East St., Crown Point, IN 46307
Portage Fire Station #2- 6275 Old Porter Road, Portage, IN 46368
Hobart Fire Station #2- 2411 W. Old Ridge Road, Hobart, IN 46342
Valparaiso Fire Station #1- 205 E. Indiana Ave, Valparaiso, IN 46383
Lake Station Fire Department- ​1876 Fairview Avenue, Lake Station, IN 46405
Lowell Vol. Fire Department- 1331 E Commercial Ave, Lowell, IN 46356.
Gallery: Lake County's Most Wanted